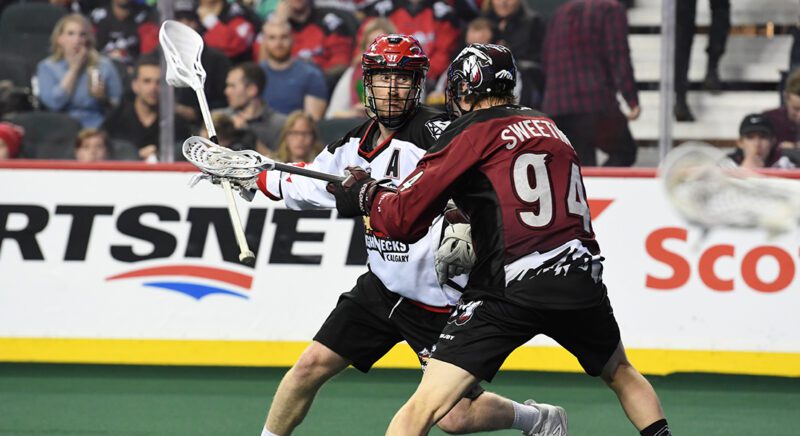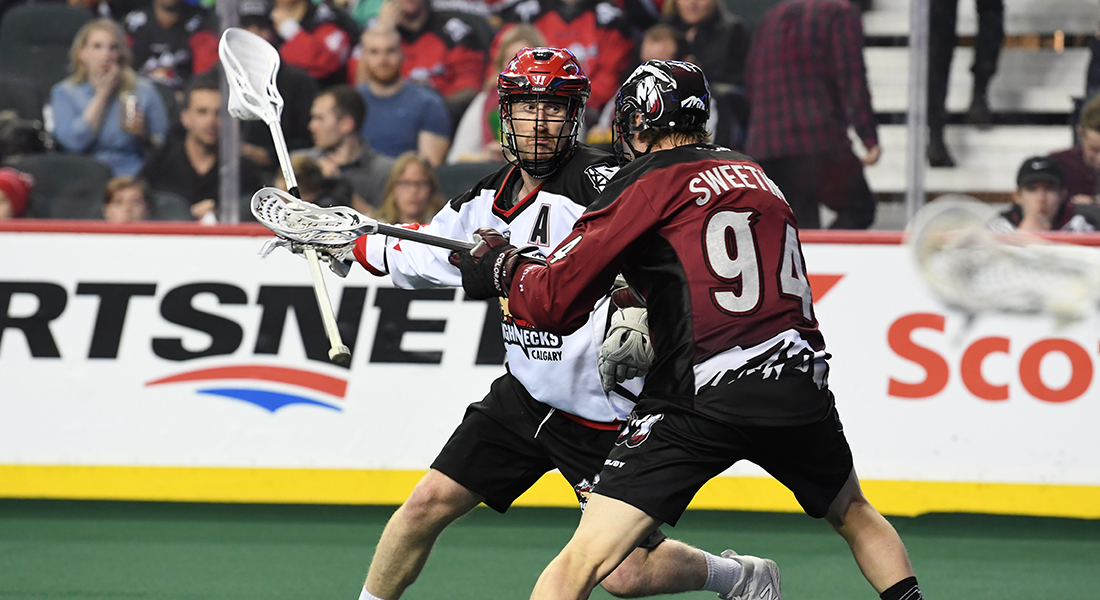 The Roughnecks dropped an 8-7 road decision to the Colorado Mammoth on Saturday in the third and final regular season edition of the Rocky Mountain Rivalry.
Both goaltenders were fantastic in the contest, frustrating forwards all game long. Christian Del Bianco finished with 42 saves, while his counterpart Dillon Ward had 44.
"Ward is a great goaltender and every time he made a game-changing save, Christian would make just as big of a save on the other end of the floor," said coach Curt Malawsky. "Both goaltenders were sitting with save percentages in the eighties and you'll win a lot of games with goaltenders like that."
Lefty Holden Cattoni opened the scoring with a great shot early in the first quarter, but the Mammoth stormed back with three straight goals from Brad Self, Zack Greer, and Chris Wardle. The teams would continue to alternate goals, with Colorado holding a 5-3 lead after one quarter.
In the second quarter, it was Mitch Wilde who picked up the lone goal for Calgary, while Ryan Benesch tallied the Mammoth goal on a 5-on-3 power play.
Colorado benefitted from the man-advantage twice in their six chances during tonight's game, while the Roughnecks could only score once on their five opportunities with the extra-attacker.
"We had some great chances on the power play," said Malawsky. "We had some get blocked, a couple hit the posts, and Ward made some big saves. From an execution stand point, I don't think we have to change much because another night a bunch of those go in.
"We have world-class goal scorers and they'll find ways to score. I trust and believe in this group, 100 percent."
The Riggers continued to battle hard in the second half, outscoring the Mammoth 3-2.
Righty Wesley Berg and Dane Dobbie collected goals in the third frame, while Curtis Dickson scored a beautiful goal that, at the time, tied the game. Dickson found open space behind the defence, threw a couple of fakes on the goalie before using one hand to go underhanded and behind his back for the goal.
"[Dickson] had some great chances and Ward made some saves, but he got rewarded there. Not many players could do that, he's a special player," Malawsky said of the highlight reel worthy goal.
Benesch netted his 900th career point on a third quarter goal, but it was Joey Cupido who put the nail in the coffin, scoring the game-winner for the Mammoth on a transition opportunity sprung by a great outlet pass from Ward.
Despite leaving Denver without a win, coach Malawsky was pleased with the effort he saw from his squad.
"I thought the guys worked extremely hard," said Malawsky. "It was a game that could go either way. Both goalies were absolutely outstanding. Our short-man was really good and our power play had some great chances, but their goaltender was their best penalty killer. That was one heck of a 'playoff' game. It was one great lacrosse game."
The Roughnecks will return to the Scotiabank Saddledome on Saturday, March 17 when they battle the Rochester Knighthawks.