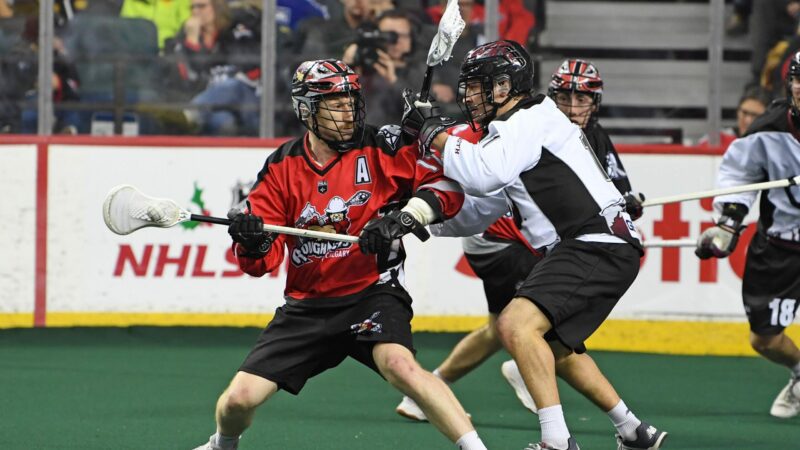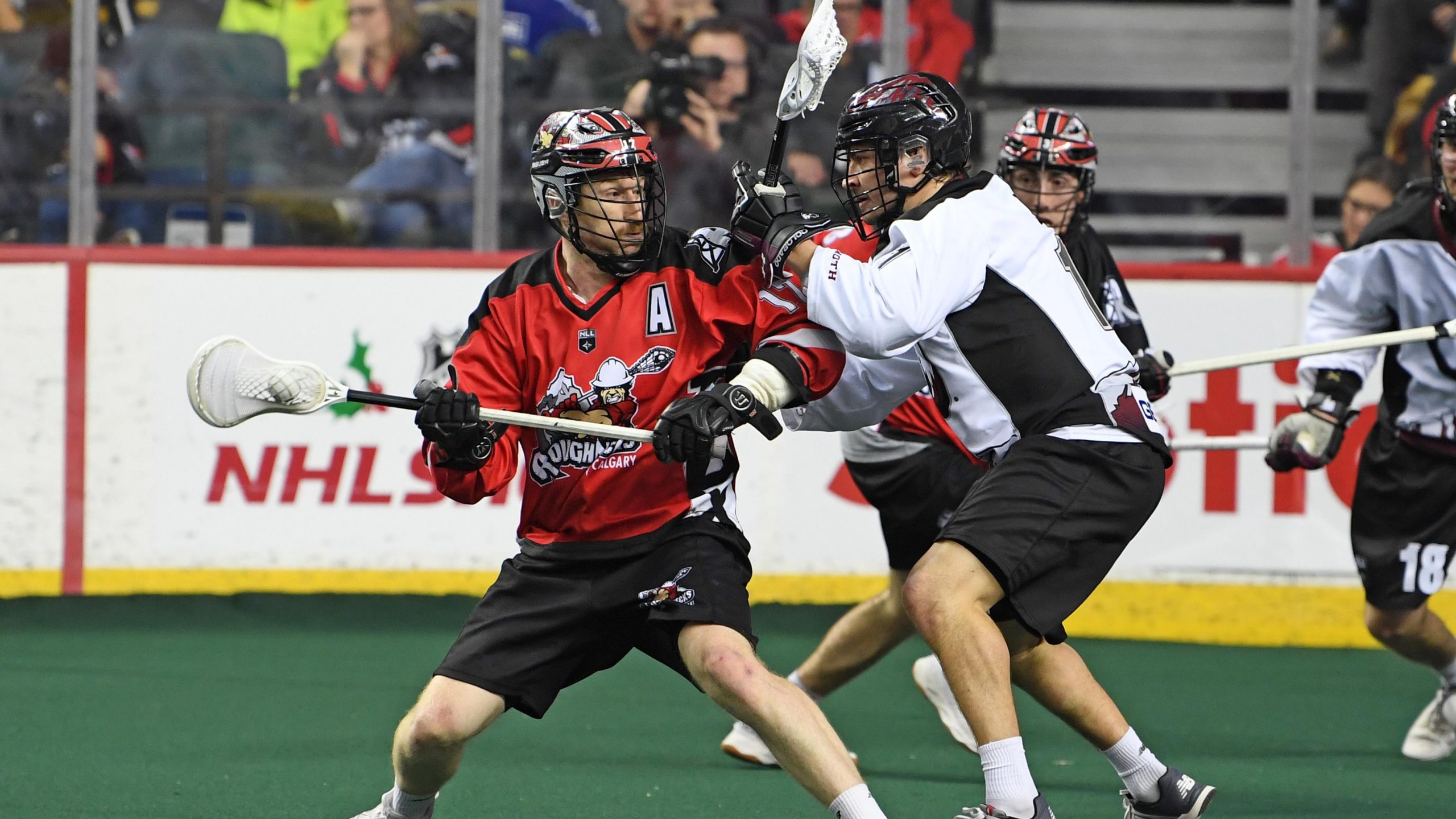 A goal in transition by Colorado Mammoth defender Jordan Gilles 7:11 into overtime put a damper on the championship banner raising night for the Calgary Roughnecks.
But the 8-7 loss to Colorado didn't spoil the party for the Roughnecks (1-1), who celebrated their 2019 NLL Cup in style before treating the 12,072 fans at the Scotiabank Saddledome to an entertaining game against the Mammoth (1-1).
It didn't take long for the Riggers to get started after a rousing pre-game ceremony that culminated with their 2018-19 championship banner being raised to the rafters.
Curtis Dickson opened the scoring at 1:48 of the first quarter before Tyler Pace and Dan Taylor also scored to give the Riggers a 3-1 lead through 15 minutes of action.
After the Mammoth scored the next four goals, the 'Necks rallied to tie up the score at 5-5 thanks to clutch markers by Marshal King and Eli Salama.
Marshal King scored his second of the contest in the fourth frame on an assist from older brother Jesse. Dan Taylor also notched his second of the game with 4:34 remaining in regulation to force OT before Gilles emerged as the hero in the extra session.
COACH'S CORNER:
"They're a defensive team, that's how (the Mammoth) play. They rely on their goaltender (Dillon Ward, who made 46 saves) and they jam it inside the dotted line. If you hit your shots, you're going to beat them. If you don't hit your shots, you're not. Then they're going to run it down the other way. I thought full marks (to a) goalie-driven team. Well done."
"What I like about it is that (Curtis) Dickson just plays. He just goes and he takes an absolute beating and that's contagious to our team. He goes and plays in the middle of the floor and then gets pounded and gets jumped on and he gets hit in the head and gets his stick grabbed. That just builds character and that's what we love about Dicks is that he's just going to keep battling"
BY THE NUMBERS:
Dan Taylor – 2g, 2a
Marshal King – 2g, 1a
Tyler Pace – 1g, 1a, 9 loose balls
Curtis Dickson – 1g, 1a
Christian Del Bianco – 41 saves
Jesse King – 3a, 14 shots
Eli Salama – 1g
Zach Currier – 1a, 9 loose balls
SAY WHAT:
"I've been there for the other banners being raised (in 2004 and 2009) and then to know that any time I go to a Flames game, any time I go to a Roughneck game in the future that I can look up there and know that I'm part of it, it's pretty amazing. It's special, but it's over now, so we're looking forward to the rest of the season here." – Dan Taylor in regards to the banner-raising ceremony
"Delbs and our back end is the only reason we're in a game like that and we're thankful that we have him on the back end because it just sets the tone for the rest of the way for all of us." – Marshal King
"Any goal is special, but it's definitely a little extra special when I'm getting the pass from him and to get to come and celebrate with him after, it feels good." – Marshal about his older brother Jesse setting him up for his second goal
NEXT UP:
The Roughnecks head out on the road to San Diego to face off against the Seals next Friday at the Pechanga Arena. It's a double-header weekend for the Riggers as they make a quick trip home to host the Philadelphia Wings on Saturday (8 p.m.) at the Scotiabank Saddledome. Game time is pushed back to 8:00 p.m. to accommodate for team travel. The Roughnecks will be gathering donations to The Veterans Food Bank of Calgary with collection bins outside the entrances to both the West Lobby and The Club Lobby. Fans are encouraged to bring all non-perishable food items, toiletries, blankets or grocery store gift cards.