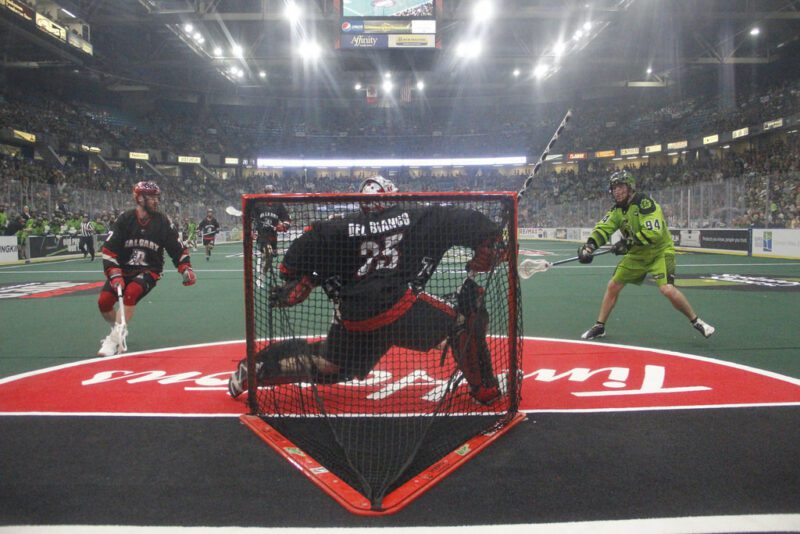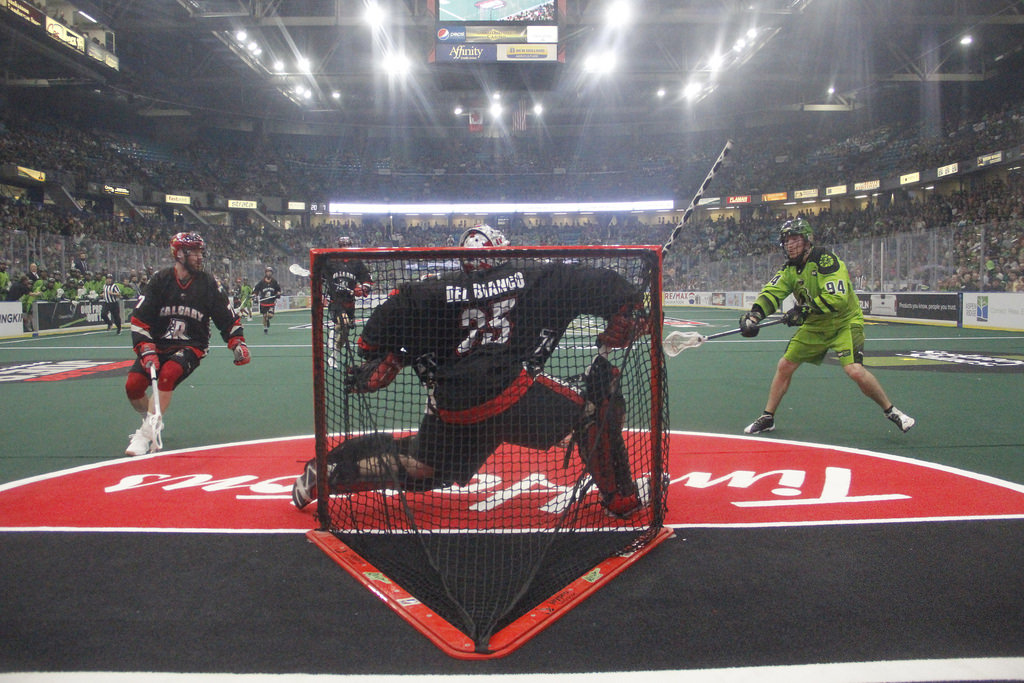 The Roughnecks gave the Saskatchewan Rush all they could handle in the NLL's West Division Finals on Sunday.
Although his team suffered a disappointing 15-13 setback to the Rush, Roughnecks coach Curt Malawsky praised his players for playing hard to the final buzzer at Saskatoon's SaskTel Centre.
"Leave it all on the turf – that was the message," Malawsky said. "To a man, I know everybody did. They played their hearts out. That's a good Saskatchewan team. We've got to be pretty close to perfect. Unfortunately, we battled as hard as we could and we just came up a couple goals short."
Curtis Dickson scored six goals and added four assists for the Riggers, who beat the Colorado Mammoth 15-12 eight days earlier in the West Division Semi-Final to earn the chance to go up against the Rush.
"It's one of those things – the old cliché where we're obviously bummed about this right now," Dickson said. "It's going to sting for a while, but we'll look back at this down the line and be proud of what we accomplished. I don't think many people outside of this organization – when we were sitting at 1-5 there at the start of the year – thought that we'd be in this spot right now. It was a heck of a run. We started slow in the game tonight. It's one of the things we need to figure out."
Dane Dobbie led all scorers with two goals and nine assists, while Wesley Berg scored four times and set up another for Calgary.
Holden Cattoni had a five-point outing with one goal and four assists, while goalie Christian Del Bianco stopped 45 of 59 shots fired his way.
Ben McIntosh and Robert Church had three goals and three assists each to help the Rush advance to the best-of-three NLL Finals against the New England Knighthawks, who edged the defending champion Georgia Swarm 9-8 one night earlier.
Mark Matthews had two goals and five assists for Saskatchewan, while Ryan Dilks also scored twice. Matthew Dinsdale and Ryan Keenan had a goal and three assists each, while Curtis Knight, Jeff Shattler and Matt Hossack also scored.
Rush goalie Evan Kirk finished with 33 saves to pick up the win.
After McIntosh and Keenan scored to give the Rush an early 2-0 lead, Dickson fired a low shot through a screen past Kirk to get the Riggers on the board.
Knight then put the homeside up 3-1 before Dickson jumped out from behind the net and dunked a shot past Kirk to pull the 'Necks within a goal.
Church finished off the first quarter by scoring a powerplay marker for Saskatchewan before Hossack and McIntosh tallied back-to-back goals early in the second to put the Rush up 6-2.
Berg and Dilks traded goals before Dickson squeaked a shot through Kirk's five-hole. Berg then took a pass from Dickson behind the net before dunking another shot past Kirk to pull the visitors within two goals.
Matthews scored at 11:28 of the second quarter to give the Rush an 8-5 lead heading into the halftime intermission.
The Roughnecks started the second half with three straight goals by Cattoni, Dickson and Dobbie to pull into an 8-8 tie before the Rush found the back of the net four straight times to take a 12-8 lead.
"This is obviously a very good lacrosse team and any time you find yourself getting down two, three, four goals right off the hop, you put yourself in a tough situation to crawl back," Dickson said. "Obviously, we were able to, but you're only going to go on so big of runs against these guys. They kind of gained the momentum back there and got on a run of their own and just put it out of reach. Obviously, we just ran out of time there."
Berg converted a pass from Dobbie with 0.1 seconds left on the clock in the third quarter to cut into Saskatchewan's lead before Dinsdale and Matthews scored goals 61 seconds apart early in the final frame.
With Adrian Sorichetti in the penalty box serving a five-minute major penalty for high sticking, Dickson and Dobbie scored a pair of powerplay goals to bring the 'Necks back within three goals.
An empty-net goal by Dilks didn't deter the Riggers as Dickson notched his sixth goal of the game before Berg scored his fourth during a five-on-three advantage for Calgary.
Berg's goal pulled the Riggers within two goals, but that's as close as they could get to the Rush, who finished atop the West Division regular-division standings with a 14-4 record.
"We stuck to the grind, but they stuck to the grind too," Malawsky said. "It comes down to just getting a bounce here and a bounce there. We just didn't quite get the bounces we needed. Hats off to them. They're 14-4 for a reason. It's a tough pill to swallow. We put a lot of time and effort in and I know as a coach how hard it is to get to the West Final, let alone the championship."