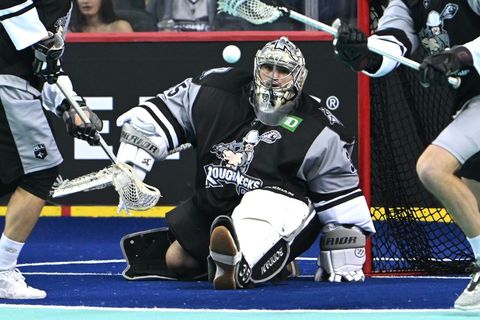 The Riggers finished the preseason at the Rough House in front of 9,046 fans. 
Calgary fell to the Saskatchewan Rush 9-8 in overtime to wrap up exhibition play with a 1-2 record. 
It was a slow start to the game with neither team being able to find the back of the net in the first-quarter. The Riggers outshot the Rush 10-6 in the first frame. 
The Roughnecks opened up the scoring in the second-quarter as newcomer Jeff Cornwall picked up his first as a Rigger in transition. 
Jesse King found the back of the net moments later making the score 2-0 Riggers. 
Zach Herreweyers continued the run finding the back of the net to make the score 3-0 Roughnecks heading into the half. 
Calgary took back-to-back penalties to open the second-half but Christian Del Bianco made three huge saves to help them kill it off. 
The Rush would score four straight goals after the penalties to move them ahead 4-3 late in the third-quarter. 
Tyler Pace evened the game 4-4 with four-minutes left in the quarter.
Saskatchewan would take back the lead on the powerplay making the score 5-4.
King would tie it up on a powerplay with just over one-minute to go in the quarter and then he finished off the hat-trick to give the Roughnecks the 6-5 lead heading into the final frame. 
Brett Hickey got his first as a Roughneck early in the fourth-quarter to make the score 7-5. 
The Rush would get one back five-minutes into the quarter to make the score 7-6.
Then, on the powerplay, Saskatchewan evened the score once again making it 7-7 with 8:04 remaining. 
They would gain another lead with just over five-minutes left as they went ahead 8-7. 
The Riggers pulled their goalie with eight-seconds remaining and Haiden Dickson scooped up a rebound diving through the air and dunked the ball home with 0.4 seconds remaining to tie the game 8-8 and send it to overtime. 
After trading chances both ways to start overtime, the Rush found the back of the net to win 9-8.
Calgary kicks off their regular season at the Rough House Saturday, Dec. 10 against Vancouver at 7 p.m.
Buy Tickets: https://bit.ly/3F8DnV6