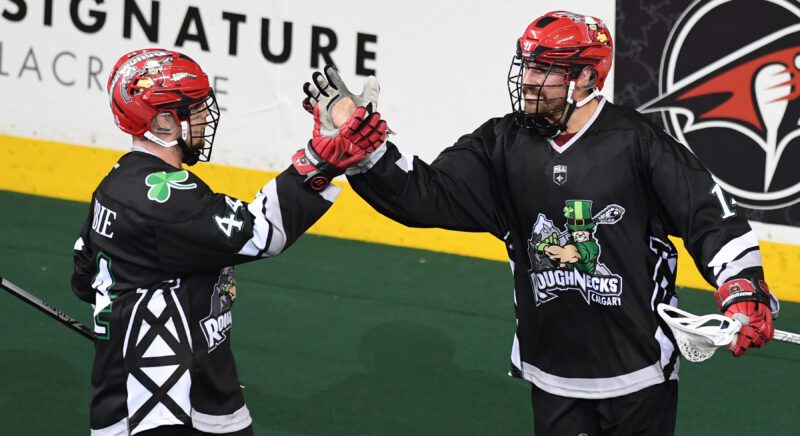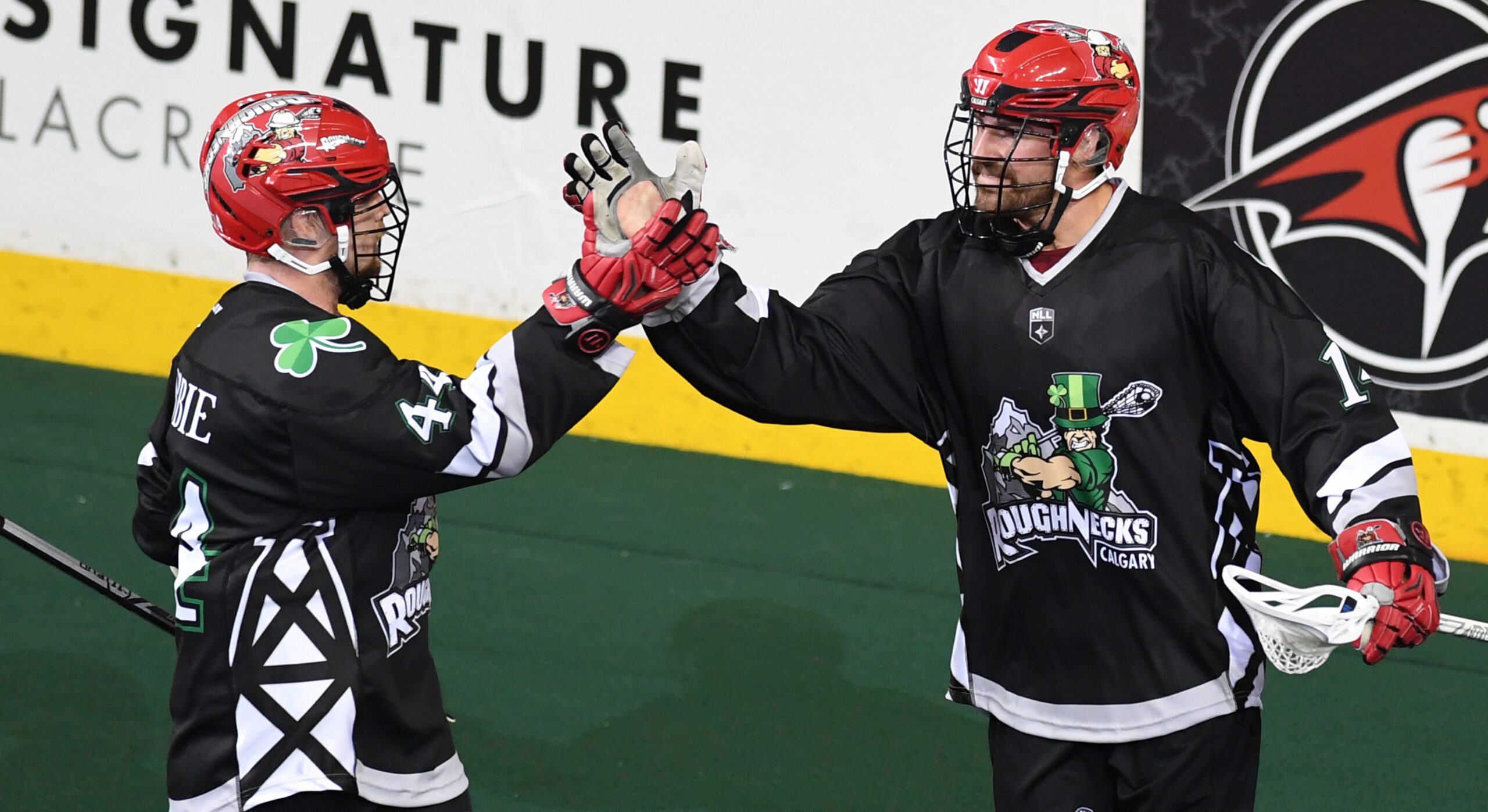 The Roughnecks had the Luck of the Irish on their side on Saturday.
Calgary celebrated St. Patrick's Day in style by beating the Rochester Knighthawks 14-13 in front of 15,070 appreciative fans at the Scotiabank Saddledome.
"I thought for 52 minutes of that game we were outstanding," said coach Curt Malawsky, whose team led 10-5 at halftime and 12-7 after three quarters before Rochester rallied to make it close. "I think the message is that we took the foot off the gas a little bit. We had a couple penalties late in that (fourth) quarter and then they were able to capitalize and got things a little bit tighter."
Wesley Berg led the offensive attack with six goals and two assists for the Roughnecks (5-7), who snapped a two-game losing streak and avenged a 17-6 setback they suffered to the Knighthawks (6-7) in Rochester on Dec. 9.
"It's St. Paddy's Day, I must have had some kind of luck today," said Berg, who needs to further investigate the extent of his Irish ancestry. "I'm not too sure what I am. I've got to take one of those DNA tests – (I'm) mostly Danish and Norwegian with some Scottish and Irish on the other side."
Curtis Dickson and Dane Dobbie had two goals and two assist each for Calgary, while Garrett McIntosh scored a pair of key goals in transition to help the Riggers jump out to an early lead.
"That was definitely one of the keys to our game was making sure we had a lot of transition this game, making sure we were pushing them, trying to tire them out a little bit and at the same time use our athleticism," said McIntosh, who was a fan of the limited-edition St. Patrick's Day themed jerseys that the Roughnecks wore. "I love these jerseys. I think we're auctioning them off, but if we weren't I'd like to keep mine. Whoever gets it, good for them. It's a good pick-up."
Holden Cattoni scored once and set up three others, while Mitch Wilde chipped in with a goal and an assist.
Goalie Christian Del Bianco made 42 saves in the Calgary net to even his record this season at 4-4.
"Obviously Christian's such a competitors," Malawsky said after the game. "He's not happy in there. He didn't have his best game, but he was at his best when we needed him. Right down the stretch, he made some amazing saves."
Rookie forward Austin Shanks scored four times and set up two others for the Knighthawks, while Kyle Jackson had a hat trick and four helpers. Joe Resetarits, Cory Vitarelli and Josh Currier had two goals each for Rochester.
Matt Vinc started in net for Rochester, but was pulled in the second quarter after giving up nine goals on 21 shots. Angus Goodleaf then stopped 22 shots in a relief appearance.
Wilde got the St. Patrick's Day Party started when he converted a feed from Zach Currier just 52 seconds into the game to give the Riggers an early 1-0 lead.
After Resetarits scored a shorthanded goal for the 'Hawks, the Riggers responded with three straight goals by Dickson, Berg and McIntosh to build up a 4-1 advantage.
Jackson then scored late in the first quarter before Shanks added another for the visitors early in the second to pull Rochester back within a goal.
Much to the delight of the hometown fans, the Riggers reeled off the next three goals as McIntosh, Berg and Cattoni all found the back of the net.
Following a goal by Vitarelli, Dickson and Dobbie scored to give the 'Necks a 9-4 lead, which prompted Rochester coach Mike Hasen to replace Vinc in between the pipes with Goodleaf.
Dobbie then took a nice behind-the-back pass from Cattoni before snapping a shot past Goodleaf to put the Riggers up by six goals.
The 'Necks maintained that same advantage heading into the final frame as Berg scored twice for Calgary in the third quarter, while Currier counted both of Rochester's goals.
Berg scored twice more in the fourth quarter, including a shot that hit Goodleaf before bouncing off Rochester defenceman Ian Llord and into the net to put Calgary up 14-9.
"That seems to be what happens on a day like this," said Berg, whose sixth goal of the game stood up as the game winner. "Tonight we got those bounces, but we worked for them and we earned them, which was nice and rewarding for us.
"The last time we played them, it was frankly just embarrassing for us. As a Roughnecks organization, we don't accept that kind of play or a score like that. We wanted some revenge and tonight was a fun night to do it with an unbelievable crowd out there."
The Roughnecks will wrap up their two-game homestand when they host the Toronto Rock next Saturday (7 p.m.) at the Rough House.