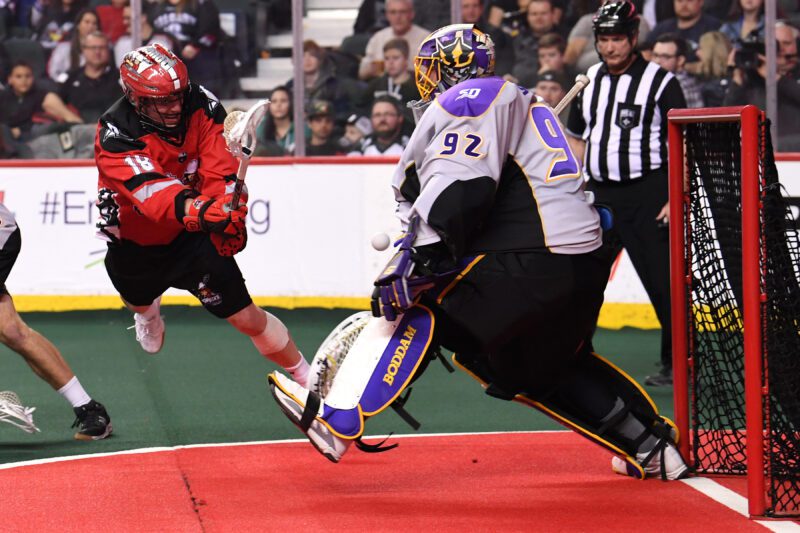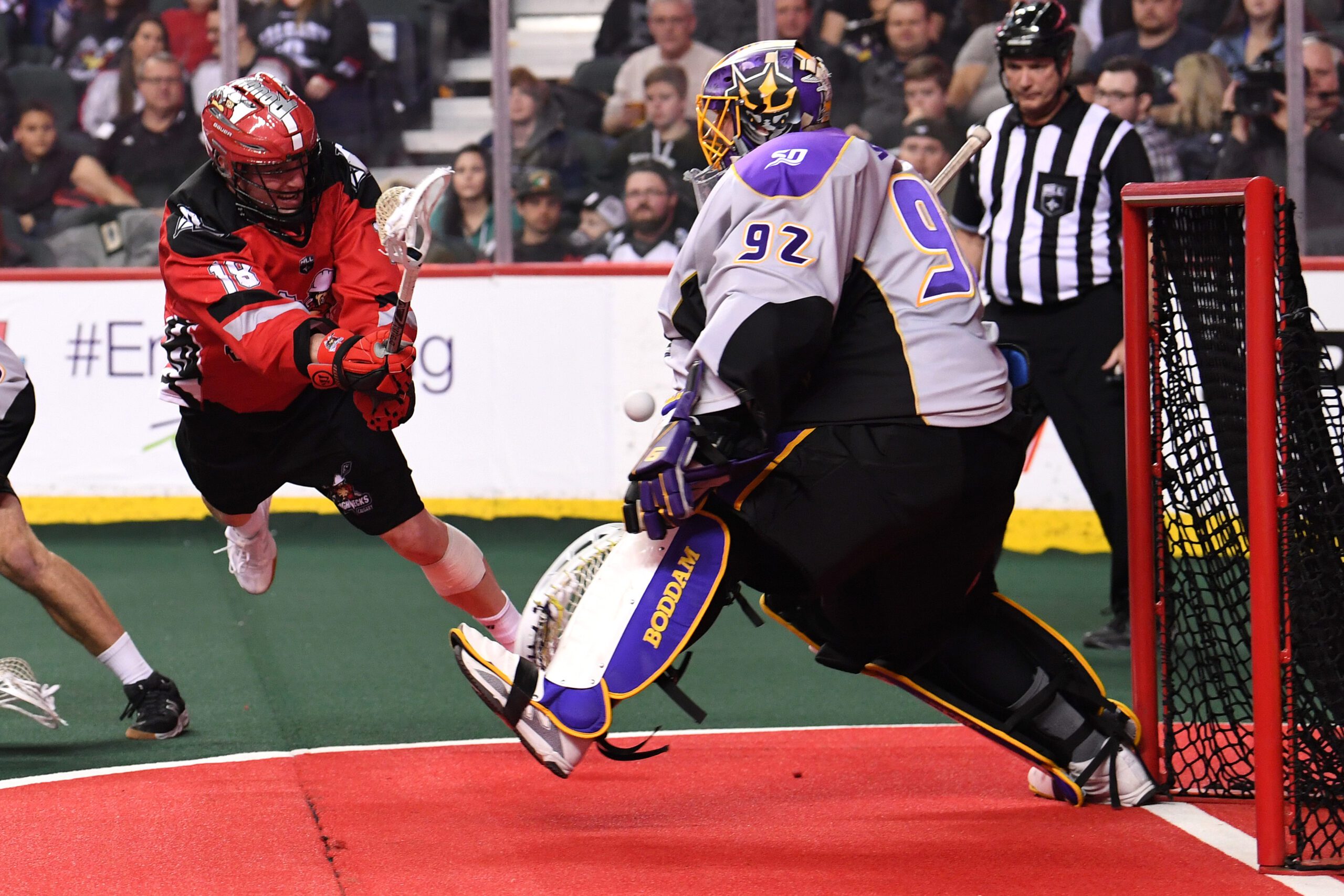 Christian Del Bianco won a huge grudge match over Frank Scigliano on Friday night.
In the process, Del Bianco backstopped his Calgary Roughnecks to a 9-5 win over the expansion San Diego Seals by stopping 46 of 51 shots he faced in front of 12,969 appreciative fans at the Scotiabank Saddledome.
"It's obviously a pretty awesome experience," said Del Bianco in regards to winning the goaltending battle against Scigliano, who was also impressive in net for San Diego with 49 saves. "I grew up watching Frank actually and then playing with him for a bit and then never really got an opportunity to play against him.
"There's a lot of chirping throughout the week, kind of going back and forth joking who was going to owe who a beer, but it's nice to come out on top, especially in that little friendly rivalry."
Scigliano played for seven years with the Roughnecks, including two full seasons with Del Bianco as his netminding partner, before the Seals took him in the sixth round of the 2018 NLL Expansion Draft.
"Frankie's a world-class goaltender," said Calgary coach Curt Malawsky, who also praised Del Bianco and his players for sticking with it and outscoring the Seals 5-1 in the fourth quarter. "He proved it tonight. He was exceptional and he played very well. We knew we just had to keep going. Our team, we invest in the grind. There's a reason that we push and push and push. We want to make sure that we can wear teams down in the fourth quarter."
Dane Dobbie scored twice for the Roughnecks (2-1), including the game-winning goal at 6:31 of the final frame when he took a pass from defenceman Dan MacRae and charged towards the net while whipping a shot on net that hit Scigliano before the ball crossed the goal line.
"It's definitely nice," said Dobbie in regards to the goal being upheld after video review. "Chad Cummings ran off the floor really hard and got me a breakaway. Frank made a great move on it and I think it was inconclusive and it got called a goal."
Dobbie also had four assists for a six-point evening, while Rhys Duch had a hat trick and two helpers. Chris Boushy scored twice, Dan Taylor had a goal and two assists, while Mitch Wilde added a single.
"It was a gritty game," Malawsky said. "It was an outstanding game by our group. As a coach, I'm welling up in there a little bit, just how proud the guys are because that was a battle for every little inch of the floor. I think today we got rewarded with one heck of a game from everybody for 60 minutes. Top to bottom, it was exceptional."
Dan Dawson had a goal and an assist for the Seals (1-1), while Turner Evans, Cameron Holding, Casey Jackson and Brandon Clelland also scored.
Duch opened the scoring for Calgary with a power-play goal at 2:12 of the first quarter when he took a pass from Riley Loewen and fired a long-range shot past Scigliano.
The Seals knotted the score up at 1-1 at 4:18 on a goal by Clelland, who hauled in a breakaway pass from Scigliano before picking the top corner over Del Bianco's left shoulder.
The visitors took a one-goal lead thanks to a shorthanded goal by Holding 13 seconds into the second quarter.
After Boushy converted a feed from Tyler Pace at 8:19 to pull the home side even, Dawson replied for the Seals 76 seconds later to round out the scoring in the first half.
The 'Necks drew even once again three minutes into the second half when Taylor took a behind-the-back pass from Dobbie before whipping a shot to the far post past Scigliano.
Jackson dunked a shot from behind the net past Del Bianco at 9:21 of the third before a bounce shot by Dobbie found its way into the top corner behind Scigliano at 12:49.
The see-saw battle continued in the final frame as Duch scored his second of the game for Calgary at 2:13 before Evans responded for San Diego at 5:32.
After Dobbie's game winner, Wilde scored a breakaway goal at 9:09 while the Riggers were a man down.
Boushy then fired a sidearm shot past Scigliano 38 seconds later, before Duch completed his hat trick with 3:32 to play in the game to seal the victory over the Seals.
"When it comes down to it, I think it was a big team win tonight," Dobbie said. "Christian and our defence won us that game. Offence, we struggled a little bit. That was like a summer lacrosse game. It was a battle out there and it was nice to come out with a win."
The Roughnecks will start out 2019 with a road game on Sunday, Jan. 6 (1 p.m.) against the Colorado Mammoth before returning home to the 'Dome to host the New England Black Wolves on Saturday Jan. 12 (7 p.m.).