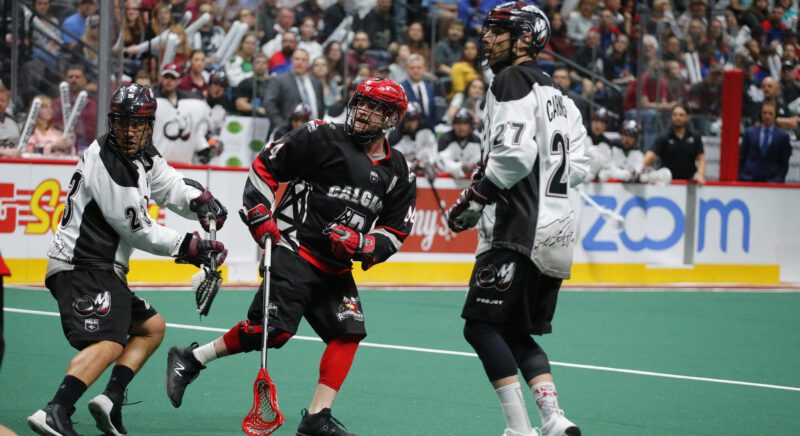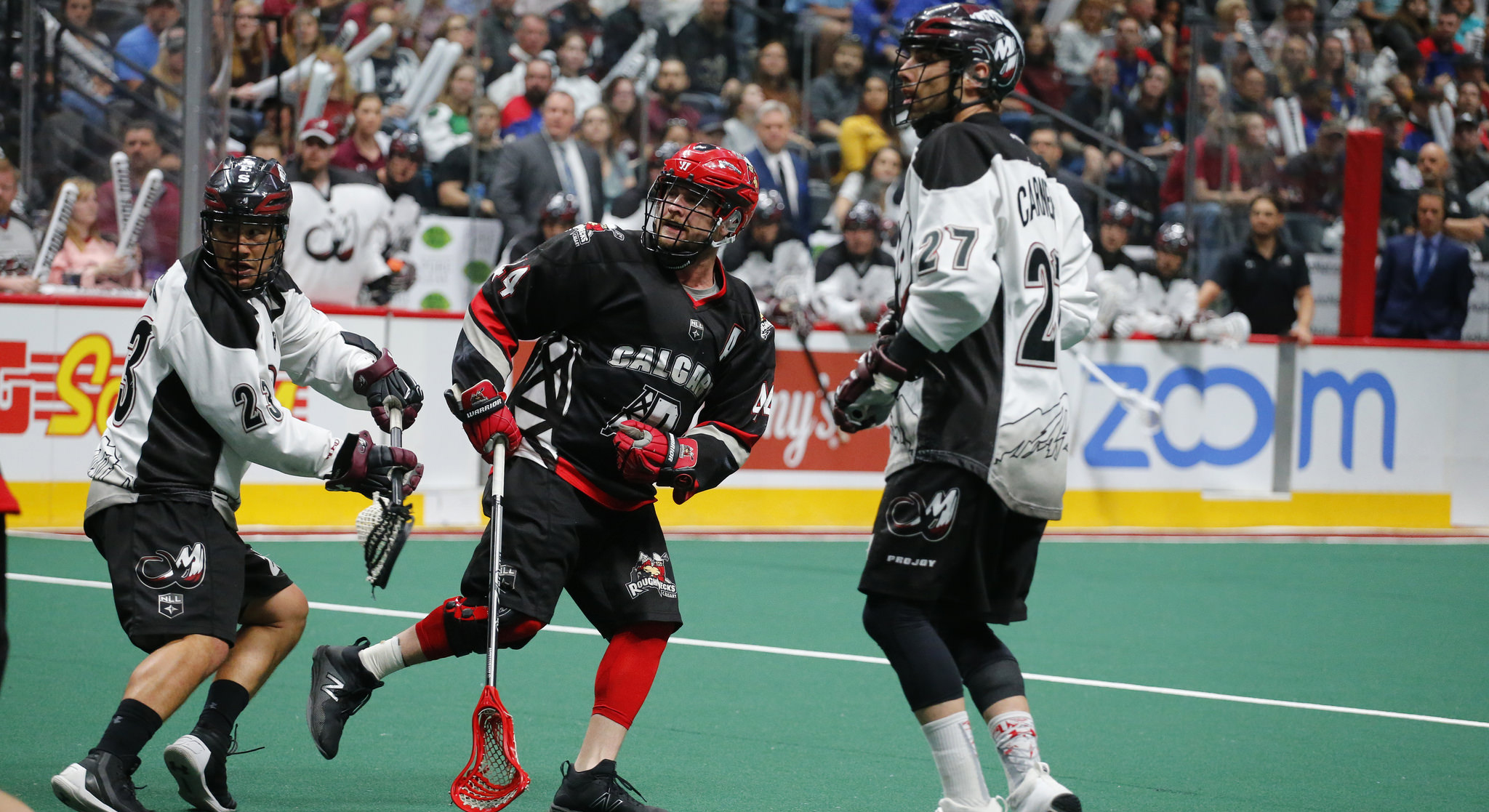 Despite trailing 6-1 and 7-2 in the second quarter, the Roughnecks rallied back to beat the Colorado Mammoth 15-12 in the NLL's West Division Semi-Final at the Pepsi Center in Denver.
"We talked about two things," said Calgary coach Curt Malawsky following his team's come-from-behind victory. "We talked about trust and we talked about belief and the guys trusted in each other and they believed in each other. When you've got that, that's a pretty good foundation to start a team. The guys didn't want this to be the last weekend."
Thanks to the win, the Riggers now move on to face the Saskatchewan Rush in the West Division Final at Saskatoon's SaskTel Centre on Sunday, May 13 (5 p.m.).
"I think they're the best team in this league and they've had our number the last three or four years now," said forward Dane Dobbie, who paced the Roughnecks with a sock trick (six goals) and three assists against the Mammoth. "Going into their building is a tough place to play. They play a full 60 minutes and they play an even-keel game. We just have to match their intensity and match their compete (level) and play a full 60. Hopefully stuff starts going our way and we get a bounce in that building and we can get a win."
Curtis Dickson scored four times, including the game-winning goal at 12:17 of the fourth quarter, and set up another on Saturday.
"He's a big-time player," said Dobbie of Dickson. "You trust the ball on his stick and he does great things. He's just a dominant player in this league and steps up in big occasions. I thought he was fantastic tonight."
With the scored knotted at 12-12 late in the final frame, Dickson took a pass from Tyler Digby before cutting out from behind the net and firing a shot that found its way into the top corner after hitting the left shoulder of Colorado goalie Dillon Ward.
"Dickson got the big goal from behind the net and then we were able to get two empty netters (by Dickson and Tyson Bell) and our defence locked it down and so did (goalie) Christian (Del Bianco)," Malawsky said. "It was a nice effort from all facets of our game."
Wesley Berg had two goals and five assists for the 'Necks, while Holden Cattoni (1g, 5a), Digby (1g, 3a), Bell (1g, 1a) and Riley Loewen (3a) also had multiple-point performances.
Del Bianco made 38 saves to pick up his first-ever playoff victory and also had an assist.
"I thought our goaltender played real, real well and I thought a lot of guys could be intimidated in looking down the floor at their MVP in Dillon Ward, but he was able just to stay the course," Malawsky said. "He just wouldn't give them the two goals in a row to put them back on top and gave us the ability to chip away and get back at it."
Zack Greer had a hat trick and an assist for the Mammoth, while Ryan Benesch, Jacob Ruest and Jeremy Noble tallied two goals each.
Greg Downing, Stephen Keogh and Eli McLaughlin also scored for Colorado, while goalie Dillon Ward made 31 saves.
Dobbie opened the scoring for Calgary at 1:27 of the first quarter before the Mammoth responded with goals by Keogh, Benesch and Ruest to take a 3-1 lead through 15 minutes of play.
Colorado carried that momentum into the second quarter as Greer, Downing and McLaughlin scored to give the homeside a 6-1 lead.
Dickson bounced a shot to the short side past Ward to end Colorado's six-goal run before Noble scored a powerplay goal to put the Mammoth back up by five. Dobbie then scored his second of the game with 31 seconds remaining in the first half.
"We were still down by four going into the second half," Dobbie said. "Nobody dropped their head in the dressing room. We just kept up and we made a promise that we were going to leave it on the floor tonight and I think we did that."
The Roughnecks had an early chance in the third quarter when they were awarded a penalty shot, but Dickson rang a shot off the post.
Undeterred, the Riggers kept pressing and were rewarded with three straight goals by Berg, Dobbie and Digby.
After Greer notched a powerplay marker for the Mammoth, the 'Necks reeled off three more goals by Berg, Dobbie and Cattoni to take a 9-8 lead.
Benesch scored to tie things up with 10 seconds remaining in the third quarter before the 'Necks outscored the Mammoth 6-3 in the final frame to run their all-time playoff record against Colorado to 9-1.
"We just had to stick to it and just grind and grind and grind," Malawsky said. "We knew it was going to be a tough game. They're a very well coached team and they've got outstanding goaltending. All the way around, top to bottom, they're a great organization and a great group of men over there.
"We knew it wasn't going to be easy. We just had to continue to believe and battle and make a few little adjustments. (Dobbie) put the team on his back for a while there and everyone else chipped in. It was a good team win."
The Riggers now have a week to prepare to face the Rush for the opportunity to advance to the Champion's Cup final against either the Georgia Swarm or the Rochester Knighthawks, who will play in the East Final next Saturday.
"It looks like we go up against Goliath there," said Malawsky of facing the Rush, who finished atop the West Division standings in the regular season with a 14-4 record. "It's a real tough mountain to climb, but we'll be on time next Sunday."