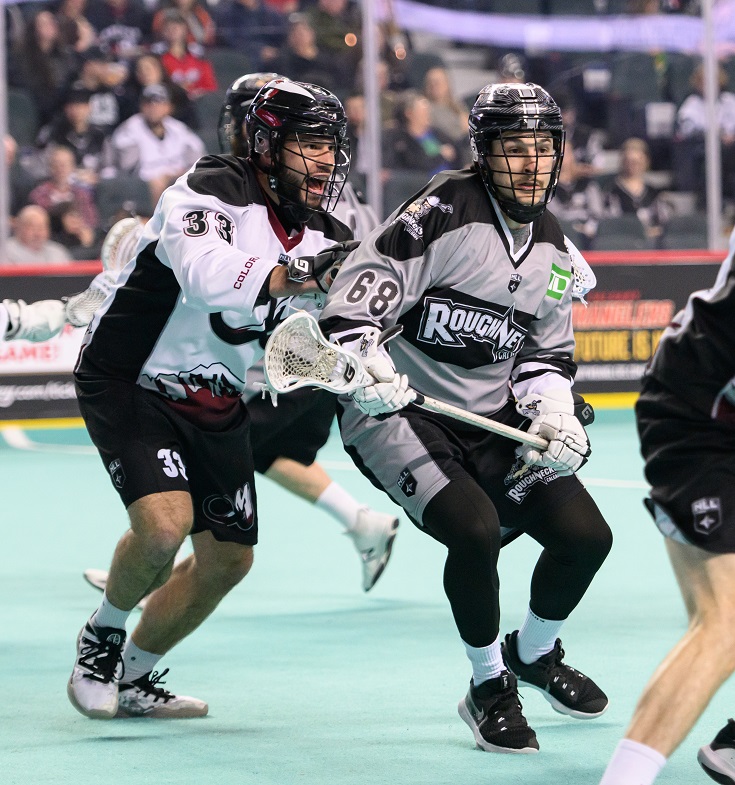 By: Laurence Heinen
The Roughnecks keep on rolling.
Tyler Pace, Dan Taylor and Josh Currier all scored early goals to give the home side a quick 3-0 lead and the Roughnecks (6-3) cruised to a 13-9 win over the visiting Colorado Mammoth on WestJet Field Saturday.
Pace finished with four goals and three assists as the Riggers won their third straight game and second in as many nights, this time in front of 11,819 exuberant fans at Scotiabank Saddledome.
After being held off the scoresheet one night earlier during Calgary's 13-6 win at home over the Saskatchewan Rush, Currier broke out in a big way against the Mammoth with four goals.
Goalie Christian Del Bianco finished with 43 saves and added three assists for good measure for the 'Necks, who will look to keep their winning streak going next Friday (8 p.m.) when they travel to Vancouver to face the Warriors.
After their quick start, the Riggers kept up the pressure and were rewarded with goals by Currier and Pace to give them a 5-0 advantage through 15 minutes of play.
The Riggers outscored the Mammoth 6-2 in the second quarter as Currier led the way with a pair of goals, while Pace, Taylor, Haiden Dickson and Tanner Cook also found the back of the net.
Although the Mammoth outscored the Riggers 4-1 in the third quarter, the home side still held a sizable 12-6 advantage heading into the final frame.
The visitors also tallied the first two goals of the fourth quarter before Pace replied with his fourth of the game to end a lengthy scoring drought for the 'Necks. The Colorado players pushed hard in the late going and were rewarded with one more goal, but weren't able to overcome the early deficit.
COACH'S CORNER
"Our guys battled so hard. We didn't have a lot left in that second half. They were resilient and that perseverance that they showed throughout that fourth quarter – and just sticking with it and just dig deep – that's a lot of heart. I've talked for years about old-school heart. This group's got that. They just refuse to lose and refuse to give up and they just stayed in the fight the whole time. That's a huge two wins for this team."
"He's always had a big heart. That's why Tyler Pace is in Calgary, but he's shown more confidence. He plays with passion … and that passion becomes that confidence. We always say confidence is a by-product of preparation and that kid prepares himself like a top-level athlete should prepare himself during the week and then he just stuck with it. He struggled to put the ball in the net a little bit the last couple and then he got a couple late last night and turned things around and tonight he was great."
BY THE NUMBERS:
Tyler Pace 4g, 3a
Josh Currier 4g
Tanner Cook 2g, 4a
Dan Taylor 2g, 1a
Haiden Dickson 1g, 1a
Jesse King 4a
Zach Currier 3a
Curtis Manning 1a, 8 loose balls (including 700th of his NLL career)
Christian Del Bianco 43 saves, 3a
SAY WHAT:
"The whole weekend was big for us, beating two competitive West opponents. That's who we're going to have to beat at the end of the season. it gives us a chance later on to beat them in the rankings. We don't want to make excuses, but realistically, it's two games in 24 hours. It's not easy, no matter how good of shape we're in. We gutted it out and we did what we needed to do to get the win, so we're happy about it." – Tyler Pace
"It's huge. We've talked in years past about slow starts. I'm sure they can go back and check the stats, but this might be one of our best starts in the last couple years. I think we're just doing it in different ways. We have defence that's just kind of smothering and guys that can run in transition. Obviously the offence is just grinding it out and sharing the ball. It's huge for us and any Western wins are just massive and this weekend obviously adds up." – Christian Del Bianco
NEXT UP:
The Roughnecks will head west next weekend to take on the Vancouver Warriors at Rogers Place on Friday night (8 p.m.).