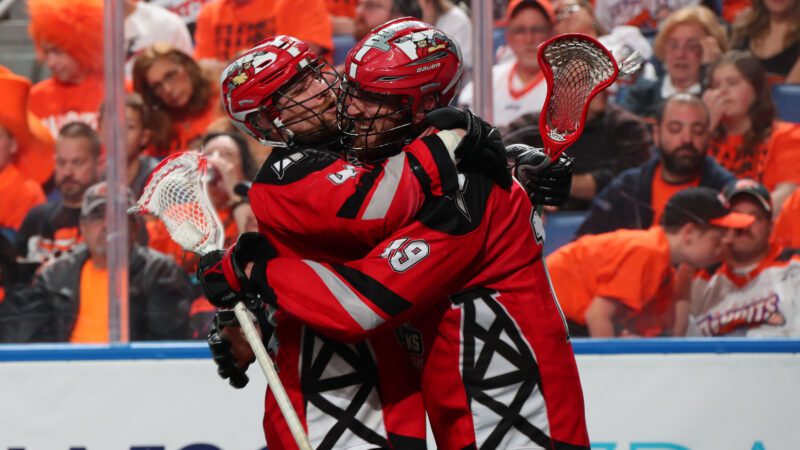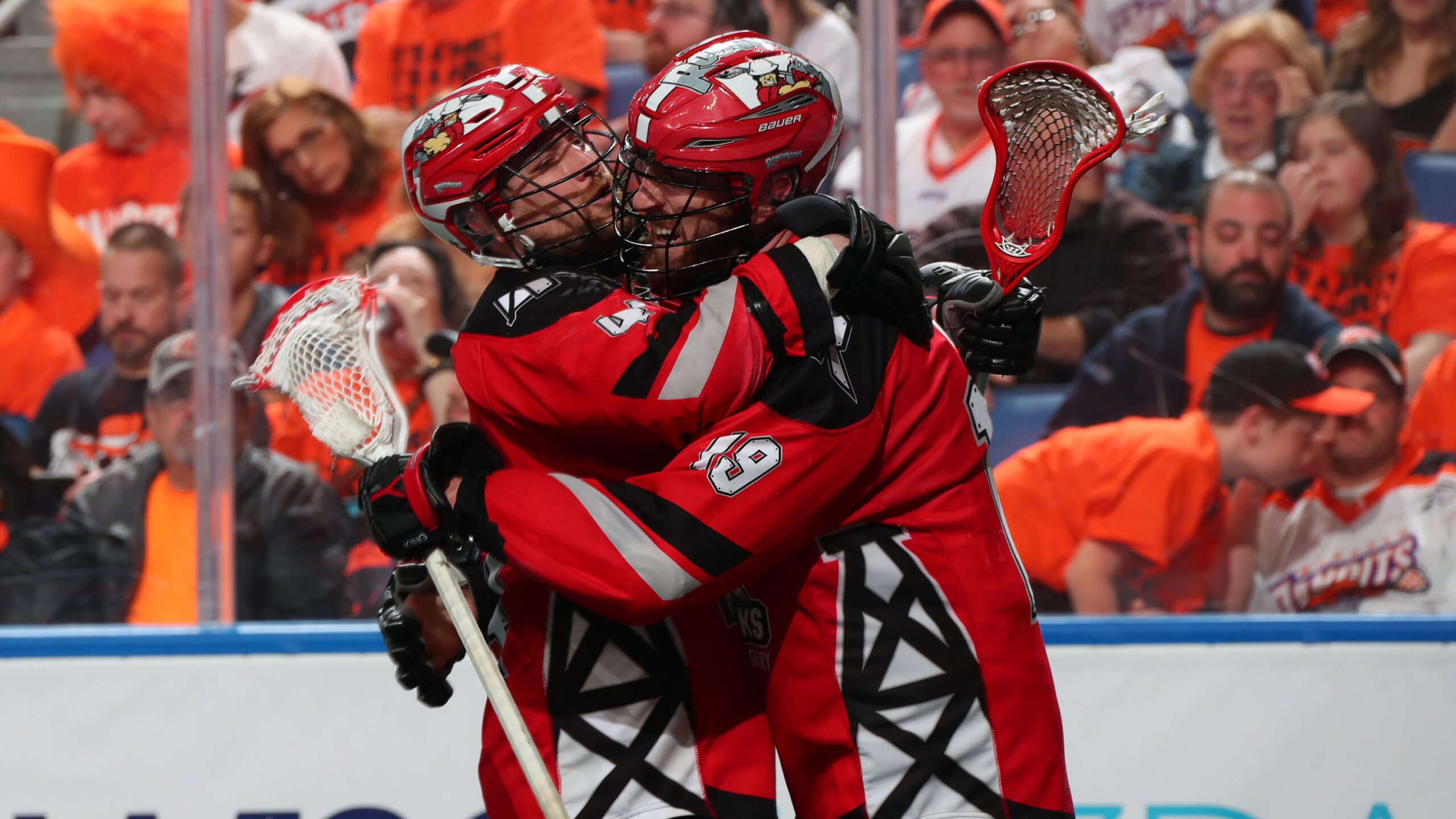 One down, one to go.
Calgary held the league's best offence in check all night as they won Game 1 of the NLL Cup Finals 10-7 at KeyBank Center.
"That's what the playoffs are about," said coach Curt Malawsky. "You just got to battle through whatever game that's in front of us and we've just got to play. We can't just change who we are. If it's a defensive game, that's how we have to play and if it's an offensive game, we'll open it up. It's playoff lacrosse, it's not easy to come by."
The MVP for the Riggers in the win was the man between the pipes.
Christian Del Bianco made 48 saves – including a number of high-quality stops – while holding the Bandits powerhouse attack to just seven goals. He even chipped in an assist in the contest.
But the netminder believes the low-scoring effort is a product of the entire defensive unit.
"I think the big thing is that our defence is taking really good lanes, blocking a lot of shots and letting me see the easy shots," Del Bianco said. "It all adds up and there needs to be a lot of credit to them.
"I think just how much everybody is buying into the bigger goal. Everybody is sacrificing their bodies, getting into those lanes and doing the little things that make us successful."
His bench boss was by no means shocked by the low score of the championship contest.
"Christian's been real good for us, but I think we need to dictate the shots, we got a bit loose at the end and he bailed us out," said Malawsky. "The other guy is phenomenal and he played really good, too. That's why the two teams are in the championship, because they've got great goaltending, so it doesn't surprise me."
After an MVP-calibre season, Dane Dobbie has continued to hold the hot hand, netting a hat-trick and a trio of helpers for a game-high six points.
Rhys Duch, who scored the team's first two goals, had a big night with four points (2g, 2a). Jesse King (1g, 3a), Riley Loewen (3a), and Curtis Dickson (1g, 1a) each made big contributions.
"Dobbie wears his hear ton his sleeve and he's one of our emotional leaders and he's our leader on the scoreboard as well, so when you get a guy like that believing, it's contagious to the rest of our group," explained Malawsky. "When he gets going, the rest of the group steps up and goes.
"It's just the ebbs and flows of a lacrosse game. You get looks and they go in. We hit some pipes early and that gave us some confidence that we were a couple of inches away from putting them in. Our guys didn't drop their heads and we just kept pushing forward. We felt that if a couple could drop it could change the momentum of the game and it just happened to do that and we ran with it."
It was a night of first goals for the Riggers, beginning with captain Dan MacRae, as he scored a great goal in transition to tie the game at three early in the third quarter. That was followed up by Calgary kid Dan Taylor picking up a loose ball and ripping it to the low corner.
The Riggers will have the chance to close out the series at home next weekend when the series shifts to the West.
Game 2 of the NLL Cup Finals takes place next weekend, May 25 at the Scotiabank Saddledome (7 p.m.) in Calgary. Tickets are on sale now.
"We still have lots of work to do. This is a series for a reason and that's a top team over there," Malawsky said. "They haven't lost two in a row this year. For us, it's not focusing on what they're going to do and focusing on what we're going to do. We have to remember who we are and stick to our idiologies. That's the best we can do."
"It's awesome getting a chance to play in front of our home crowd again, they're some of the best fans in the league," said Del Bianco. "But our goal doesn't change, we're going to take it one game at a time, one shift at a time, and just don't worry about the bigger picture."