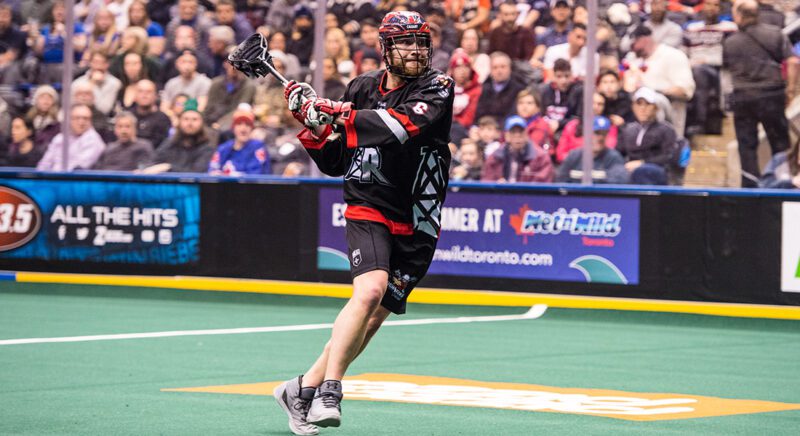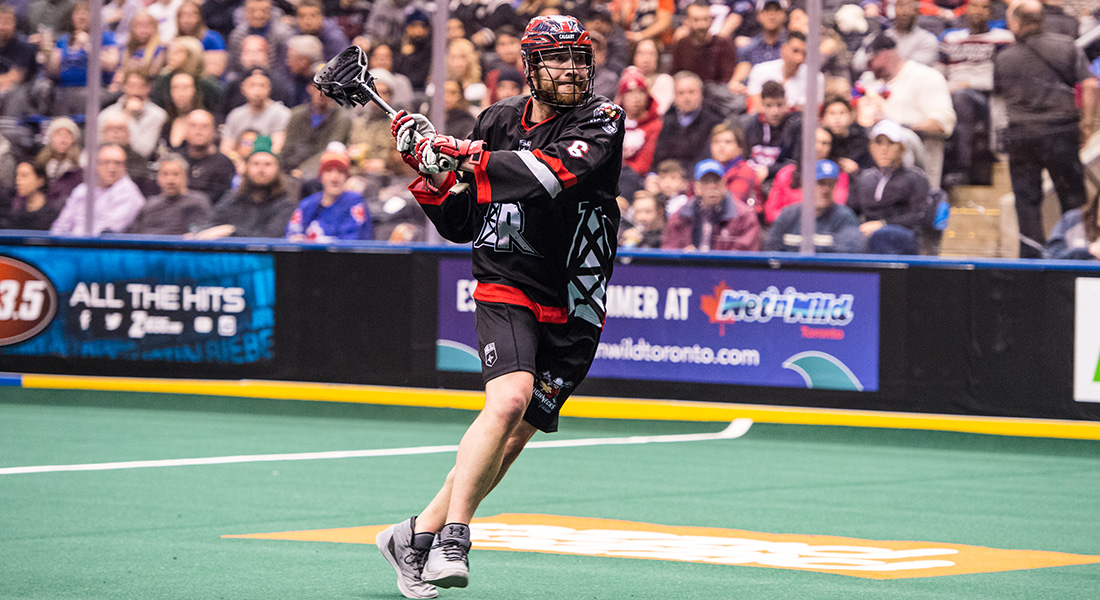 Christian Del Bianco made 47 saves to record his first National Lacrosse League victory as the Roughnecks doubled up the Toronto Rock 16-8 at the Air Canada Centre.
After going 0-3 in his rookie campaign with the Riggers last year, Del Bianco suffered two more setbacks to start his sophomore season before finally earning his first W on Saturday.
"It's nice to turn it around a bit," said the 20-year-old netminder from Coquitlam, B.C. "I've done quite a bit of losing at the start of my career. Hopefully, it's a step in the right direction is the game plan."
Although Del Bianco's dad Mike couldn't be at the game, he was watching online from home in Coquitlam.
"He'll be happy, but a little bitter that he wasn't there to see it," said Del Bianco, whose dad has made it out for several of his other games. "My dad earlier this week told me, 'You've got to win one eventually here.' He was kind of grinding me a bit, so it'll be good to get him off my back for a bit."
Del Bianco stopped all 17 shots he faced in the fourth quarter, during which his teammates outscored the Rock 7-0.
"We know our offence," Del Bianco said. "They're more than capable and it was just a matter of time."
Curtis Dickson scored four times and set up two others for the Roughnecks (2-5), who outscored the Rock 11-2 in the second half to snap their four-game losing streak.
"It was just really nice that the guys got rewarded for their efforts," said Calgary coach Curt Malawsky, who gave Del Bianco the game ball after the win. "I thought Delbs came in and gave us some energy. He's a young guy. He plays his angles well and he's lightning fast. He's waited the last couple years for his chance."
Malawsky recorded his 46th career win behind the bench for the Riggers to pull into a tie with the late Chris Hall as the two most winningest coaches in franchise history.
"I had a lot of respect for Chris Hall," Malawsky said. "He was a great lacrosse mind – a world-renowned lacrosse mind in field and in box. He's no longer with us, but he's there in spirit.
"We always say once a Roughneck, always a Roughneck. He was one of those pioneers that paved the way for myself and some of the young coaches in the league."
Dane Dobbie and Riley Loewen both had hat tricks and two helpers during the onslaught, while Holden Cattoni and Wesley Berg finished with two goals and four assist each.
Tyson Bell had a goal and an assist, Garrett McIntosh also scored, while Zach Currier chipped in with four assists.
Rob Hellyer led the way for the Rock (4-3) with a hat trick and an assist, while Adam Jones scored once and set up three others.
Brett Hickey, Challen Rogers, Tom Schreiber and Latrell Harris also scored for Toronto, while goalie Nick Rose stopped 35 of 49 shots he faced before being replaced in net by Brandon Miller late in the game.
Dickson opened the scoring for the Riggers at 2:50 of the opening quarter when he took a pass from Currier and squeezed a shot past Rose for a shorthanded goal.
Just 24 seconds later Hickey responded with a powerplay goal for the Rock to pull the home team into a 1-1 tie.
Dobbie then bounced a shot through Rose's legs to give the 'Necks back their one-goal lead before Rogers snapped a shot past Del Bianco.
After Berg fired a shot through a screen into the top corner behind Rose with 46 seconds left in the first quarter, Hellyer answered right back for the Rock 21 seconds later.
Jones and Harris tallied goals nine seconds apart early in the second quarter before McIntosh converted a breakaway opportunity to pull the visitors back within a goal.
After Hellyer notched his second of the contest, Loewen whipped a sidearm shot from the slot past Rose to round out the scoring in the first half.
The Riggers appeared to tie the score at 6-6 with 37 seconds left before the halftime intermission, but the goal was disallowed because Curtis Manning's toes were just in the crease.
Del Bianco then stood his ground to make a nice save on Jones with 11 ticks left on the clock.
Hellyer completed his hat trick at 1:45 of the third quarter before Dickson and Cattoni responded with powerplay goals for the Riggers 1:39 apart with Jones in the penalty box serving a spearing major.
After Schreiber put the Rock back up 8-7, Loewen picked up a loose ball and quickly deposited it in the net behind Rose with 56 seconds remaining in the third.
The 'Necks got the ball back and then managed the clock to perfection as Dickson whipped a sidearm shot past Rose with just 1.8 seconds remaining before the intermission.
Dickson added his fourth of the game at 2:17 of the final frame before Dobbie stunned Rose by scoring on a behind-the-back beauty 34 seconds later.
Berg then drove hard to the net and tucked a shot over Rose and into the net to put Calgary up 12-8 before Dobbie scored his second straight behind-the-back goal.
Cattoni, Bell and Loewen then rounded out the scoring to stun the Rock and the hometown crowd in Toronto.
Next up, the Roughnecks will return home to host the Colorado Mammoth next Saturday (7 p.m.) at the Scotiabank Saddledome.
"Really our mantra has just been get better every week," Malawsky said. "We got better against Georgia (during 15-12 loss at home to the Swarm on Jan. 13) and we got better against Saskatchewan (in narrow 13-12 overtime setback at home on Jan. 27) and we were better against Toronto. Our mantra again is just to be better next weekend against Colorado and trying to put 60 minutes together."