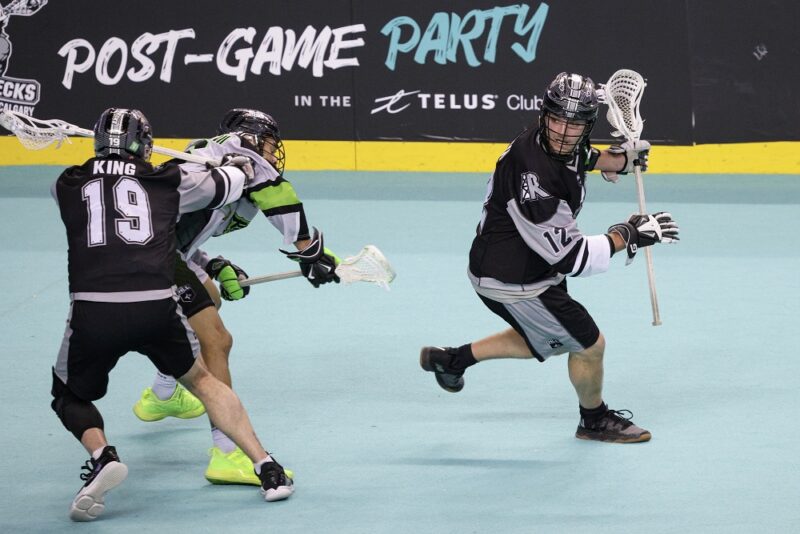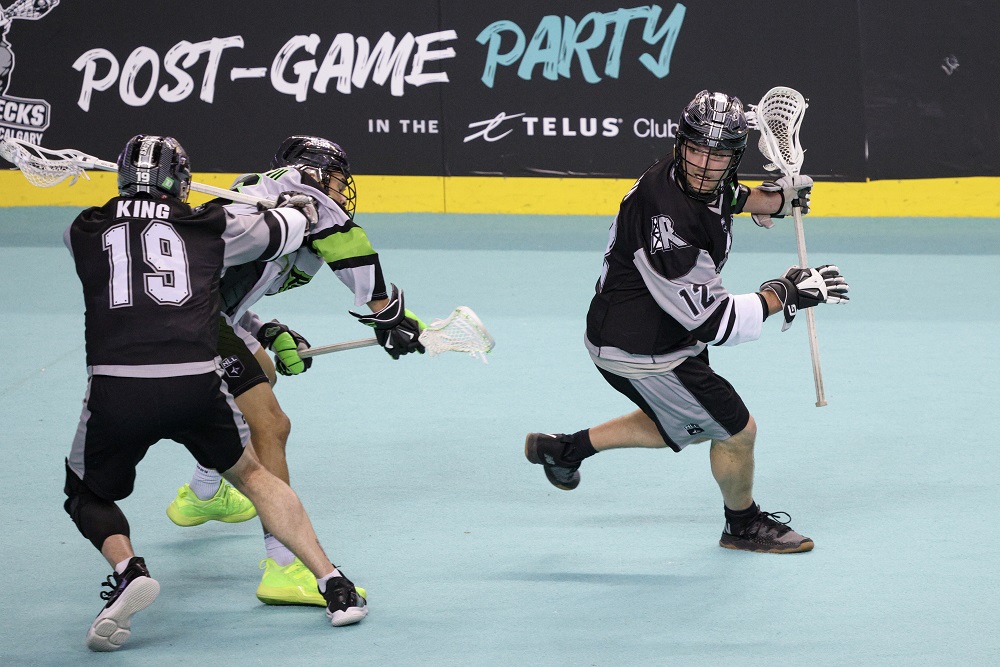 By: Laurence Heinen
A hot start to the third quarter propelled the Roughnecks to a convincing 13-6 win over the Saskatchewan Rush on Friday.
Tyler Pace and Zach Currier started things off in the second half with goals eight seconds apart to thrill the crowd of 14,070 appreciative fans in attendance at Scotiabank Saddledome.
Eli Salama, Haiden Dickson and Shane Simpson kept things going with three more quick goals as the Roughnecks (5-3) ran to their second straight victory and their third in their past four contests.
Tanner Cook finished with four goals, Pace had a hat trick, while goalie Christian Del Bianco had a great game as he stopped 40 of 46 shots he faced to pick up the win.
Captain Jesse King had a goal and six helpers during the onslaught as he eclipsed the 200-assist plateau for his NLL career along the way.
Currier opened the scoring at 5:35 of the first quarter when he raced the length of the floor before tucking a shot to the short side past Saskatchewan goalie Alex Buque.
The Rush scored the only two other goals of a defensive opening quarter.
Cook fired a long-range shot through traffic past Buque for a power-play goal at 2:34 of the second quarter to pull the 'Necks into a 2-2 tie.
The Rush retook a one-goal lead a short time later before Jesse King wired a shot to the top corner with 2:54 to play in the first half to even things up once again.
The half-time break seemed to energize the Riggers as they used their early surge in the third quarter to take control of the game.
Cook had three of his goals in the final frame, while Pace put up a pair more to finish off his hat trick.
COACH'S CORNER
"I'm really proud of the boys tonight. They played really, really well out there. We had a complete game. We didn't get behind the eight ball at the start. We made a conscious effort at coming out and being aggressive. The goaltender battle in the first half and then we wanted to come out of the gates real hot in the third quarter and have them chase the game a little bit and it seemed to work out for us."
"I just think it was our will to win. Our guys wanted to start running a little more and get the ball up and down. We had a nice goal when we did run on one, and then we made a conscious effort of running more. And then we got an opportunity at the half to watch some video and see some things that make a difference. So it's a testament to the guys who managed the ball really well, possessed the ball well and (made) good decisions in transition, and we ended up scoring on them."
BY THE NUMBERS:
Tanner Cook 4g
Tyler Pace 3g
Zach Currier, 2g, 3a, 16 loose balls, 4 caused turnovers
Jesse King 1g, 6a
Shane Simpson 1g, 1a
Haiden Dickson 1g
Eli Salama 1g
Seth Van Schepen 2a
Christian Del Bianco 44 saves
SAY WHAT:
"Christian's always great. We can always count on him to make the saves when we need him to. If we stick to the game plan and give him the shots that he wants to see, then that sets everybody up for success. I think that was just a really good game all-around from us from the back out." – Eli Salama
"Good half time, good music from Mitch Wilde, good speech from Mouse. I think we've been having a little bit of slow starts either from out of the gate or at half. We wanted to correct that, so I think that was a good tone setter for us, for sure." – Salama
NEXT UP:
The Riggers don't have much time to rest seeing as how they're hosting the Colorado Mammoth on Saturday night (7 p.m.) on WestJet Field at the Scotiabank Saddledome in the back half of a double-header weekend.