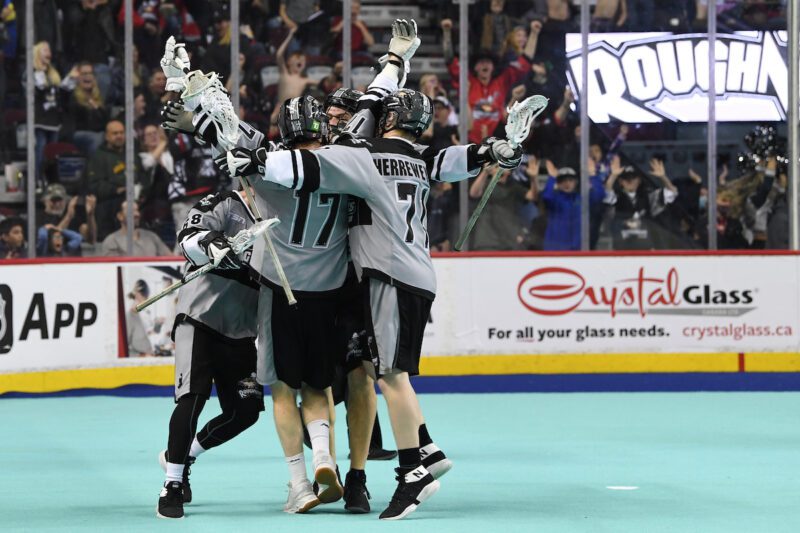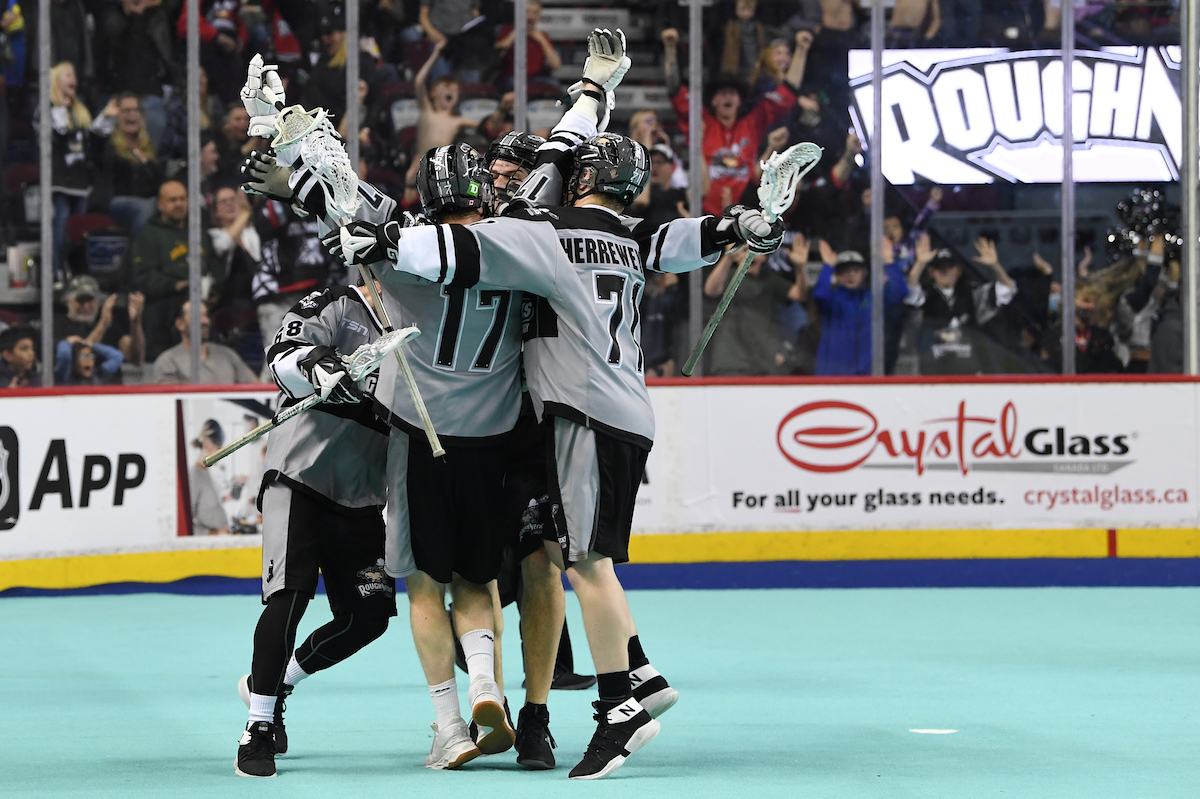 The Roughnecks weren't fooling around in overtime at the Rough House on Friday night.
Curtis Dickson scored 31 seconds into the extra session to lead the Riggers to a thrilling 10-9 win over the Vancouver Warriors in front of 7,958 fans in attendance at the April Fool's Party.
Dickson finished the game with four goals and one assist and was named the game's first star, while goalie Christian Del Bianco made 37 saves to earn third-star accolades.
Haiden Dickson opened the scoring for the fan favourites at 2:24 of the first quarter before the Warriors tied things up less than a minute later.
Curtis Dickson, Zach Herreweyers and Jesse King responded by tallying three straight goals to give the Riggers a 4-1 lead through 15 minutes of play.
Dan Taylor opened the scoring in the second quarter and after three straight goals by the Warriors, Curtis Dickson tallied his second of the contest to give the home side a 6-4 lead heading into the halftime intermission.
After scoring first to start the game, Haiden Dickson got things going for the Riggers in the third quarter as well, coincidentally at 2:24, which is the same time he scored in the opening frame.
The visitors then rallied with three straight goals to tie things up at 7-7 heading into the fourth quarter.
Both teams scored twice in the fourth with Pace and Curtis Dickson scoring for the 'Necks.
Tyler Burton won the opening faceoff for the 'Necks in OT and coach Curtis Malawsky immediately called a timeout to settle things down before captain Dickson scored his clutch goal.
COACH'S CORNER
"I've been around the league long enough to know you've got to take care of the ball, so we knew if there was a possession we needed to call a timeout (early in overtime). It ended up getting into Dickson's stick at the end and then he just made a super-star play and put the ball in the net. World-class players do world-class things."
"It's a momentum thing. We got on a run and then they got on a run. It's how you react to the runs. I think that's what we're working on. We understand how to control momentum. We've been better at it. Teams are going to score. They've got great players. The ball's going to go in the net and if you panic and you say 'Uh-oh, they went on a three-goal run,' it's going to be a six-goal run and you're going to be done."
"We talked about being strong between the ears. The mental fortitude is really big, especially for our younger team. We've got good veteran leadership that's been helping us along. That even keel, the ebbs and flows are going to happen in the game of lacrosse and as you've seen, it's one shot wins."
BY THE NUMBERS:
C. Dickson 4g, 1a, 12 shots on goal, OT GWG
H. Dickson 2g, 1a, 10 loose balls
King 1g, 5a
Pace 1g, 4a
Herreweyers 1g, 1a
Taylor 1g, 1a
Cook 3a
Del Bianco 37 saves
Currier 15 loose balls
SAY WHAT:
"A bit of a goofy play, to be honest, but we haven't been getting a lot of those bounces this year. So it was kind of nice to get it off a broken play and find a loose ball and chuck it on net – and luckily, it went in. I threw a shot on net and missed the net, and it bounced right back to me. Just kind of knew the shot-clock was running out and turned and fired one on the cage. I'll take a little bit of credit and say it was a little bit of skill involved– but a lot of luck, too." – Curtis Dickson
"It's big – it's playoff lacrosse for us. We've touched on it multiple times that we don't have the luxury to keep dropping games. It's time to go – now or never. The runway is running out, and it's time to take off. I think it's a big win, but you can't be too happy with it. You have to just build off it."" – Christian Del Bianco
NEXT UP:
The Roughnecks will continue their three-game homestand when they welcome the Halifax Thunderbirds to the Scotiabank Saddledome next Friday, April. 8 at 8 p.m. They'll continue a busy weekend the next night when they host the Panther City Lacrosse Club at the 'Dome once again the next night (7 p.m.).