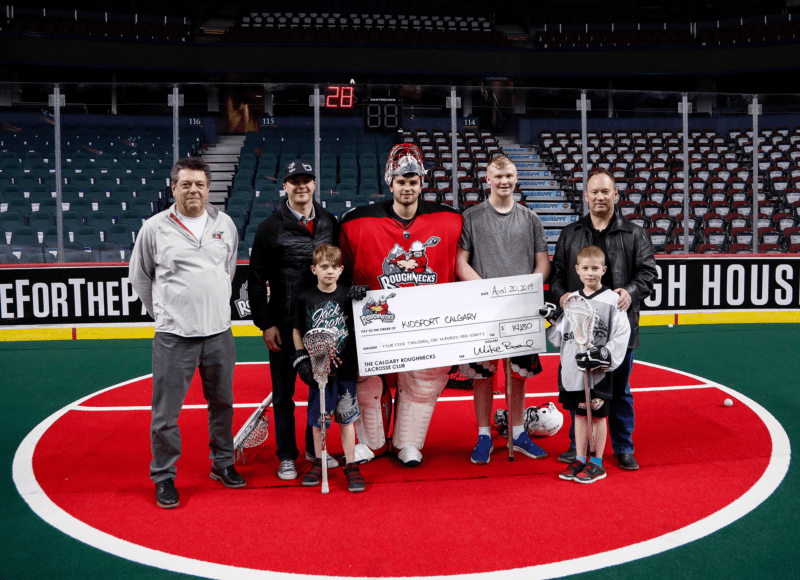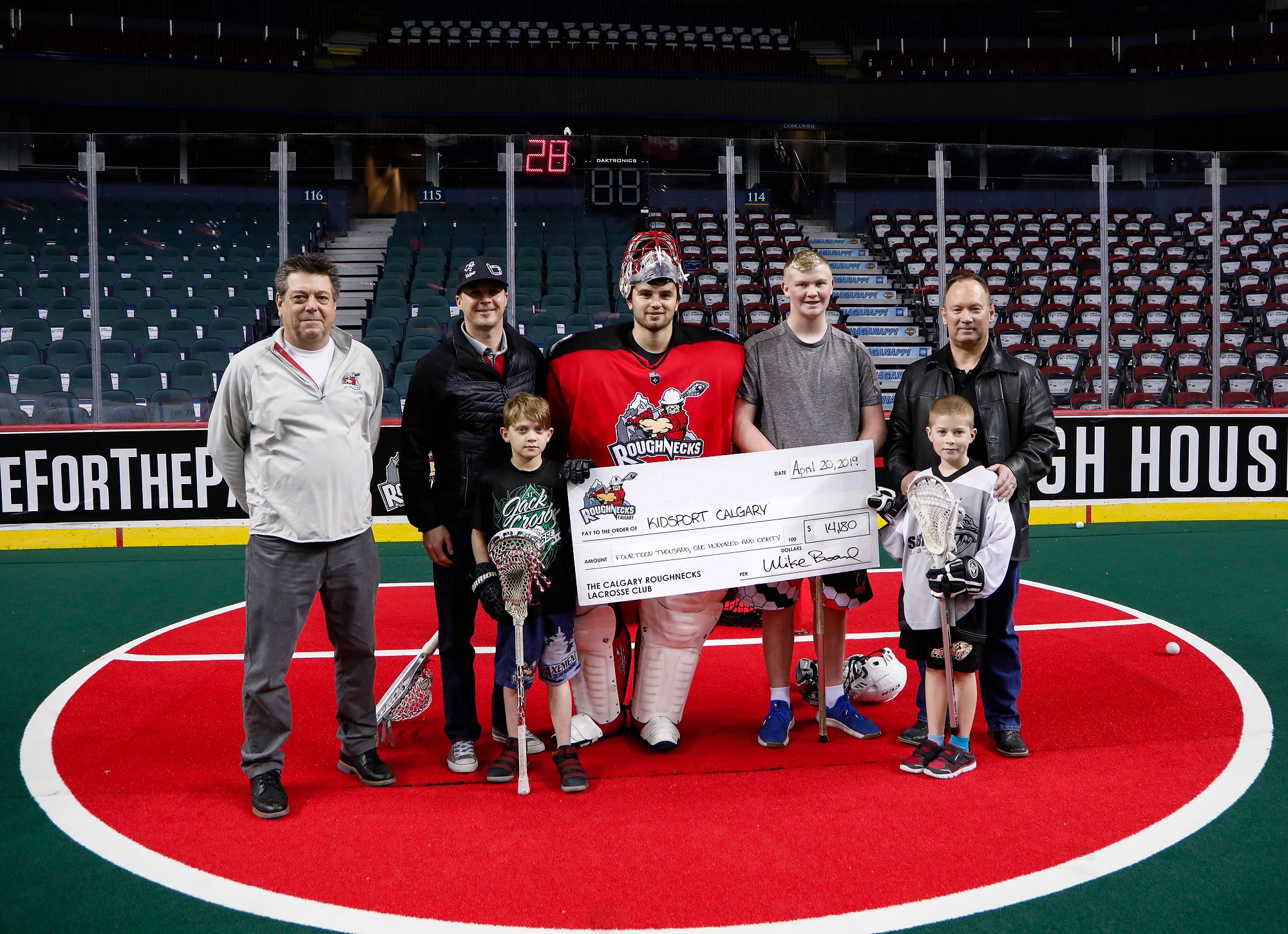 Calgary, AB – Calgary Roughnecks goaltender, Christian Del Bianco, and the Roughnecks Foundation, in partnership with Ascent Consulting Ltd. are proud to announce a donation of $14,180 to KidSport Calgary through Del Bianco's Assists for Kids program.
As part of the program, both Del Bianco and the Calgary Roughnecks Foundation each contributed $30 for every regular season assist recorded by the Calgary goaltender, while Ascent Consulting Ltd. who initially pledged $500 doubled their contribution to $1,000 per assist. The 21-year-old Port Coquitlam, BC product finished the 2018-19 National Lacrosse League campaign with 12 assists.
"We are so proud of Christian for establishing such a worthwhile cause in his partnership with KidSport," said Bill Alston, president of Ascent Consulting. "We are thrilled to be able to donate some of the necessary funds that allow these worthy kids to take part in their favorite sports all across our city! This program has been such a success in its inaugural season, and we feel so privileged to be a part of it, that Ascent Consulting is going to double our initial contribution to $1,000 per assist! "
Additionally, Del Bianco auctioned off his game-worn helmet from the 2018-19 season featuring the KidSport logo which raised $1,460. Those funds will also be directed to the Assists for Kids program.
"I was personally fortunate enough to have parents that were financially able to put me in sports," said Del Bianco. "I believe that every child should have that same opportunity to be a part of something bigger than themselves. When you donate to KidSport you're not only helping kids, but also parents who financially struggle, be included in the sports community."
KidSport Calgary provides support to children and their families in order to remove financial barriers and allow them the opportunity to participate in organized sport.
"Our KidSport team was honoured to welcome Christian Del Bianco as a new ambassador," said Executive Director of KidSport Calgary, Kevin Webster. "Christian has helped us raise awareness for the KidSport program, the Roughnecks EvenStrength program and raised important dollars through Del Bianco's Assists for Kids program. Through this initiative Christian opened the door to a new partnership with Ascent Consulting Ltd. ensuring we can continue to support each and every kid who may need an assist from KidSport so they can play!"
About KidSport Calgary
KidSport Calgary & Area is a local, non-profit organization that is focused on providing positive sport opportunities to children from low-income families. With the help of community supporters, KidSport™ is able to assist local kids by subsidizing sport registration fees and certain sport equipment for qualified applicants, so kids can play their chosen sport safely and confidently.
Photo Caption: From left to right: general manager Mike Board, executive director of KidSport Calgary Kevin Webster, Christian Del Bianco, president of Ascent Consulting Bill Alston and three boys currently benefitting from KidSport funding with a cheque detailing the $14,180 donation from the Roughnecks to KidSport Calgary. Photo by Jenn Pierce/Calgary Roughnecks.