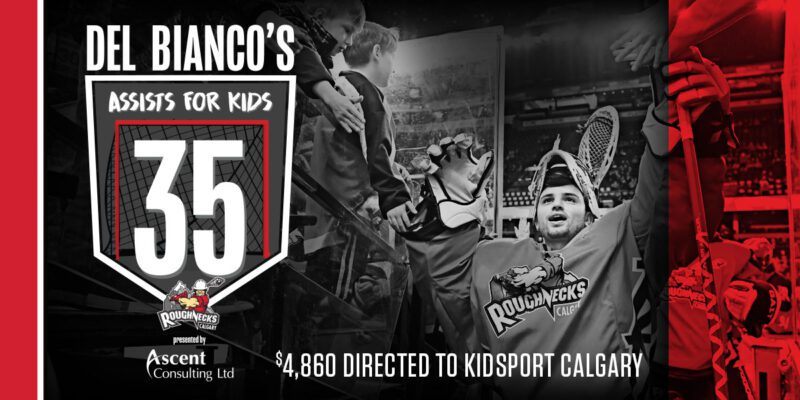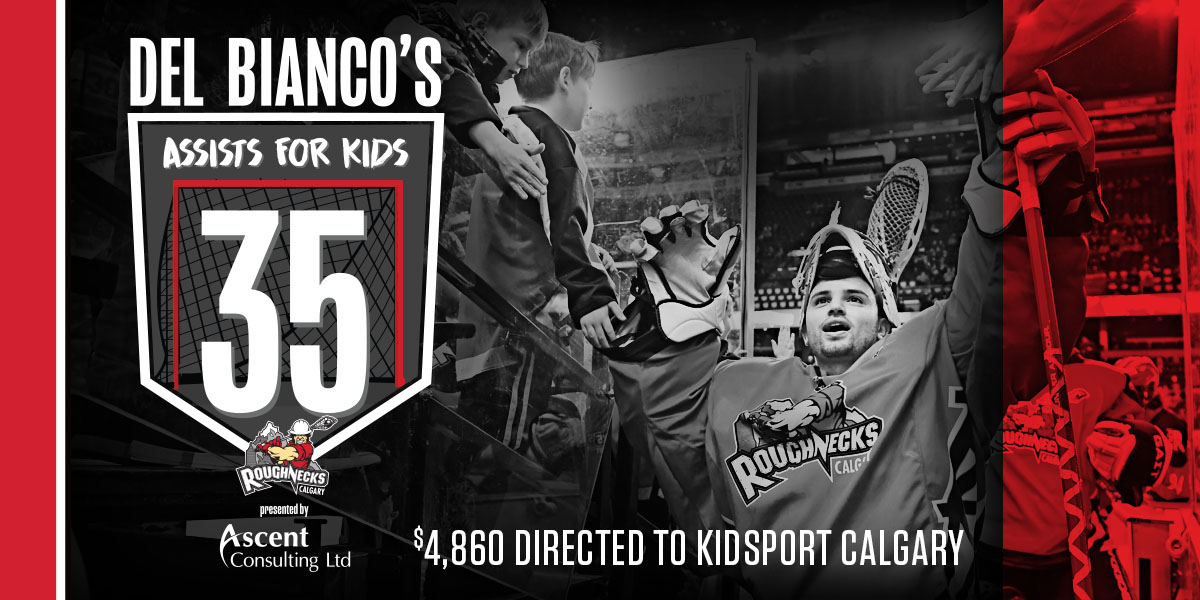 Calgary, AB – Calgary Roughnecks goaltender, Christian Del Bianco, and the Roughnecks Foundation, in partnership with Ascent Consulting Ltd. are proud to announce a donation of $4,860 to KidSport Calgary through Del Bianco's Assists for Kids program.
As part of the program, both Del Bianco and the Calgary Roughnecks Foundation each contributed $30 for every regular season assist recorded by the Calgary goaltender, while Ascent Consulting Ltd. donated $500 per assist. The 22-year-old Port Coquitlam, BC product recorded six assists in 10 regular season contests during the 2019-20 National Lacrosse League campaign.
"Having great advocates and ambassadors like Christian helps raise the profile for our program, giving kids insight into what we do and how they can access it while community leaders like Bill and Ascent Consulting stepping up to make sure every kid has the chance to play is really the only way KidSport exists," said Executive Director of KidSport Calgary, Kevin Webster. "In 2019, this program was part of helping 5,700 kids play sports in Calgary and area and that's no small feat. After isolation protocols are lifted, sport is going to play a hugely important role in reuniting our communities, from giving adults a chance to get out and watch the kids and getting kids back to the things they love. It's partnerships like this that are going to help lead the way."
Additionally, Del Bianco sold his game-worn helmet from the 2019-20 season featuring both KidSport and Ascent Consulting logos collecting $1,500. Those funds will also be directed to the Assists for Kids program which has raised over $19,000 since its inception in 2018-19.
"We are always looking for opportunities to give back to the community, and this just hit us perfectly," said Bill Alston, president of Ascent Consulting. "Growing up, I had the opportunity to play sports and those are some of my best memories. Any chance we have to get the kids involved and make lifelong friends, I think is important and we are fortunate to be a part of this program with Christian."
KidSport Calgary provides support to children and their families in order to remove financial barriers and allow them the opportunity to participate in organized sport.
"I was personally fortunate enough to have parents that were financially able to put me in sports," said Del Bianco. "I believe that every child should have that same opportunity to be a part of something bigger than themselves. I only play a small part in this but it's the generosity and time from leaders like Bill and organizations like KidSport that really makes an impact on the community."
About KidSport Calgary & Area
KidSport Calgary & Area is a local, non-profit organization that is focused on providing positive sport opportunities to children from low-income families. With the help of community supporters, KidSport is able to assist local kids by subsidizing sport registration fees and providing no cost sports equipment through our Comrie's Sports Bank for qualified applicants, so kids can play their chosen sport safely and confidently.