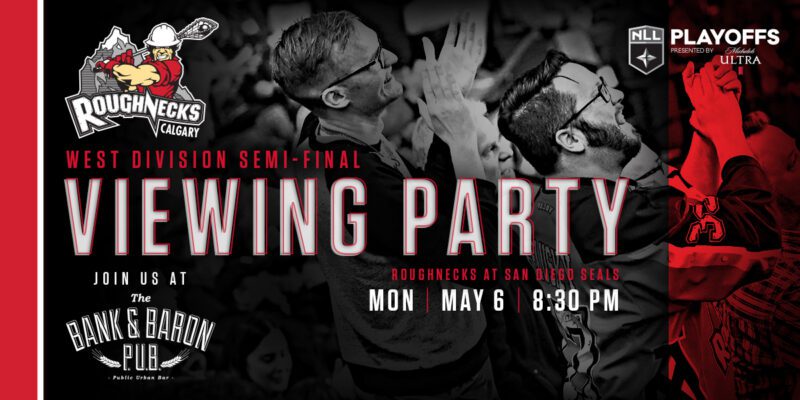 Calgary, AB – The Calgary Roughnecks are excited to invite fans to the first-ever Roughnecks Viewing Party at Bank and Baron P.U.B. to watch the West Division Semifinal against the San Diego Seals on Monday, May 6.
The FREE party starts at 8:00 p.m. with the National Lacrosse League pre-game show while ball drop is 8:30 p.m.
Fans will have the opportunity to meet Roughnecks defenceman Bob Snider, alumnus Geoff Snider and members of the Roughnecks Drill Crew. Attendees can take photos at the Roughnecks photo booth and will be eligible to win a variety of prizes including a team signed Roughnecks jersey, vouchers for the 2019-20 Home Opener and more.
The Bank and Baron P.U.B. (125 – 8th Avenue SW) is reclaimed within The Bank of Nova Scotia building built in 1930 and is recognized as one of Alberta's most historical sites. This old school bank is located in the heart of Calgary's popular Stephen Avenue and has been transformed into a new school pub featuring 28 TV's so you don't miss any of the Roughnecks action.
It's Wing Night at the Bank and Baron P.U.B. with 25 cent wings and $5 beverage specials including pints of Toolshed and 5oz house red and white wine.
Arrive early to ensure you get a seat as the Rough House takes over the Bank and Baron P.U.B. This is an 18-plus event. Due to building capacity, entry may not be guaranteed.