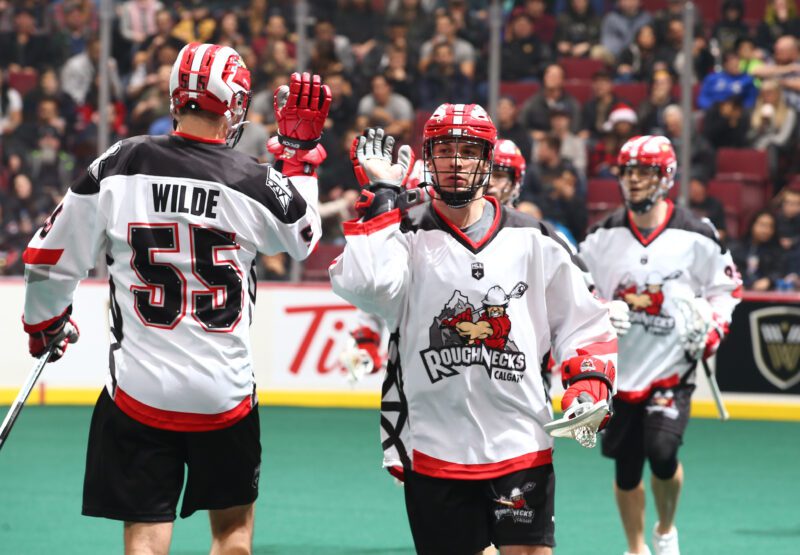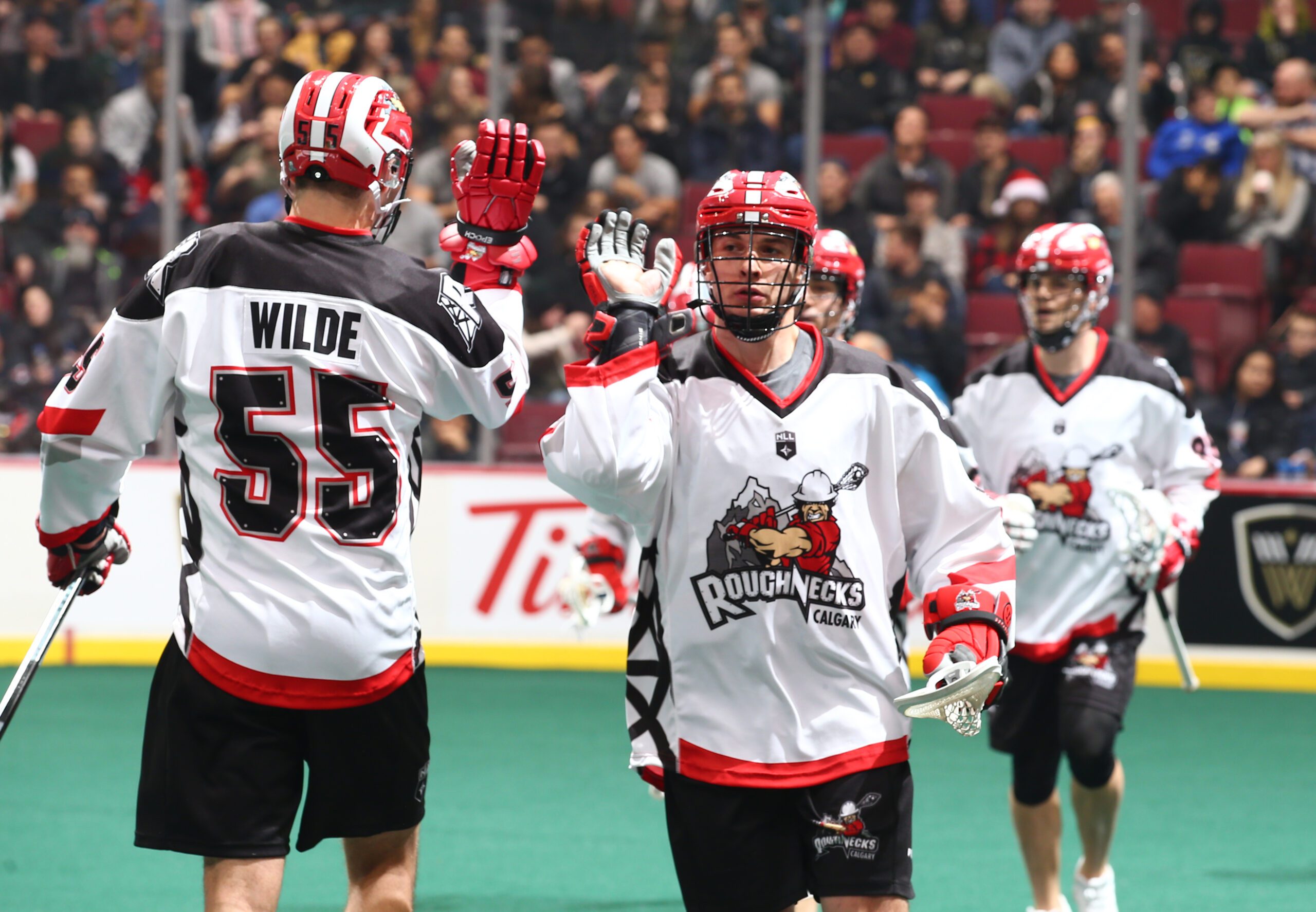 The Calgary Roughnecks made sure that the Vancouver Warriors didn't win their home opener on Friday night.
After all, it was the Warriors who spoiled the party six nights earlier at the Scotiabank Saddledome by beating the Roughnecks 14-13 in overtime in the first game of the 2018-19 National Lacrosse League season for both teams.
Rhys Duch led the way for the Roughnecks (1-1) with two goals and eight assists as Calgary beat Vancouver 14-8 in the rematch at Rogers Arena.
"It definitely felt sweet," said Duch, who signed with the Riggers on Nov. 29 after playing for the Vancouver franchise last year when the team played out of Langley and were known as the Stealth. "Last week, it just felt weird. I think I put too much pressure on myself.
"Tonight we came in and we stuck to our guns. We knew we were going to outwork them and we stuck to our systems and things were going to fall into place."
Coming into the game, Duch needed just three points to reach the 900-point plateau in his 11th NLL season. It didn't take him long to accomplish the feat as he scored once and set up two others in the first quarter.
"I'm here in Calgary to make sure that we're winning games, but it's a pretty special thing," Duch said. "Only a handful of guys have been able to do that, so I've been pretty lucky to have the lengthy career that I've had."
Hailing from nearby Victoria, Duch had a big cheering section in the crowd at Rogers Arena that included his wife Jenna and son Finnley.
"My kid's three so he thinks we win every game, so I let him believe it," Duch said. "Tonight it feels really good. He's my biggest supporter so I love to do that for him."
Dane Dobbie scored four goals and added three assists for the Riggers, while Tyler Pace (3g, 3a) and Riley Loewen (3g, 2a) chipped in with hat tricks. Dan Taylor scored twice and set up two others, while Zach Currier finished with two assists.
"There was no quit in the group of guys," said Calgary coach Curt Malawsky. "I thought last week we played not to lose. This week, it was going to be like we were playing to win. The score was irrelevant and we were playing the next play in front of us. We got some good efforts from a lot of guys and we were able to build on that."
Goalie Christian Del Bianco had a solid outing in net as he stopped 36 of 44 shots he faced for his first victory of the young season.
"I thought he was the player of the game, no question in our mind," said Malawsky of Del Bianco. "Delbs, he's a competitor. He's a guy that wants to win every game and stop every ball.
"He pushes everybody. He's a big-time goalie. He's a big-game player. He knew the magnitude of this game. It doesn't have to be said. He showed everybody why he's our No. 1 goalie.
Mitch Jones had two goals and two assists for the Warriors (1-1), while Logan Schuss scored once and set up two others.
Matt Beers, Joel McCready, Zach Porter, Colton Porter and Dan Lomas also scored, while goalie Aaron Bold made 38 saves.
After Colton Porter opened the scoring for the Warriors at 2:17 of the first quarter, Duch responded right back for Calgary 27 seconds later when he bounced an overhand shot in behind Bold.
Pace then cut around Vancouver defender Justin Salt before going airborne and tucking a shot past Bold to give the visitors a 2-1 lead.
Jones and Pace then traded power-play goals as the Riggers emerged from the opening quarter with a 3-2 advantage.
The Warriors started the second quarter with four straight goals by Schuss, Jones, Zack Porter and McCready before the 'Necks went on a run of their own as Duch, Dobbie and Taylor all found the back of the net to tie things up at 6-6 heading into the halftime intermission.
"It showed a lot of character coming back from 6-3," Duch said. "It was an awesome game. Everybody on the team contributed. It was great to be a part of."
The break didn't curtail Calgary's momentum as Dobbie fired a submarine shot through Bold's legs 27 seconds into the third quarter before Taylor converted a feed from Currier 13 seconds later.
Pace then finished off a tic-tac-toe passing play with Duch and Dobbie to complete his hat trick 24 seconds after Taylor's goal to put the Riggers up 9-6.
Del Bianco stopped all seven shots he faced in the third quarter, including a breakaway attempt by Keegan Bal shortly after Pace's hat-trick marker.
Loewen put the visitors up 10-6 at 12:05 of the third when he snapped a shot past Bold after taking a pass from Pace.
Beers finally ended Vancouver's lengthy scoring drought with his second goal of the season at 2:40 of the final frame before Loewen replied for Calgary 68 seconds later to put the 'Necks back up by four goals.
Shortly after the Riggers killed off a two-man advantage for the Warriors, Loewen completed his hat trick once Calgary was back to full strength.
Dobbie added two more goals for the Riggers, while Lomas responded for the Warriors.
Next up, the Roughnecks will return home to host the expansion San Diego Seals at the Saddledome on Friday, Dec. 28 (7 p.m.).
"It's nice going into the break at .500," Malawsky said. "The guys will spend some quality time with their families. That's what Christmas is all about is spending time with your families and then we'll come back as a group. We're slowly starting to build some identity here and we'll continue to build that identity in our group."
Next Friday's game is billed as the biggest Ugly Christmas Sweater in Calgary and there will be concourse activities including music, a variety of games and a Christmas photo booth.