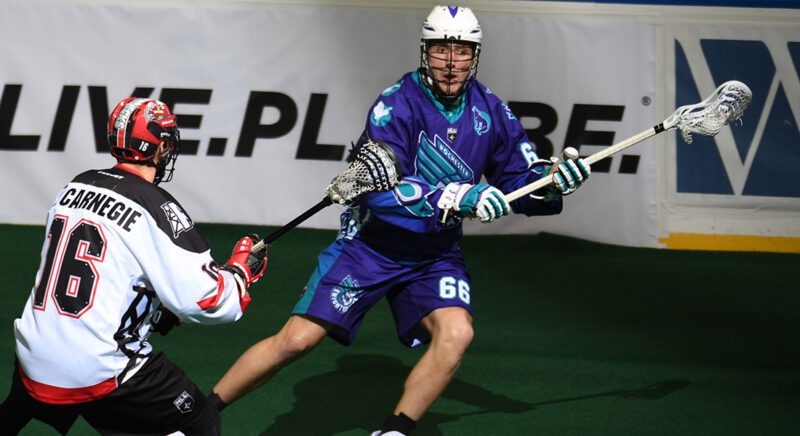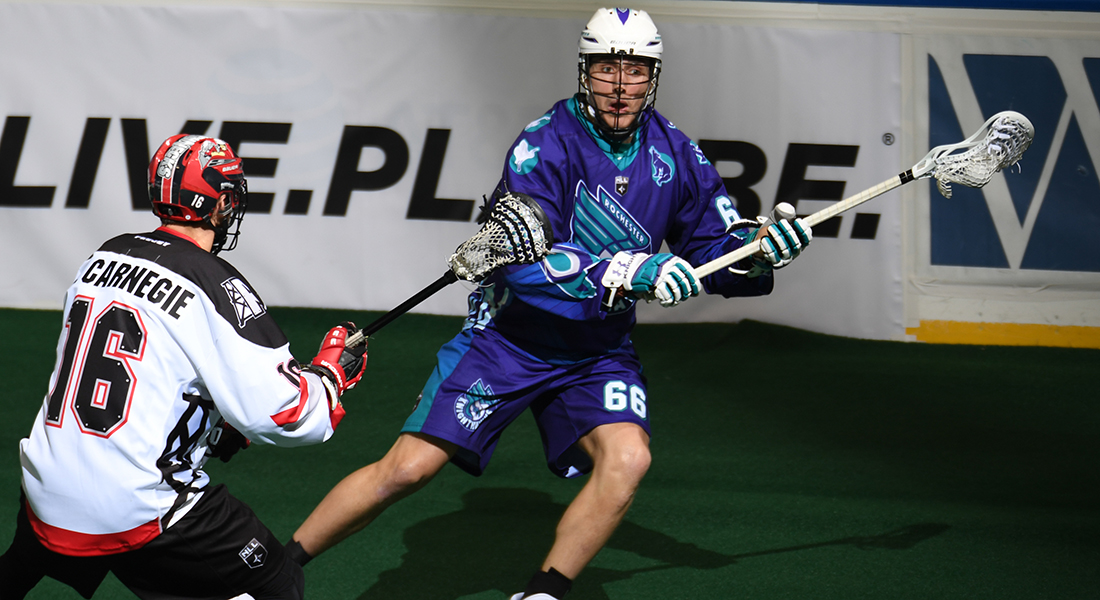 It's safe to say that the Roughnecks didn't have the start to the 2017-18 National Lacrosse League season that they wanted.
One positive that the Riggers can take away from their disappointing 17-6 road setback to the Rochester Knighthawks on Saturday is that they have the rest of the season to correct all the mistakes that they made.
"Maybe it's fortunate that it's the first one of the year," said newly-appointed Calgary captain Dan MacRae, who had a goal and an assist. "We have some new players, some young guys in big roles. We have some new systems. The message in camp when learning these new systems and playing with them was to go out there and make some mistakes and we'd learn from them.
"Tonight, we made a lot of mistakes. Nothing really went our way. It felt like the harder we worked, the mistakes were just piling up. There's no hiding any of the ones tonight. All those will be accounted for and adjustments will be made."
Veteran Rochester goalie Matt Vinc made 40 saves to pick up the win and in the process he passed Bob Watson for second spot on the NLL's all-time saves list.
"Their goalie played great," said Calgary coach Curt Malawsky. "I think maybe then we started clutching our sticks a little bit more and then started trying to create a little bit more off the back end. As we were running out the back end, our defence kind of suffered and it ended up in our net."
Dan Dawson led the Rochester attack with a hat trick and three helpers, while former Roughneck Joe Resetarits also had a good game with two goals and three assists.
Holden Cattoni, Zach Currier, Greg Harnett, Curtis Manning and Riley Loewen also scored for the Riggers, while Tyson Bell chipped in with two assists.
Playing in his first career NLL game, Currier had several great chances to score, but was only able to put one past Vinc.
"Zach is an incredible athlete and he can showcase that on any given shift," said MacRae of Currier, who the Roughnecks selected third overall in the 2017 NLL Draft. "I thought he had three or four good opportunities of getting down the floor and he hit a couple posts. He showed a lot of positives out there. We've just got to be better around him."
Frank Scigliano started in net for the 'Necks and stopped 19 of 29 shots he faced before being replaced by Christian Del Bianco, who made 15 saves in a relief appearance.
Kyle Jackson, Josh Currier and Cory Vitarelli had two goals each for the Knighthawks, while Brad Gillies, Dylan Evans, Ian Llord, Scott Campbell, Luc Magnan and Cody Jamieson also scored.
Calgary tied a record for fewest goals scored in a game. Two times previously in franchise history, the Riggers also scored just six goals, the last time during an 11-6 loss to the Colorado Mammoth on March 14, 2008.
MacRae opened the scoring for the Riggers at 1:08 of the first quarter when he took a pass from Scigliano and ran into the Rochester zone before firing a low shot past Vinc.
Shortly after Jackson scored to tie things up at 1-1 at 3:43, Vinc made a nice save to stop a breakaway opportunity by Zach Currier.
Jackson and Magnan then scored to put Rochester up 4-1 through one quarter of play before the Knighthawks also fired the first four goals of the second.
"It's just human nature as an offensive player to try to get 'em all back in one shift and I think that's what we tried to do is we tried to just force it at the net, force it at the net and then they'd run it back the other way," Malawsky said. "They built their lead off of that."
Cattoni finally got the Riggers back on the board at 8:23 of the second when he took a pass from Tyler Digby and scored a nice quick-stick goal.
Rochester then scored four straight goals including the second of the game from Josh Currier with 1:27 to play in the first half.
His younger brother, Zach Currier, then tallied his first career goal in his first NLL game with the Riggers when he took a pass from MacRae and snapped a long-range shot past Vinc.
The 'Necks appeared to score early in the third quarter, but a goal by Wesley Berg was waived off due to a crease violation.
Campbell scored the lone goal of the third quarter for Rochester before the Knighthawks outscored the Roughnecks 5-3 in the final frame.
Next up, the Roughnecks will host the Vancouver Stealth in their home opener at the Scotiabank Saddledome on Friday (7 p.m.).
"I know these guys are competitors and warriors and they take that right on the chin," Malawsky said. "They take it personal. I know the group of guys that we've put together in this room. It's a great team and a great group of character guys and I know they'll respond well next weekend."