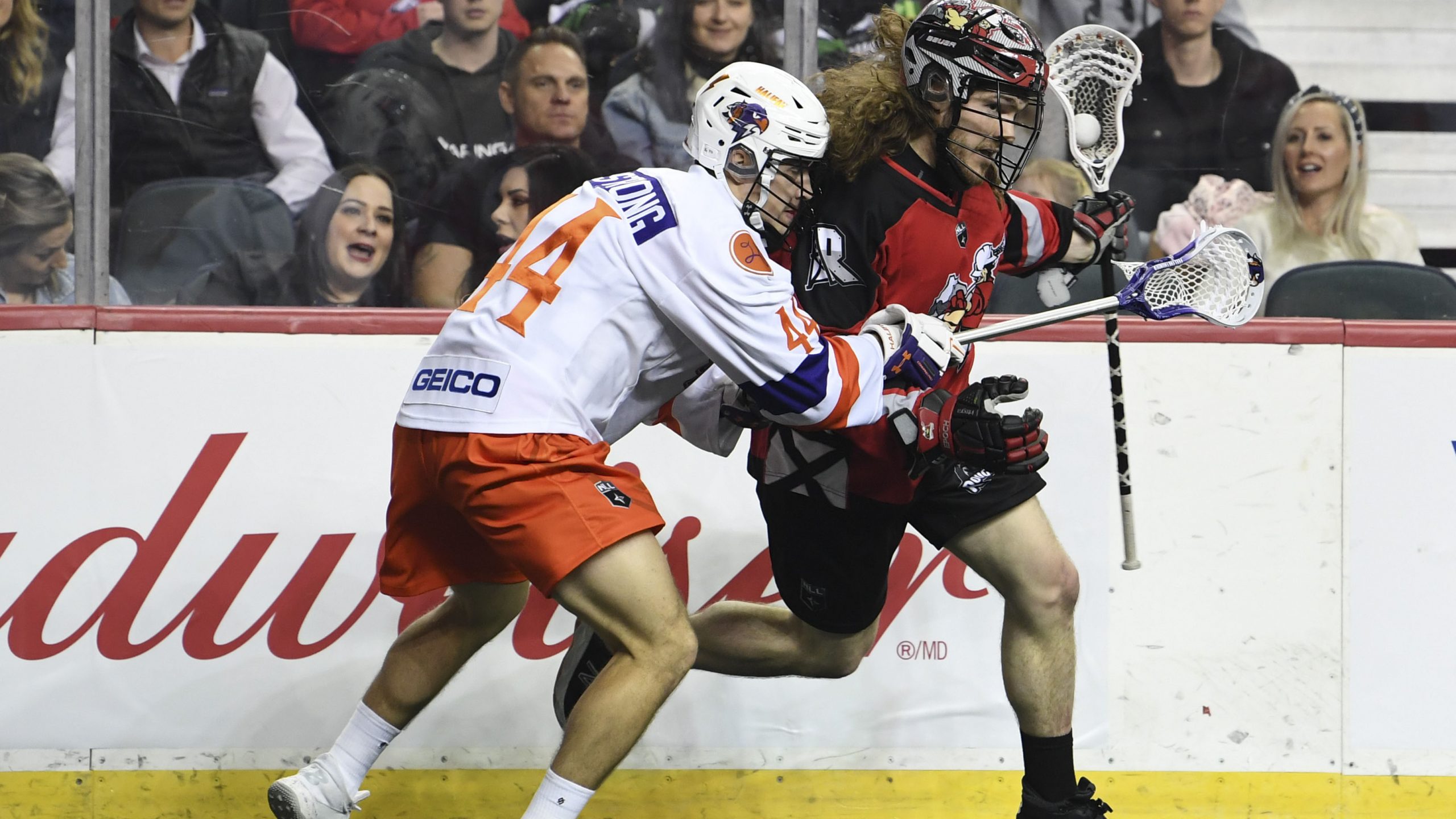 It was a tale of two halves.
Despite a 6-3 lead at halftime, the Riggers were done in by an offensive onslaught by the Halifax Thunderbirds in the second half to fall 15-12 at the Scotiabank Saddledome on the night they hosted an East Coast Kitchen Party.
The Riggers entertained the 15,359 on hand at the Rough House with some impressive individual efforts, including a four goal night from Tyler Pace.
Curtis Dickson completed a first half hat-trick, while adding an assist in the second half. Shane Simpson had a strong game, netting two goals and an assist while newcomer Zach Herreweyers found the back of the net for two goals.
Calgary controlled the opening half of play, scoring big time goals and refusing to let the Halifax forwards to penetrate the defence. However, everything unraveled in the third quarter as the team allowed nine goals to the opposition – including a run of seven straight.
The Riggers would be unable to find the equalizer, despite their best efforts in the final frame and would lose their third straight to the undefeated Thunderbirds.
COACH'S CORNER:
"They went on a four goal run and a seven goal run and when that happens, it's catastrophic for us. It's not good."
"I like the compete, I like that the guys didn't quit and I liked the effort from Dickson at the end there, it showed a lot of heart. We never stop playing and it's been a rollercoaster type season for us this year. It is what it is and we've got New York in two weeks."
"I'll be honest with you, it takes all of training camp and probably five or six games for an offence to gel. If you have the six or seven same guys that you're dressing every night; it was evident last year when we got King back last year and we went on a run and we were able to set our best every night. I'm not taking anything away from the kids battling, Herreweyers played good, (Dereck) Downs is giving us a lot of good effort out there and (Rhys) Duch is coming of off an injury and giving us everything he's got. But offence is the last thing to gel and it takes time to get going."
BY THE NUMBERS:
Tyler Pace – 4g, 1a, 9 shots
Curtis Dickson – 3g, 1a, 8 shots
Zach Herreweyers – 2g, 1a, 8 shots
Shane Simpson – 2g, 1a, 3 shots
Dan Taylor – 1g, 2a, 6 shots
Zach Currier – 3a, 10 loose balls
Christian Del Bianco – 49 saves
Rhys Duch – 3a, 4 shots
SAY WHAT:
"Last game I played, I didn't get on the board – maybe an assist. But we've got so many guys in this line-up, so you've got to perform to stay in so I wanted to go out there and help the team, and I was fortunate to get a couple past Hill. Unfortunately, it wasn't enough." – Tyler Pace on his big night
"That's a perfect word for it; frustrating. That's games we're giving away. We played a pretty good game there in the first half and then we just gave it away in the second half. We need to be better." – Curtis Dickson on tonight's loss.
NEXT UP:
The Riggers are heading into a bye week before returning to the Scotiabank Saddledome for a game against the New York Riptide. This will be the first meeting between the two teams since New York was awarded an expansion franchise.