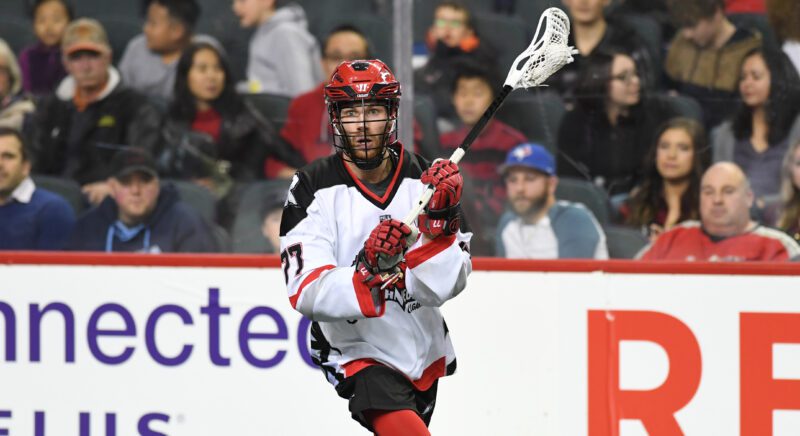 In Part One of our Rookie Update, we take a look at our top selection from the 2017 NLL Draft, Zach Currier. Stay tuned as we'll have updates on D/T Tyler Pace, F Ryan Martel, and D Anthony Kalinich in the coming days.
After being drafted third overall in the 2017 draft, transition/defender Zach Currier has been absolutely fantastic for the Roughnecks so far this season.
He's shown his speed and offensive ability in fast-break opportunities, wowing the crowds at the Scotiabank Saddledome.
Along the way he's racked up 13 points (5g, 8a) on the year, which places him in top five of defensive scoring in the league.

But his coach has been more impressed by what he's doing in his own end.
"I think the big thing with Zach over the last couple of weeks is that his defence has been great," said coach Curt Malawsky. "He's been sticking on the two-hand tough cross-check. He's been playing honest D. He's very athletic and fast, so he doesn't have to play high-risk. He just plays systematic defence and still creates a lot of transition offence with his pure athletic ability."
Currier's vigorous defence has helped him earn 18 caused turnovers, which puts him in fourth, just behind defensive standouts Robert Hope, Graeme Hossack and Latrell Harris.
With each passing game, Currier keeps finding ways to make a difference for the Riggers, whether he's winning face-offs, playing strong defence, scoring transition goals, or forcing turnovers.
Though all he wants to do is win.
"He's done everything we've asked and more," Malawsky said. "He's got a phenomenal compete level. He's always asking questions, he's always trying to get better and he's never satisfied. He just wants to be at the top of his game and contribute the most he can to the team. His motivation is winning, his motivation is what's best for the team. You tie all that in with his compete level and you've got a special player there."
That aggressive style of play has led to Currier leading the league with 101 loose balls, which puts him on pace for 181 on the year.
Since 2005, no rookie has ever finished the season leading the league in this category. Geoff Snider, Brodie Merrill, and Jay Thorimbert all finished second in their rookie seasons. Should Currier maintain his current pace he'll join some pretty elite company.
"He's on the line a lot for us on the face-off team because he's earned that opportunity," Malawsky said. "He doesn't pick up a lot of the easy ones. He gets right in there and he battles and competes. A lot of his loose balls of the 100, a lot are second and third effort. He doesn't just run in and get out of there clean. He gets in the dirty areas, extends his arm and puts his wrists out there to get whacked. It just shows the effort that the guy puts in there and the willingness to compete to the very end. That's something that's contagious for us when it comes to work ethic."