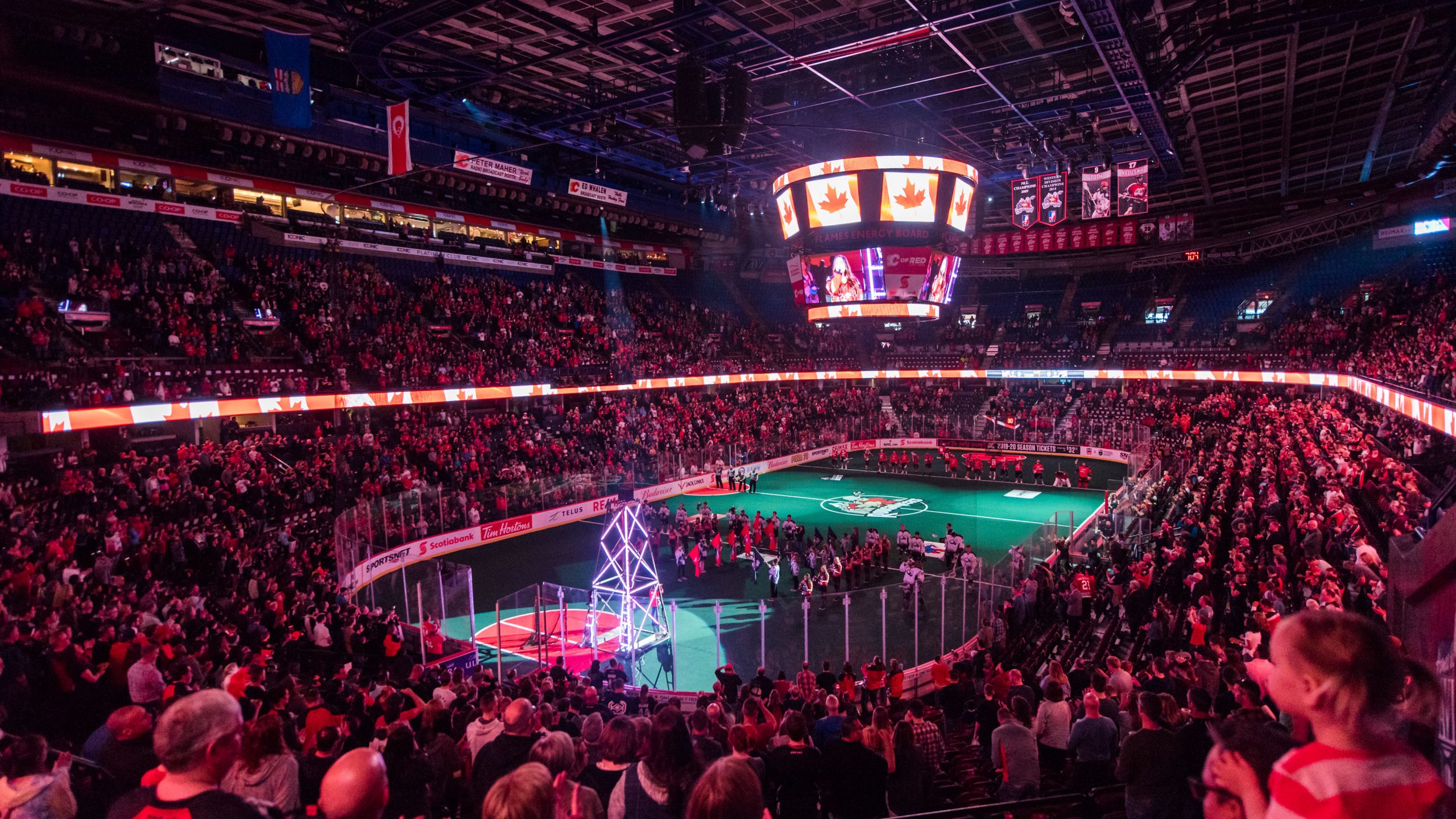 Calgary, AB – Calgary Roughnecks 2019-20 National Lacrosse League regular season single game tickets go on sale tomorrow, November 16 at 10:00 a.m. Visit Ticketmaster or the Scotiabank Saddledome box office to join the Rough House party. Fans can also secure a seat online at CalgaryRoughnecks.com or by calling 1-855-985-5000.
Calgary will open their 2019-20 regular season home schedule on Saturday, December 21, against the Colorado Mammoth. They will raise the 2019 NLL Championship banner with the first 3,000 fans in the building to receive mini replica banners. Scotiabank Saddledome doors open at 6:00 p.m. for the $5 Happy Hour featuring food and beverage specials at all concourse concessions.
$5 Happy Hour Menu
Beverages: 14 oz. Budweiser and Bud Light, 6 oz. House Wine and 1 oz. Highballs
Food: Cheeseburgers, slice of Pizza, and Hot Dog with Pop Combo
2019-20 Home Game Schedule
Saturday, December 21 vs. Colorado, 7:30 p.m.
Saturday, December 28 vs. Philadelphia, 8:00 p.m.
Saturday, January 25 vs. Halifax, 7:30 p.m.
Saturday, February 8 vs. New York, 7:30 p.m.
Saturday, February 29 vs. San Diego, 7:30 p.m.
Friday, March 13 vs. Saskatchewan, 7:30 p.m.
Saturday, March 28 vs. Vancouver, 7:30 p.m.
Friday, April 3 vs. Buffalo, 7:30 p.m.
Friday, April 17 vs. Saskatchewan, 7:30 p.m.
New this year, the Saddleroom Grill located above section 212, will be open before all Roughnecks home games, including the Preview Party on November 16. The pre-game meal, which begins two hours prior to puck drop, features a brand new Roughnecks menu with great prices including platters that start at just $13 per person. Visit Roughnecks.com/Saddleroom or call (403) 777-3694 for more information.
The defending 2019 NLL champions gear up for the $5 Preview Party tomorrow when they host the Colorado Mammoth for pre-season action. Fans can get an early glimpse of the 2019-20 squad for as low as $5 for second-level seats and $10 for lower-bowl (plus applicable fees and taxes). Happy Hour returns for the Preview Party with $5 food and beverage specials offered at all concourse concessions for an extended 30 minutes from 6:00 p.m. to 8:00 p.m