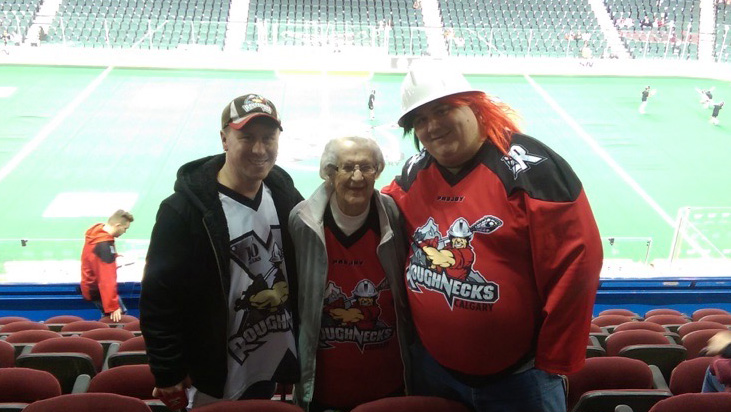 She was a fixture in the Rough House who will be dearly missed.
It is with great sadness that the Roughnecks have learned of the passing of season ticket holder Doreen Willmott, at the age of 91.
As a season-seat holder for 19 years, Doreen was well known within the Roughnecks and Calgary lacrosse communities. She spent the majority of her time at the Saddledome in section 212 with her family.
"She was a season ticket holder from day one," said her son Len. "At first she didn't have tickets in 212 and sat with a friend elsewhere. Her friend eventually developed Dementia, so she began sitting with my brother. They've had those seats for 14 or 15 years. That's a great section, almost everybody has been there for a long time."
And everyone in that section would recognize Doreen. What they may have not known about her, though, is her vast and long-running knowledge about the sport.
She was an unassuming, quiet woman, with a fiery passion for lacrosse.
"I played lacrosse for 52 years," said Len. "My dad passed away when I was 16, so my mom used to come to all of our home games. My younger brother played and my nephew played as well. She just developed a love for the game through my involvement when I was a teenager, it became her thing.
"She loved sports, she would sit at home and watch any sport on TV. She loved the Flames, but lacrosse was always her favourite. In the 19 years she was a season ticket holder, I don't think she missed any games up until she got sick.
"My mom was a very reserved woman. She didn't stand up and go crazy during games – that just wasn't her. She would still cheer and high five everyone, though. She knew more about the Roughnecks than people realized. She followed players, watched them, knew what they were like.
"Mom was a quiet, conservative lady in her later years. But boy did she love that game and that team."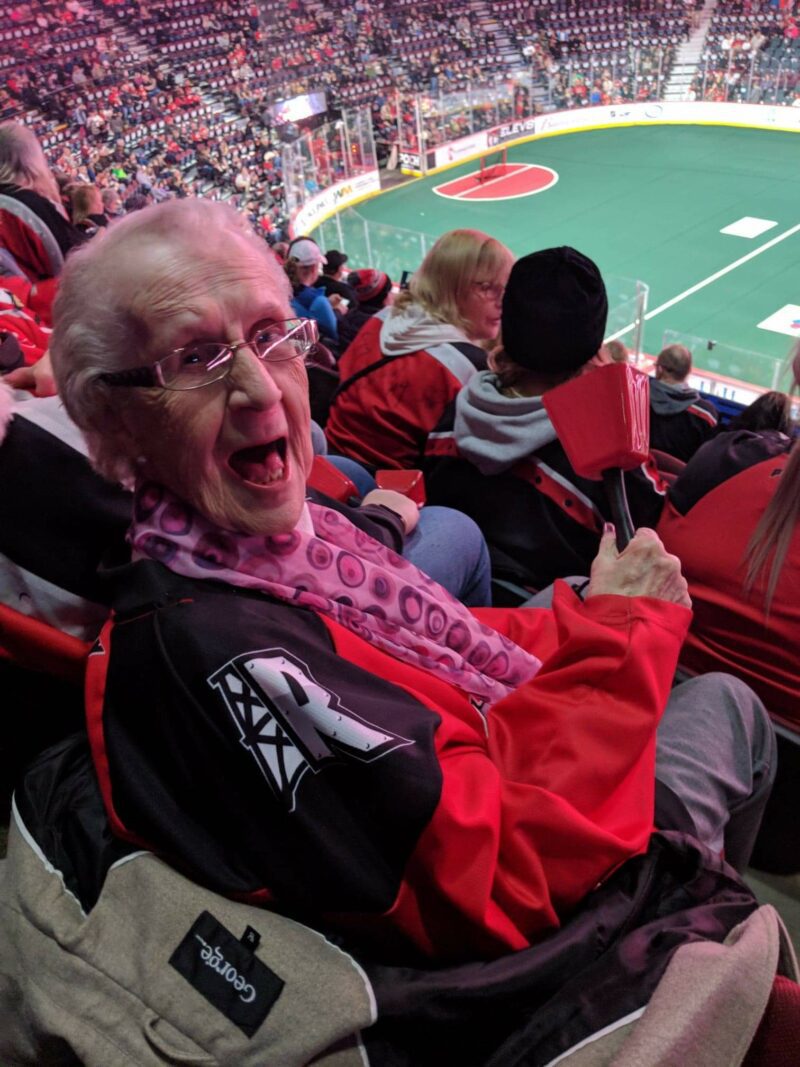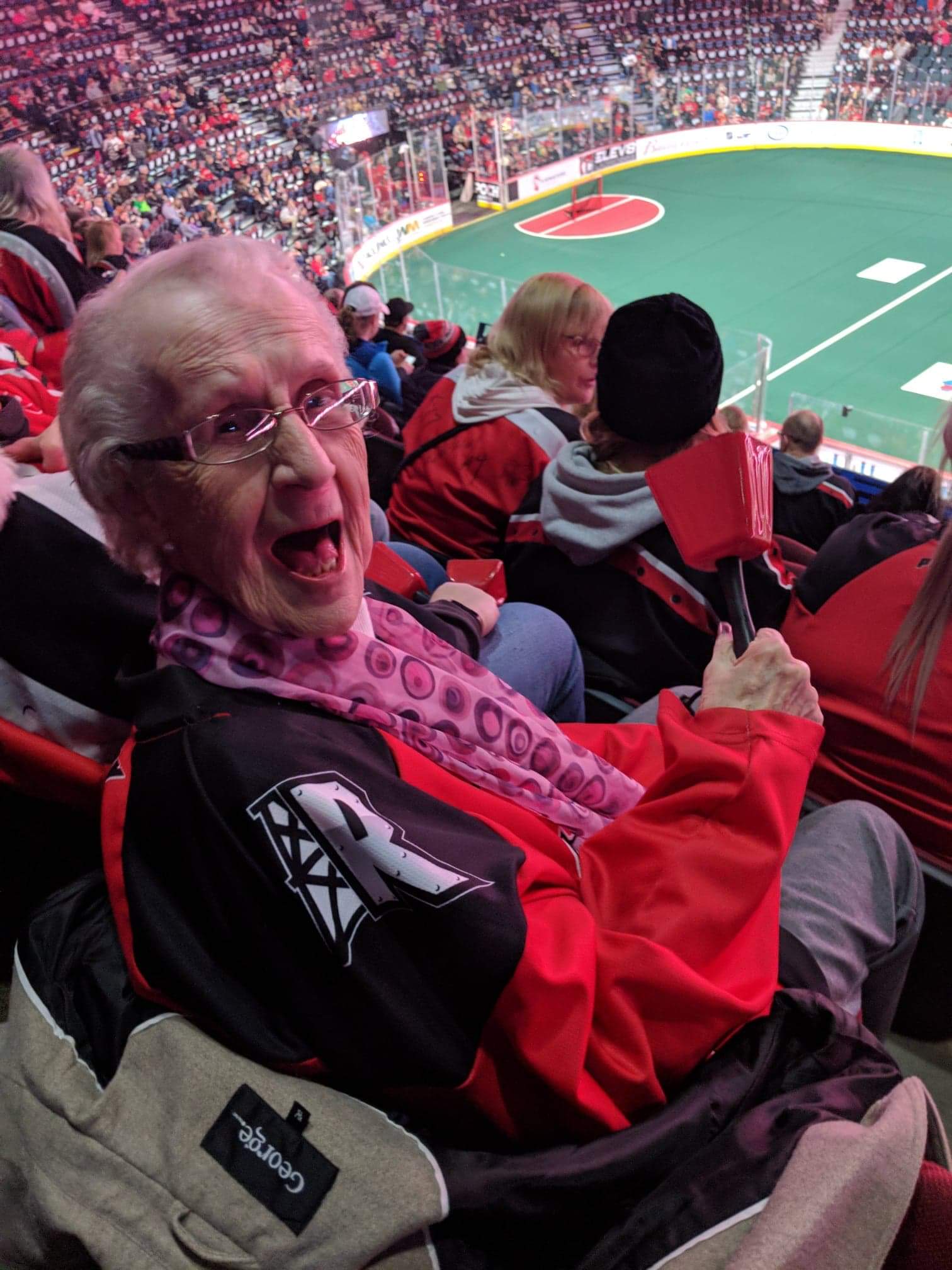 Over her nearly two decades as a season ticket holder Doreen and her family had the chance to make plenty of treasured memories together. One in particular sticks out most to Len.
"During the 2009-10 season my daughter danced with the Drill Crew." He said. "My daughter always made a point when the girls were out on the concourse selling calendars to go see her grandma. My mom was so proud to see my daughter out there dancing. I'll always remember the look in my mom's eyes when my daughter showed up to see her or danced, she was so proud."
Doreen also had the opportunity to see her all-time favourite team take home three NLL Titles. She was in the 'Dome for all three Roughnecks championship victories in 2004, 2009, and most recently 2019.
"You're darn right she was there for all of them," Len said. "I would think 2009 would've been her favourite. That was the year my daughter was part of the Drill Crew, so she got to see my daughter on the floor with the trophy."
Doreen sat with her immediate relatives for the majority of her time, but she had always been surrounded with another, much larger family. In her time as a season ticket holder, section 212, along with the rest of the Calgary lacrosse community was right there with her along the way.
"The lacrosse community is growing but it's still a small circle of people in Calgary," Len said. "So many of the people I was involved with throughout the years also knew my mom, and they would come and talk to her at games. Everybody loved my mom – that was Doreen. She was a lacrosse mom. The Willmott family is a lacrosse family, that's what we love, that's what we did.
"My mom got sick just after Christmas and she missed those two or three games in 2020. My brother, sister-in-law and nephew would come to the games and everyone would always ask about her and how she was doing. Everybody around there knew mom and when she wasn't there they wanted to know where she was. They honestly cared about her."
Len would like to give a special thanks to his younger brother and sister-in-law, Don and Bev for their unwavering commitment to Doreen and her love of sport.
"They were the ones that got her to the games and made sure she was comfortable there," he said. "They were so instrumental in accommodating mom for her love of the Roughnecks. I think it's really important to acknowledge the two of them for how they helped keep alive the love my mom had for the team."
Doreen leaves behind five children, eight grandchildren, and one great grand-daughter.
She also leaves a lasting legacy, within her family and at the Rough House.