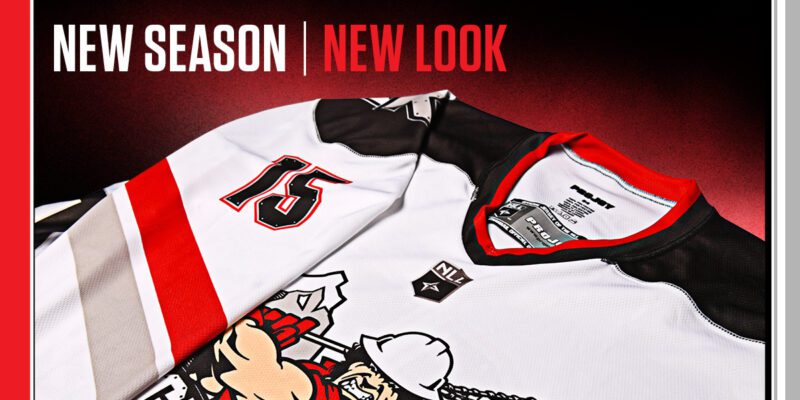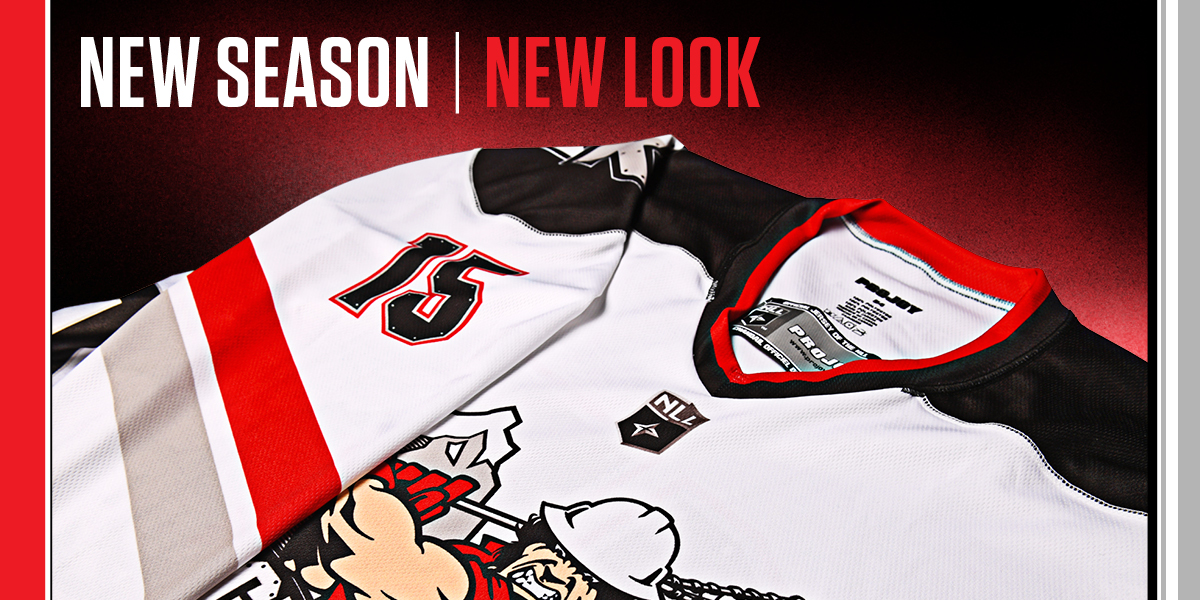 CALGARY, AB – The Calgary Roughnecks today unveiled a new look for the 2017-18 National Lacrosse League season.
Paralleling the design of the club's third jersey introduced in February 2015, the new white (home) and red (away) jerseys feature a black derrick on each side panel and a pair of stripes on both sleeves with rivets on the name and numbers. Additional changes to the home and away jerseys include:
Red cuffs (white jersey)
Black cuffs (red jersey)
A red and black collar
Revisions to the Roughnecks logo following the removal of some shading and colour
The name and numbers font
Placement of the NLL and Projoy logos
Calgary will debut the new look this weekend when the team begins the 2017-18 campaign in Rochester on Saturday, December 9, against the Knighthawks at The Blue Cross Arena (5:30 p.m. MT, NLL TV). Fans also have the opportunity to view the jerseys at all FanAttic locations or by visiting Flamesport.com.
The Roughnecks return to the Scotiabank Saddledome to open their regular season home schedule on Friday, December 15, against the Vancouver Stealth. 'Dome doors will welcome fans at 5:30 p.m. for the new $5 Happy Hour featuring food and beverage specials at all concourse concessions. The $5 menu will run from 5:30 p.m. to 7:00 p.m. during all nine weekend home games.
$5 Happy Hour Menu
Beverages: 14 oz. Domestic Draught, 6 oz. Wine and 1 oz. Highballs
Food: Cheeseburgers and Pizza by the Slice
2017-18 Home Game Schedule
Friday, December 15 vs. Vancouver, 7:00 p.m.
Friday, December 29 vs. Colorado, 7:00 p.m.
Saturday, January 13 vs. Georgia, 7:00 p.m.
Saturday, January 27 vs. Saskatchewan, 7:00 p.m.
Saturday, February 10 vs. Colorado, 7:00 p.m.
Friday, February 16 vs. Vancouver, 7:00 p.m.
Saturday, March 17 vs. Rochester, 7:00 p.m.
Saturday, March 24 vs. Toronto, 7:00 p.m.
Saturday, April 14 vs. Buffalo, 7:00 p.m.
Single game tickets are available for as low as $38.75 for adults, $29 for students and $22 for children (excludes applicable fees). Visit Ticketmaster or the Scotiabank Saddledome box office to join the Rough House party. Fans can also secure a seat online at CalgaryRoughnecks.com or by calling 1-855-985-5000.