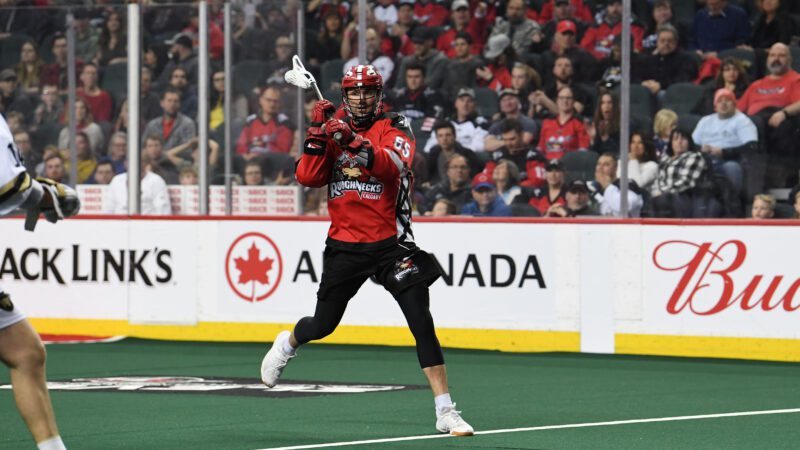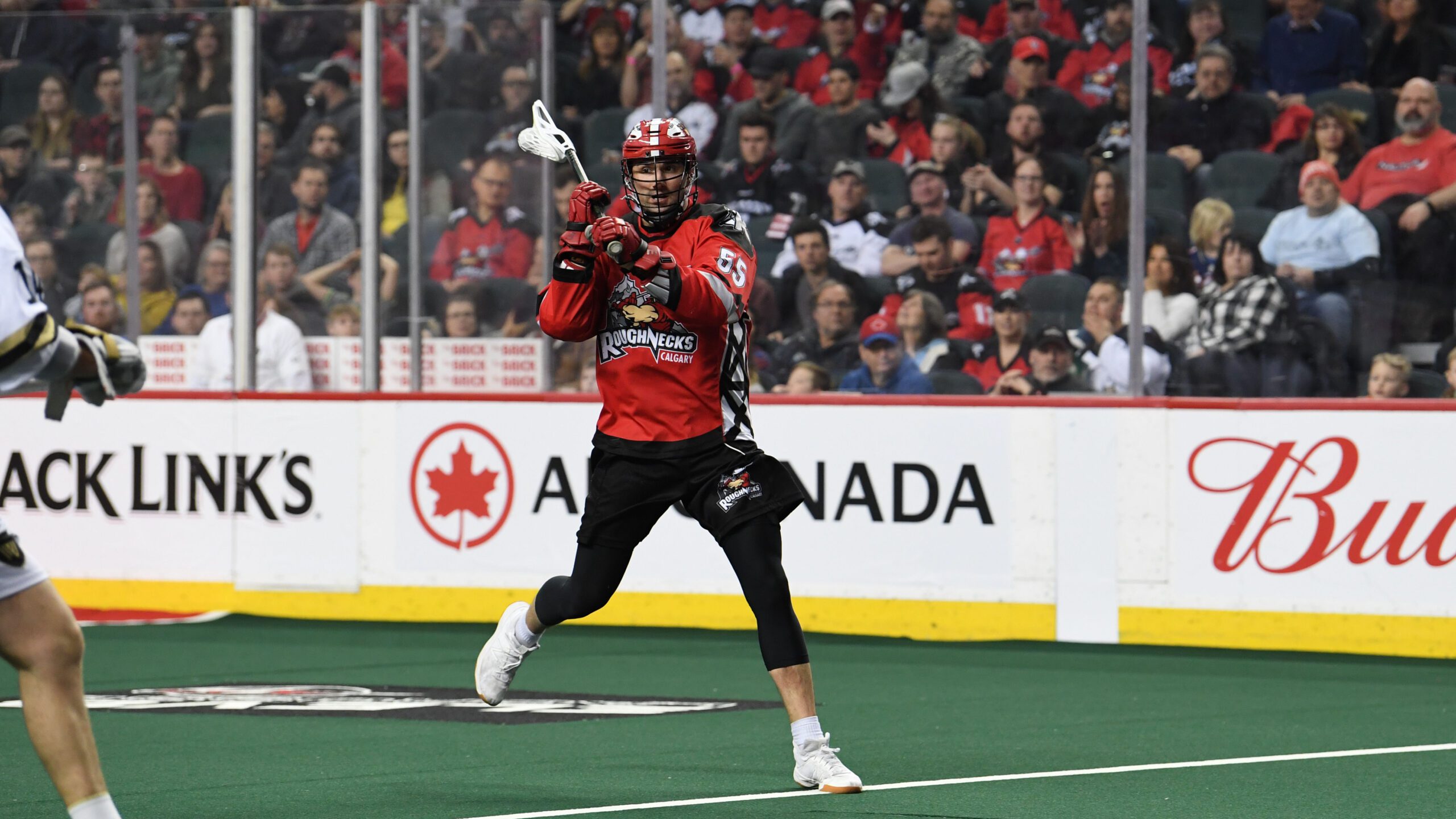 Turning defence into offence.
For Mitch Wilde and the Roughnecks back-end, transition goals comes as a consequence of quality work in their own end.
"The main focus is playing great defence and then getting fast-break opportunities," Wilde said. "Just keeping things tight in the back end and going from there."
And those opportunities have been coming for Wilde.
The 6-foot-3 defender had a number of quality chances against the Vancouver Warriors last weekend and eventually scored the game-winner.
"A lot of times in the fourth quarter in a fast break situation, I'd be looking for Dane Dobbie coming off of the bench but they were covering him," Wilde explained. "I was in a good position to release the shot. I hadn't been able to solve Eric Penney at all that night, but I saw that it was a well-screened opportunity, so I shot around the guy and I got it."
After a 25-point season last year that saw him score some incredible goals – as witnessed against Colorado on Feb. 10 – Wilde is in the midst of another quality campaign with seven points in eight games.
Though he'd been held scoreless in the two games prior to last weekend's victory against Vancouver, Wilde has kept working on his shot selection so he can keep netminders guessing when he's galloping up the floor.
"The one you're talking about from last year, I think I just ran out of ideas," joked Wilde. "I just couldn't solve Dillon Ward.
Remember this?@puckwilde41 scored this Goal of the Year candidate last time we played the @MammothLax!

We'll see them again this Saturday! #CGYvsCOL pic.twitter.com/amxxu6u45h

— Calgary Roughnecks (@NLLRoughnecks) March 7, 2018
"I watch a lot of film on goalies and see what other guys are doing and see what works and what might work for me. You never want to be a one-trick pony, so having a plethora of different moves is effective for you."
That ability didn't come easy for the Brooklin, Ont., native, though.
He had to work hard to develop his game to this point, and he's not done improving just yet.
"I was actually a late bloomer," said Wilde. "So, a lot of what my game is now I have to credit to junior coaches I had – two of them are actually on the bench in Saskatchewan this weekend. Coaches in Buffalo, coaches in Senior A, now here in Calgary and playing for Sato (Roughnecks assistant coach Rob Williams) in the summer; it's almost a snowball effect. Every year I can get better and better and improve my game. I look at tendencies that I've had and what ways I can improve upon them. So everyone off-season I try to add different parts to my game to keep evolving. Defence has always been my main focus, but I've always loved running the ball in transition."
While playing defence is priority number one, a well-timed transition goal can make all the difference in a contest.
That's true of last weekend's 8-5 win, for example.
"I think it's huge," Wilde said. "If you're having a tough time scoring five-on-five offence, it's an easy way to get quick goals on the board. A lot of times they can be crucial parts of the game, too. In that game last weekend, a quick transition goal led to two more goals and it really gave us the momentum.
"They're goals that are often overlooked, but they're goals that are big in momentum swings."
Wilde isn't the only member of the Roughnecks defence that brings a strong transition repertoire to the turf.
Zach Currier, Tyson Bell, Chad Cummings, Reece Callies, among others, are part of a young and athletic group that is able to consistently run the floor and force their opponents into track meets.
"We have a lot of weapons in transition on our team," agreed Wilde. "A lot of guys who can run and a lot of guys who can shoot the ball.
"We found that a lot, even last season, winning a lot of third and fourth quarters from running teams into the ground. Keeping the same focus for 60 minutes and knowing that the engine will keep turning and hoping that teams get tired by the third and the fourth. Last year we found that we were successful in a lot of third and fourth quarters and that helped us win a lot of big games."
Wilde and company will take the show on the road to Saskatoon this weekend as they will face the Saskatchewan Rush for the first time this season.
And he knows that his unit will need to play smart and use the right opportunities to win.
"I think for us, transition against these guys will be huge because they're such an athletic team as well," explained Wilde. "They're going to try to run us, so giving it back to them equally will be big.
"Our plan is to give them all we've got and show them what we're all about."