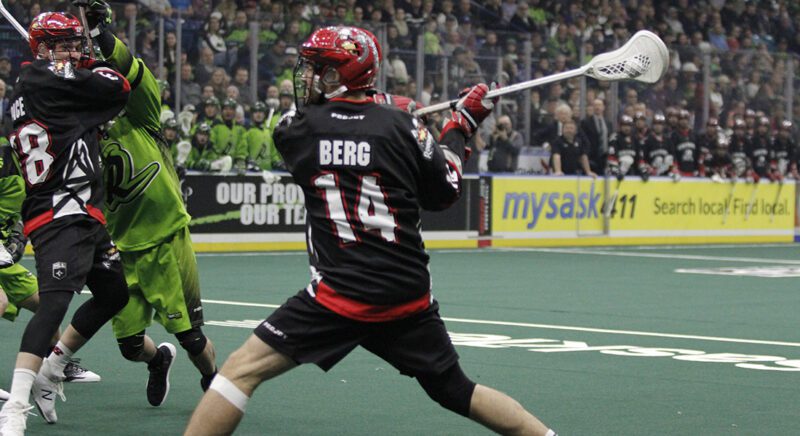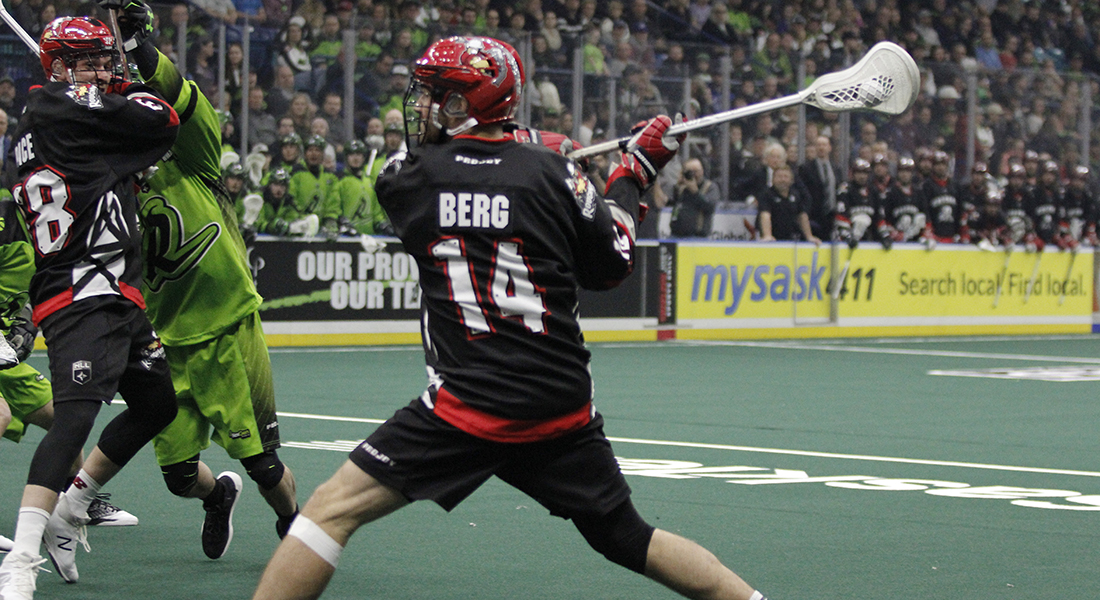 The Roughnecks dropped a 10-6 road decision to the Saskatchewan Rush on Saturday in a battle of potent powerplays.
Wesley Berg had four goals and two assists for the Roughnecks (4-6), who finished 3-for-3 with the man advantage.
"It's good to see our powerplay go 3-for-3 and be that potent and make teams accountable if they take penalties on us," Berg said. "We've got to figure it out 5-on-5 against this team. That would put us in a lot better position than we had today."
Unfortunately for the 'Necks, the Rush did even better on their powerplay as they converted all five or their opportunities.
"We've got to go back and have a look at the things we're doing on the man down, but they've been lighting up a lot of teams," said Calgary coach Curt Malawsky. "We're definitely going to look at things from our perspective and make some changes and make some adjustments that we need to make on our short man, but that's a pretty good powerplay."
Curtis Dickson scored twice for Calgary, Dane Dobbie chipped in with five assists, while goalie Christian Del Bianco finished with 40 saves.
"Del Bianco played unbelievable again and our D played really well," Berg said. "They shut them down and gave us a chance to get back."
Mark Matthews had a hat trick and four assists for the Rush (9-2), while former Roughnecks Jeff Shattler and Matthew Dinsdale chipped in with two goals each.
Robert Church, Ben McIntosh and Jeremy Thompson also scored, while goalie Evan Kirk stopped 36 of 42 shots fired his way.
After falling behind 2-0 early, Berg took a pass from Dobbie and fired a shot to the top corner over Kirk's left shoulder for a powerplay goal at 6:30 of the first quarter.
Matthews and Dinsdale then responded for the Rush to give Saskatchewan a 4-1 lead through 15 minutes of play.
Berg opened the scoring in the second quarter with another powerplay marker at 4:13. Kirk stopped a shot fired his way by Berg, but the ball trickled behind the Rush goalie and across the line.
After Shattler scored during a man advantage for the home team, Dickson replied for the Riggers with back-to-back goals 30 seconds apart to pull the 'Necks within a goal.
Saskatchewan outscored Calgary 3-0 in the third quarter as Dinsdale, Matthews and Church did the damage.
Berg got the Riggers back on the board 60 seconds into the final frame when he dunked a shot from behind the net past a stunned Kirk.
"I think that might have been my first dunk," Berg said. "Normally you kind of catch him from one side and dunk the other side. Kirk was already on that side, so I went over top and I was happy it went in.
"The crease is a little shorter back there, so I didn't actually have to jump too far. It's nice to contribute. It would have been nice to get a couple more of those and be in that game and get a win."
After McIntosh scored yet another powerplay goal of the game, Berg answered back with his fourth goal of the game.
"He was our best offensive player on the floor tonight," Malawsky said. "Bergy goes to the dirty areas. He doesn't shy away from any physicality, gets right to the gut, right to the middle of the floor and pays the price. He can beat you on the outside, beat you on the inside."
Thompson then rounded out the scoring with 1:58 remaining on the clock.
"We've got more to give," concluded Malawsky following the setback. "It's not from an effort standpoint, but we can be a better team. That's something that we're going to take away from it."
After a bye week, the Roughnecks will return to action on Saturday, March 10 when they travel to Denver to take on the Colorado Mammoth.
"They're a good team and they play really well at home," Berg said. "We've made a lot of good strides forward and this is a big one we've got circled on the calendar coming up."