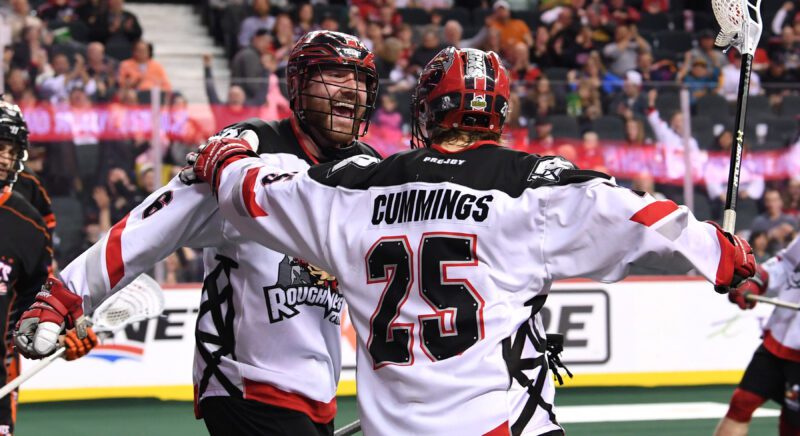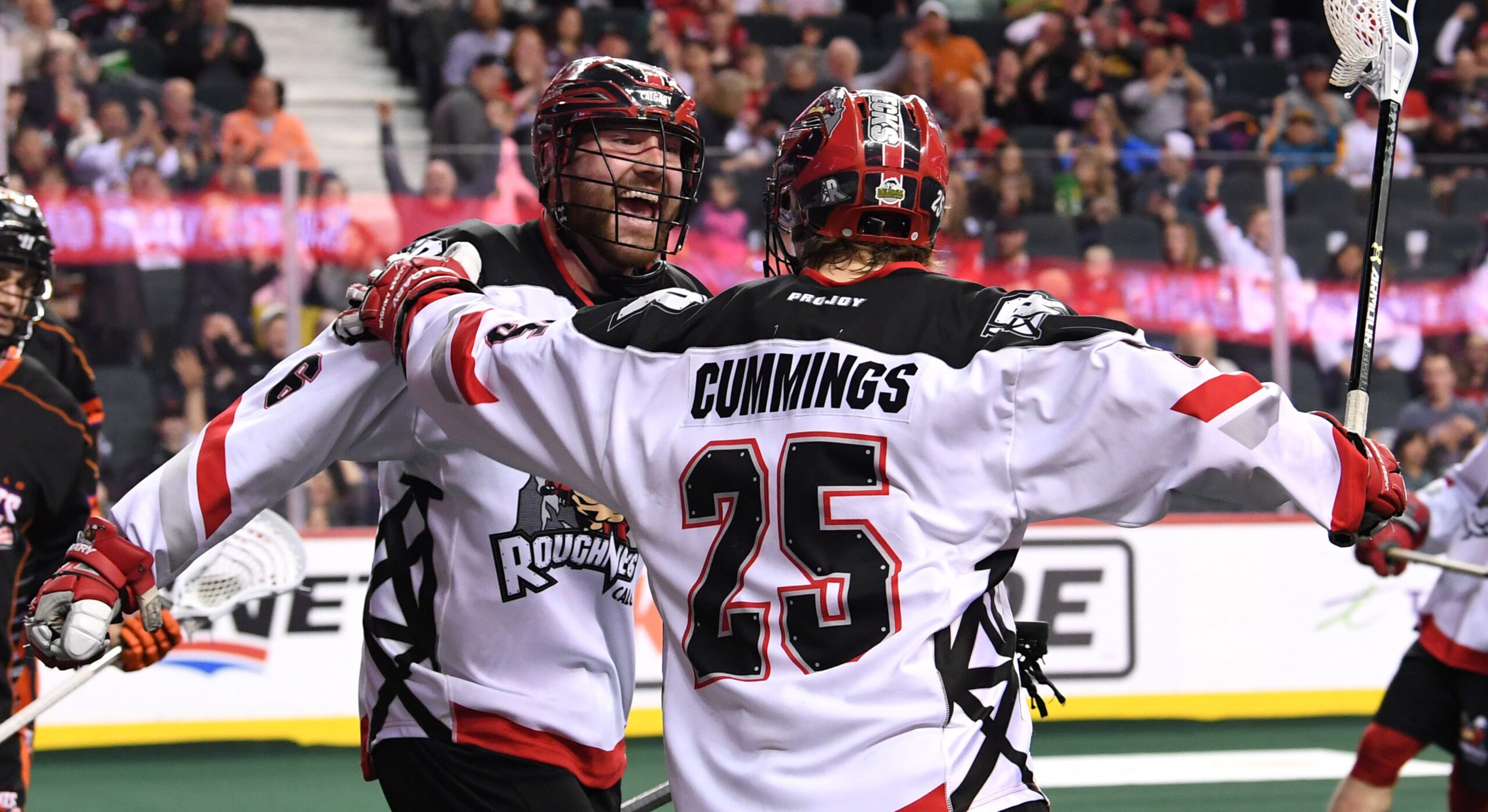 The Roughnecks exploded for five goals in the third quarter and added four more in the final frame on their way to a 16-9 win over the Buffalo Bandits in front of a raucous crowd of 17,113 fans at the Scotiabank Saddledome on Saturday.
Holden Cattoni and Chad Cummings scored goals 13 seconds apart early in the second half to get things going.
"We were tied at half and came out with a little bit of jump, got on top of them and we could start building and building," said Cattoni, who was also impressed that the defence held Buffalo to just two late goals in the second half. "That's big for us to limit their transition and limit their cheap goals that kill our momentum."
Cattoni then notched his fourth of the game at 1:49 of the third quarter before Dane Dobbie and Curtis Dickson also scored to give the Roughnecks (7-9) an insurmountable 12-7 lead.
"It's not about who scores the goals, it's about the timing of them and I think we did a good job tonight," said Cattoni, who tied a career high with five goals and added two assists.
Dobbie had a hat trick to go with four helpers, Curtis Dickson tallied two goals and four assists and Wesley Berg scored once and set up seven others.
"I think we had a little stumble down in New England and we made a pact to each other that we were going to come out firing tonight and get ready for the playoffs, so I think we did that as a team," said Dobbie, referring to Calgary's 13-12 overtime setback on the road to the Black Wolves last Saturday. "I think all around we were pretty solid."
Calgary coach Curt Malawsky was so impressed with the complete 60 minutes that the 'Necks played that he went away from awarding the game ball to just one player.
"Today it was a team ball," Malawsky said. "I thought everybody did a great job. Each one of them played exceptionally and collectively as a group our discipline was good and we stuck to the process. That's a testament to those guys."
Riley Loewen, Greg Harnett, Garrett McIntosh and Mitch Wilde also scored, while goalie Christian Del Bianco made 45 saves in the Calgary net to improve his record to 6-5.
"We went on a bit of a run and he stopped them going back the other way and that was able to keep our run going," said Malawsky of Del Bianco. "He's getting better and better every game."
Mitch Jones had two goals and two assists for the Bandits (8-8), while Jordan Durston scored twice and added an assist.
Vaughn Harris had a two-goal game for Buffalo as well, while Dhane Smith, Mitch de Snoo and Shawn Evans also scored.
Alex Buque started in net for the Bandits, but was pulled after giving up 12 goals on 37 shots. Zach Higgins then made 15 saves in a relief appearance.
Loewen opened the scoring at 3:36 of the first quarter when he drove to the net and took a pass from Dobbie before flicking a shot into the top corner over Buque's right shoulder.
After Durston and Evans replied for the Bandits, Cattoni fired a sidearm shot past Buque to pull the Riggers back into a 2-2 tie.
Durston and Cattoni then both notched their second goals of the game before Jones scored to give the visitors a 4-3 lead after 15 minutes of play.
Dobbie scored 41 seconds into the second quarter before Harnett picked up a rebound and deposited a behind-the-back shot into the net behind Buque at 5:13 to put the homeside up 5-4.
Dickson then tallied a shorthanded goal before Buffalo answered back with two straight powerplay markers by Harris and Smith to pull into a 6-6 tie.
After de Snoo scored to put the Bandits up by a goal, Dobbie took a pass from Dickson and fired a shot to the top corner over Buque's right shoulder with just 2.6 seconds left in the first half.
"That's absolutely massive," said Cattoni in regards to Dobbie's late goal. "To come back and score with two seconds left just to tie it is big for us and that really carried our momentum into the second half."
After outscoring the Bandits 5-0 in the third quarter, Cattoni, Berg, McIntosh and Wilde added four more goals in the final frame for Calgary before Harris and Jones finally replied for Buffalo.
"Tonight we controlled the momentum in the second half and the outcome showed," Dobbie said. "We knew we had our hands full. We knew it was going to be a playoff-like game and our fans gave us a playoff atmosphere."
The Roughnecks will finish the 2017-18 season with a pair of road games in Langley against the Vancouver Stealth next Saturday and a week later in Saskatoon when they take on the West Division leading Saskatchewan Rush.