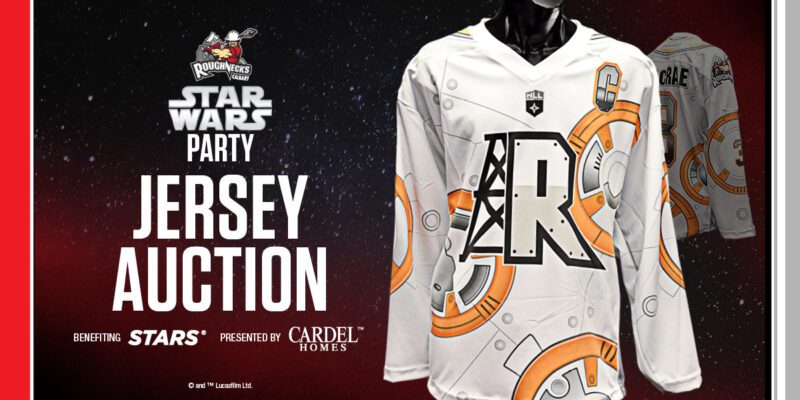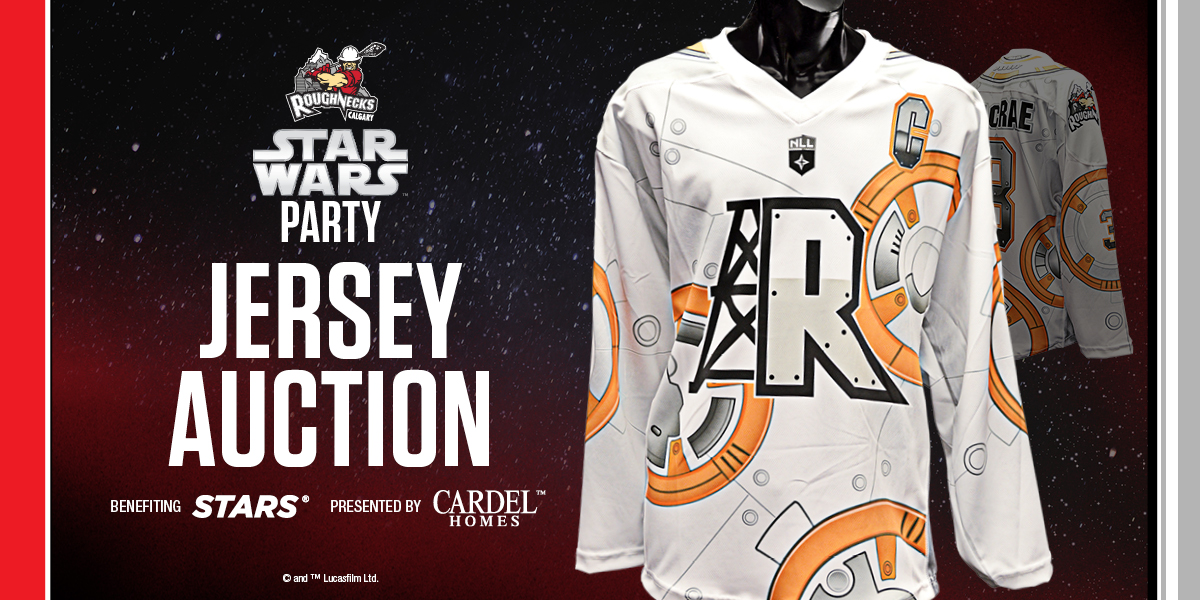 CALGARY, AB – The Calgary Roughnecks Lacrosse Club has unveiled a limited-edition Star Wars jersey featuring BB-8, a droid who serves with the Resistance. BB-8 was introduced in the 2015 release of The Force Awakens and recently appeared in The Last Jedi. The unique jersey will make its one and only appearance of the 2018 National Lacrosse League season this Saturday, January 27 at 7:00 p.m., when the Saskatchewan Rush visit the Scotiabank Saddledome for a Star Wars Party presented by Cardel Homes.
Jersey Auction
The Calgary Roughnecks limited-edition Star Wars jerseys are up for bid at ElevateAuctions.com, with all proceeds directed to STARS Air Ambulance and its commitment to providing a safe, rapid, highly specialized emergency medical transport system for the critically ill and injured. The online auction will close at 8:00 p.m. on Friday, February 2.
Since the first Star Wars jersey auction in 2016, the Roughnecks with generous support from their partners and fans have directed nearly $50,000 to STARS.
Star Wars Party presented by Cardel Homes
Fans are encouraged to arrive in costume for the chance to win one of three prizes for best dressed. The Rough House party begins at 5:30 p.m. with special food and beverage offers on the concourse until 7:00 p.m.
$5 Happy Hour Menu
• Beverages: 14 oz. Domestic Draught, 6 oz. Wine and 1 oz. Highballs
• Food: Cheeseburgers and Pizza by the Slice
Partner Participation
Crescent Point Energy is adding to the funds raised for STARS with a $2 donation for each January 27 game day ticket sold, providing up to $5,000 to the cause.
Tickets
Single game Roughnecks tickets are available for as low as $38.75 for adults, $29 for students and $22 for children (excludes applicable fees). Visit Ticketmaster or the Scotiabank Saddledome box office to join the Rough House party. Fans can also secure a seat online at CalgaryRoughnecks.com or by calling 1-855-985-5000.