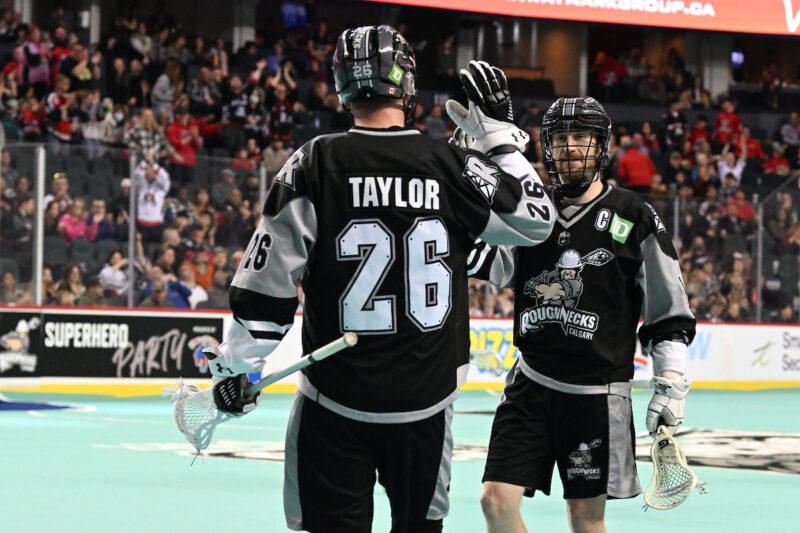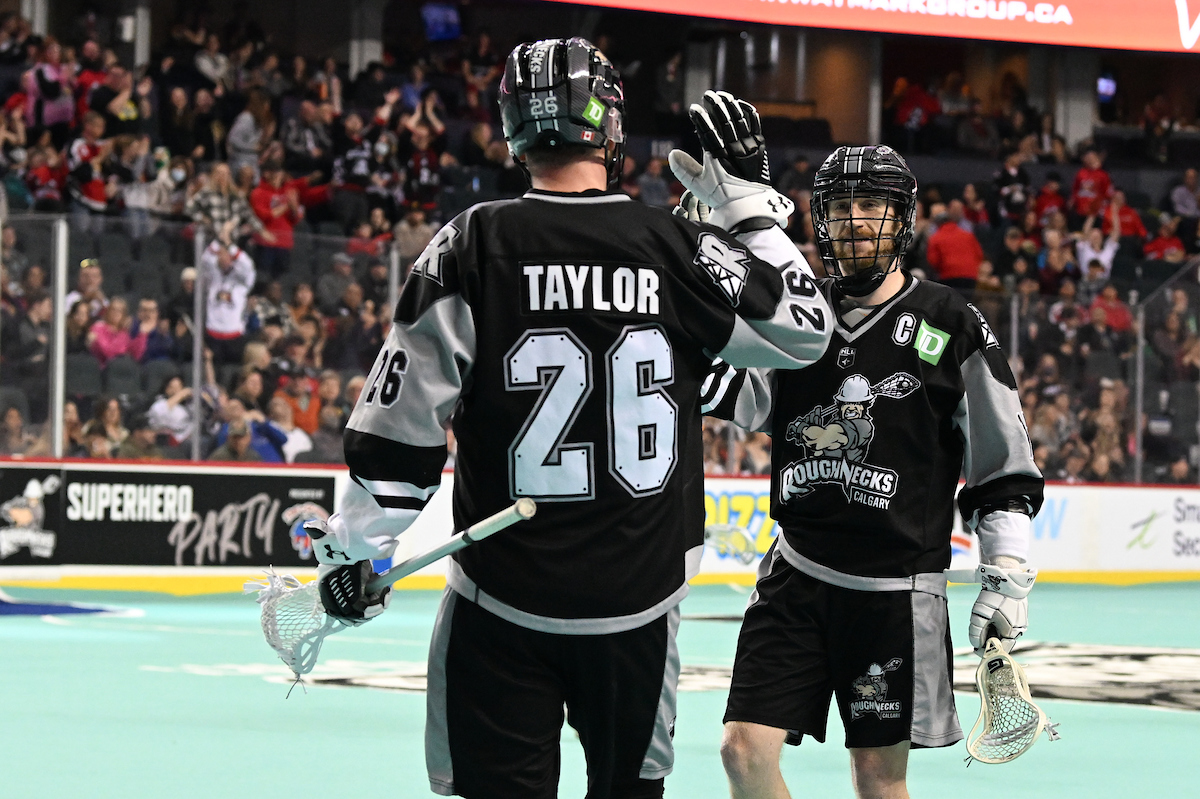 Dan Taylor knows how to liven up a party.
Taylor tallied his first-ever NLL four-goal game to lead the Roughnecks to a 13-8 win over the Halifax Thunderbirds during a successful East Coast Kitchen Party at the Scotiabank Saddledome.
Jesse King, Curtis Dickson and Tanner Cook had two goals each for the Riggers, who won their third straight game to even their record at 7-7 and tighten their grip on third place in the West Division.
After falling behind 2-0 early in the first quarter, the Riggers rallied to tie things up after back-to-back goals by Taylor and King.
The T-Birds then went ahead by one before Tyler Pace took a nifty behind-the-back pass from Dickson and snapped a shot past Halifax goalie Warren Hill to knot the score up at 3-3.
King counted his second of the contest early in the second quarter before Tanner Cook flicked a one-handed shot past Hill to give the Riggers a 5-3 lead.
The visitors then rallied with two goals of their own before Taylor converted a feed from Zach Currier to put the 'Necks up 6-5 heading into the halftime intermission.
The Riggers came out firing on all cylinders in the third quarter as they outscored the T-Birds 5-2 to build up an 11-7 lead. Taylor scored twice, while Shane Simpson, Dickson and Cook also found the back of the net.
Currier and Dickson – on an amazing one-handed, behind-the-back shot – added goals in the fourth to secure the win in front of 8,321 enthralled fans.
COACH'S CORNER
"Danny (Taylor) got the game ball tonight. I thought he played really well. I thought everybody out there battled. We were a little short-stacked there near the end of the game and everyone stepped up and played their position hard and did their job. It's surprising it's taken this long for me – I feel bad to be honest with you – to give him a game ball. He might have had one one a few years back, but he epitomizes what the team's all about. Week after week on video, he's cutting the middle, he's going down to tough areas, he's generating open looks for his teammates and he's getting on and off the floor. He's so, so responsible. He cares so much for the organization and the team. He's such a selfless team guy and we just love him so much."
"Our guys stayed composed. When we get down like that (2-0 early), we've had trouble battling back and we make mistakes or when a team gets close and ties it up, we've had trouble battling back. We battled back tonight. We knew the start of the third quarter was going to be big and I know Zach (Currier) stepped up in the room and had some words for everybody and I think those resonated a long way, so to get those big goals early kind of puts the other team on their heels. We knew they travelled across the country, too, so we were hoping they were going to be a bit tired."
BY THE NUMBERS:
Taylor 4g
Cook 2g
King 2g, 6a
C. Dickson 2g, 5a
Pace 1g, 3a
Currier 1g, 1a, 18 loose balls
Del Bianco 46 saves, 3a
Waters 1a
Wilde 1a
SAY WHAT:
"It's been a while (since his last four-goal game). I've never had one in the NLL, so it was a fun night for sure. That's a good team over there and I thought it was just a good team effort. I think all facets of the game were working together. We had a couple guys go out with injuries, too, so we were short on the bench. It's just a testament to our team's character and the hard work. We got the fans enjoying the party and we were enjoying the game, so it was a lot of fun." – Dan Taylor
"It's always nice to get the game ball. It's nice to have a big night. I'm more proud of the guys. That doesn't happen if I don't have guys like Jesse King feeding me the ball or Zach Currier making an amazing diving throw across the crease. I appreciate the kind words (from Malawsky) but I realize this is a team sport and it was a team effort." – Taylor
"When you have two games in a weekend, you're obviously aware of that, but you've got to take care of business for the first night. it's nice that we were able to do that. It was a good game. They're a tough opponent, but we're going to enjoy that one and then look towards Panther City tomorrow." – Eli Salama
NEXT UP:
The Roughnecks will cap off their three-game homestand when they host the expansion Panther City Lacrosse Club at the Saddledome on Saturday (7 p.m.) during the Superhero Party.