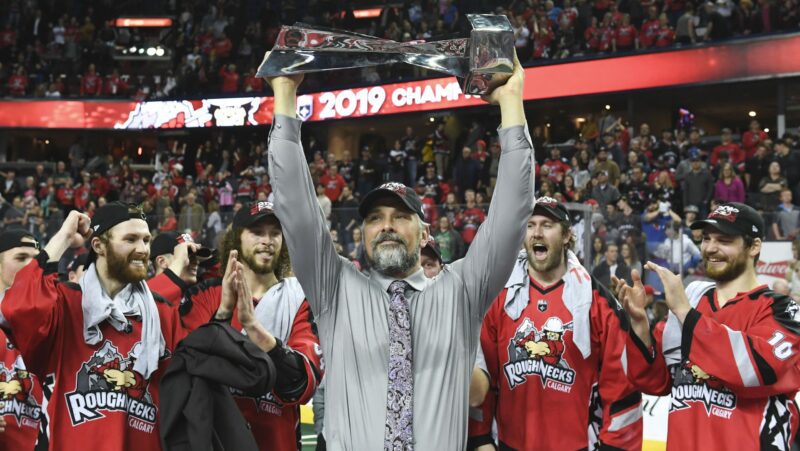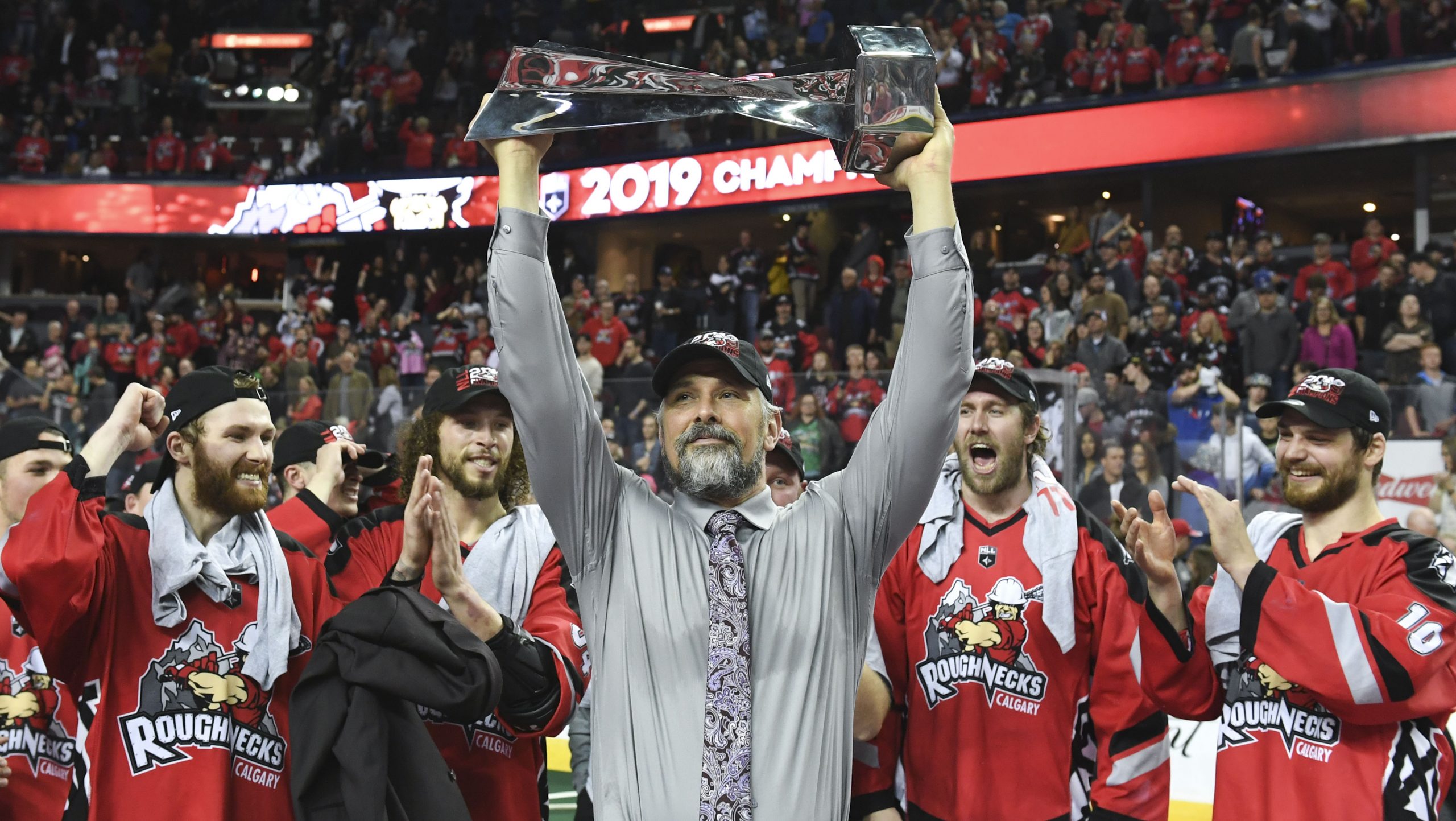 It's not a goodbye, it's a see you later.
Following a three-and-a-half year tenure with the Roughnecks, assistant coach Rob Williams has made the difficult decision to step down from his leadership position after accepting a new professional opportunity within his company.
While he won't be behind the bench next campaign, Williams will continue to be involved with the organization as a scout moving forward.
"I'd like to thank Calgary's ownership and management for the opportunity," Williams said. "CSEC President and CEO John Bean, Roughnecks VP Mike Moore, GM Mike Board, head coach Curt Malawsky, and assistant coach Bob McMahon.
"I'd also like to thank everyone involved in the staff, it's just like family. The support I have been shown is unparalleled. The organization has been fantastic and everybody that works there has been wonderful. I couldn't have asked for anything more than the three-and-a-half years I've had coaching with the organization.
"They've asked me to stay on as a scout, and it was an easy decision for me to stay involved because I want to be a part of this great organization and team."
Named assistant coach in 2016, Rob Williams brought more than a decade of coaching experience to the team. Over his time he helped lead the Roughnecks to three post-season runs, along with capturing the 2019 NLL Cup.
"The organization gave me a chance to fulfill a lifelong dream of mine, coaching in the NLL and winning a championship," Williams said. "The best part of it is I got to do it with my best friends, coaching with Curt, Bobby and Boardie. I got to know Boardie and Bobby along the way, but Curt and I have been friends since we were kids so winning a championship with him was just massive.
"It's something very few have the opportunity to do. I feel very fortunate I got a chance to be in that building in front of our great fans. The number of people they put in the seats, how much the fans love it and the passion for the game the Roughnecks have built up over the last 19 years is just amazing.
"Being in the best market, with my best friend, it was honestly a dream come true."
As assistant coach of the Roughnecks, Rob was also blessed with the opportunity to guide many great players. All of whom have become lifelong friends.
"That part of it has been extraordinary," he said. "There are coaches that have the belief you can't be friends with your players but I'm not that type of person. These guys would have made it impossible anyways because they're such a great bunch.
"All of the bus trips, the flights, the dinners and video sessions I was always surrounded by a great team. I remember some of our video sessions that were in my hotel room, and those were some of the best times and best laughs I've ever had. It's just a phenomenal group."
There's no other team Williams would have wanted to hoist the NLL Cup with in 2019, it's a memory he and the players will share forever.
"They believed in me and trusted me which is paramount when you're trying to win a championship," he explained. "Those players have to trust you, like you and believe in you and these guys made it easy for me. It was all very sincere and we really cared about each other and loved each other in that room.
"One of my speeches going into the Buffalo series that season, I said that you don't have many chances in the life where you get the opportunity to share something like this, where you can walk into that room 25 years later and just smile and know that you won that championship together.
"Curt also emulated that in one of his speeches. He said 'we walk together forever now.' That's something we're always going to have together. It was a very special moment that I got the share with that group of guys."
Prior to stepping behind the bench, Williams patrolled the defensive zone for nine NLL seasons with the Baltimore Thunder (1996), Ontario Raiders (1998), the Vancouver Ravens (2002-04), Calgary Roughnecks (2005-06) and Edmonton Rush (2006-08).
Following nearly 20 years involved in the league as a player and coach Williams is now looking forward to the chance to spend more time with his loved ones.
"It's difficult to step down," he said. "But my wife has been with me the whole time and has been so supportive and now my daughters are six and 10 years old. I spent a lot of time on the road during that period.
"They love coming to games and supporting me, but during this COVID-19 break I've had some time off and I've realized the sacrifices they've made. I've realized the burden it puts on my wife as she's taking on the majority of the work at home; soccer practices, ballet, house work and the full time job she works, too. The other part of it is my daughters, I watch them grow two-or-three inches in the four months that I'm not around. Missing all that growing up, I can't get that time back.
"I've been very fortunate and given the opportunity to coach and they supported it all the way. It's time for me to pay them back.
"This big part of my life that's been lacrosse is now going to be filled with lots of time with my family."
"Rob has a great passion for lacrosse. While he won't be behind the bench, he will be behind the scenes," said general manager Mike Board. "The organization would like to thank him for his hard work and dedication in his coaching role and look forward to his continued contributions to the franchise as a scout."