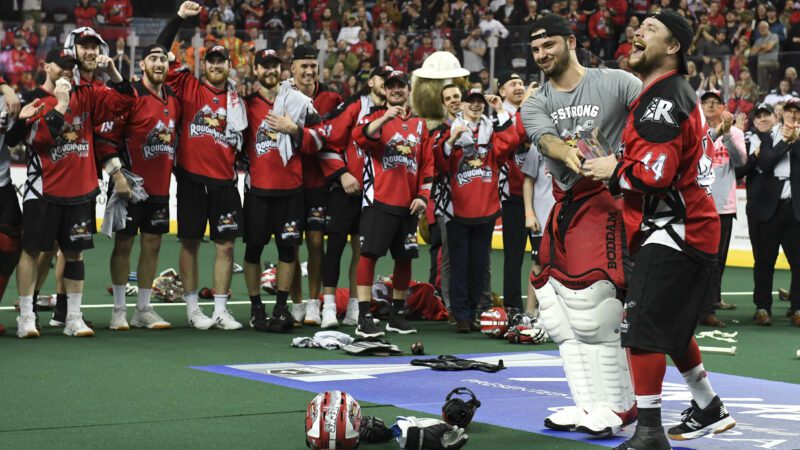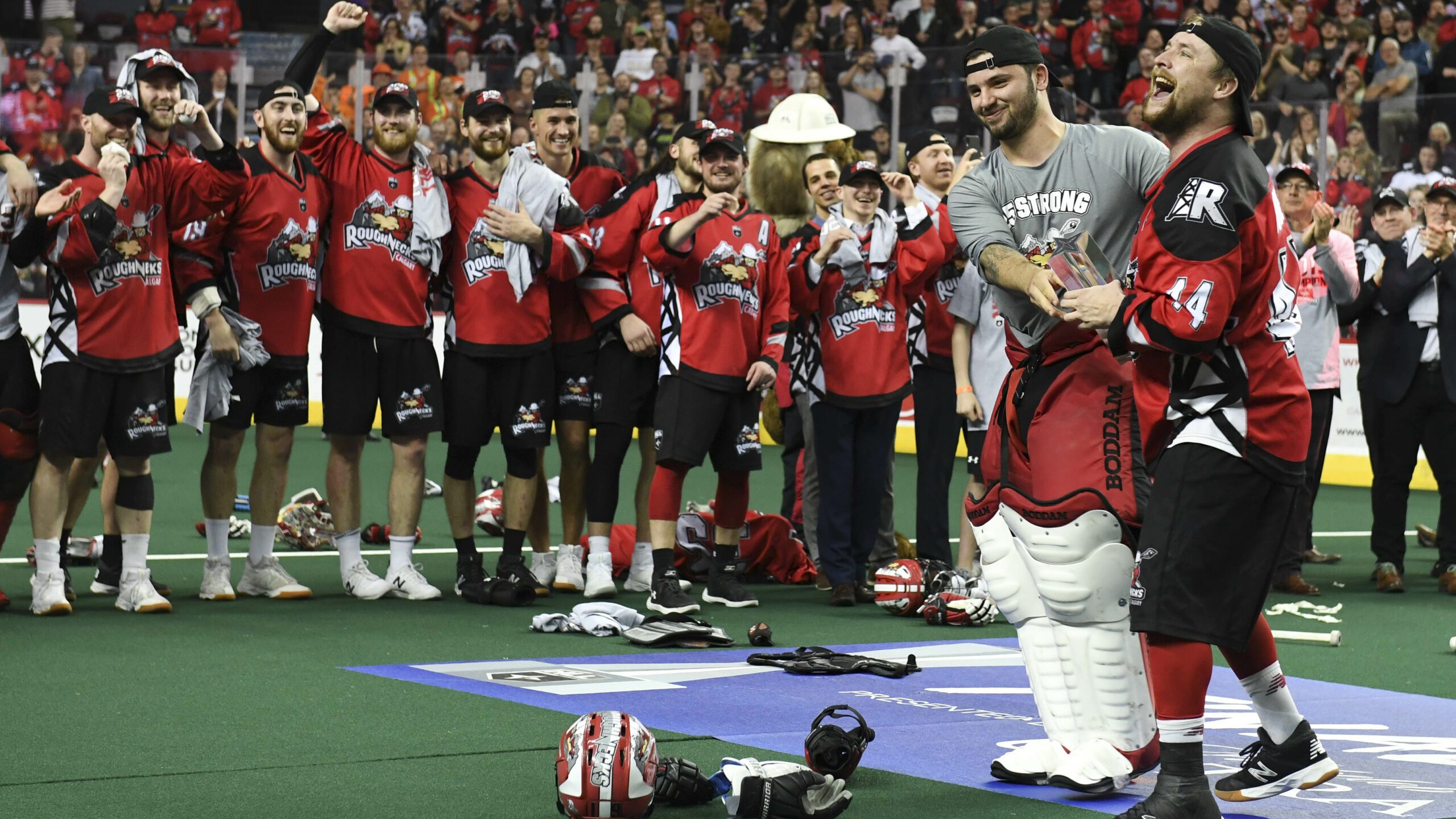 Dane Dobbie has never been one to brag about himself.
Getting him to pat himself on the back is like pulling teeth.
Team-first guy, through and through.
So it was no surprise that when he was handed the trophy after being named the NLL Finals MVP Saturday night, his first thought was to share the honour with another very deserving teammate.
"I'm not going to talk about myself," he said, standing on the Scotiabank Saddledome floor following his team's dramatic 14-13 overtime win to sweep the Buffalo Bandits in the best-of-three series. "Christian Del Bianco, man — I love you, baby! Come here!"
Motioning for his goaltender to come up and share the glory with him, Dobbie gave a short speech on his choice for the real MVP of the playoffs.
"This guy stood on his head, since day one he's been here — he's amazing," said Dobbie.
"This is for him. This is for you. We love you, Calgary!"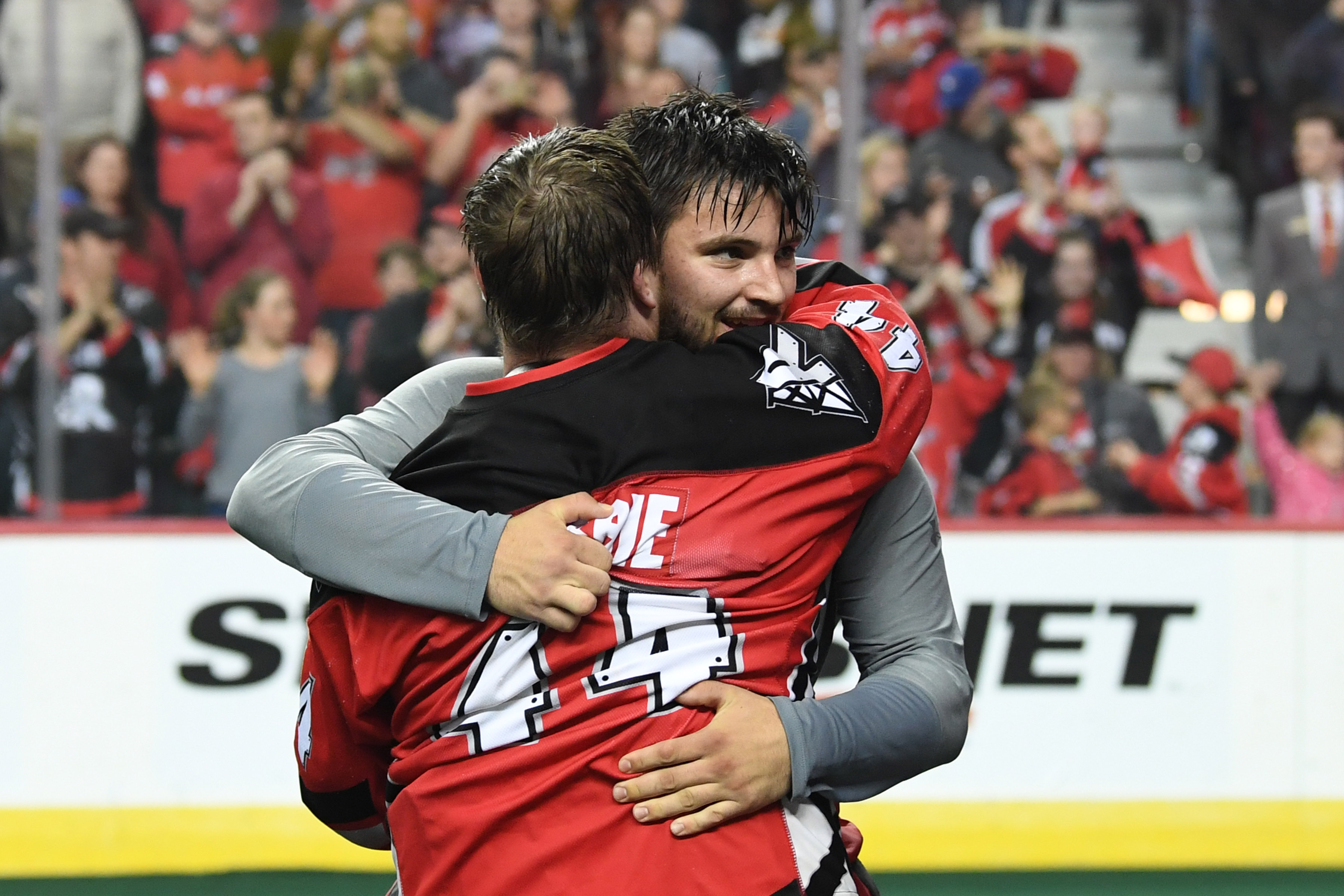 With just 57 seconds left in regulation, the two MVPs connected on what looked to be a game-winning goal. Del Bianco lofted the ball up the floor as Dobbie flew off the bench drove to the net with a defender draped on him, diving and scoring over the shoulder of Buffalo goaltender Matt Vinc.
However, Corey Small tied it with 28 seconds left before Rhys Duch scored 1:12 in extra time to give the Riggers their third NLL title.
"(Dobbie) has been bugging me about not seeing him all this year, so I looked up at the end," said Del Bianco, who ended up with two assists on the night.
"Of course, I had to screw it up for him and let in another goal, so he'll probably ride me pretty hard later."
"(Del Bianco) is a great feeder," Dobbie added. "He's been out here practicing since day one. Throwing balls at five-gallon pails down at the other end of the floor; he can put the ball on a dime, and that's what makes our transition go. He gave me the ball; I got a good shot off, but he should've saved the last one, so we would've won in regulation."
A slight, good-natured jab from the assistant captain to his goaltender. One that is not all that uncommon between the two Riggers stars.
"Me and Christian have a pretty funny relationship," said Dobbie after the game. "We get on each other, and we're really hard on each other, to be honest with you. Coach doesn't like it too much when we just give it to each other.
But all of the playful banter between the two comes from a place of love and respect.
"I can't say enough about that kid," said Dobbie. "I've watched him play, and the amount of time he puts into the game is incredible. He just loves lacrosse. If you go out west this year, he'll be at every Junior A game, he'll be playing every senior game, and he's just around the arena constantly — 24 hours a day.
"Nothing affects him. That's the thing that I get from him. I've seen him get a goal scored on him in Game 7 of the Minto Cup. He picks it out of the net, hands it to the refs, and moves on. He's been doing that with us for two or three years now.
"I love the guy, man. He's our backbone. If I had a chance, this would be going to him, and his name would be right here — he'd be right beside me.
"He's going to be here for a long time, and we look forward to it."
Roughnecks 2019-20 season tickets are now available for as low as $32.11/seat for adults and $23/seat for children and students (plus applicable fees and taxes). Visit Ticketmaster or the Scotiabank Saddledome box office to join the Rough House party. Click here for more information.