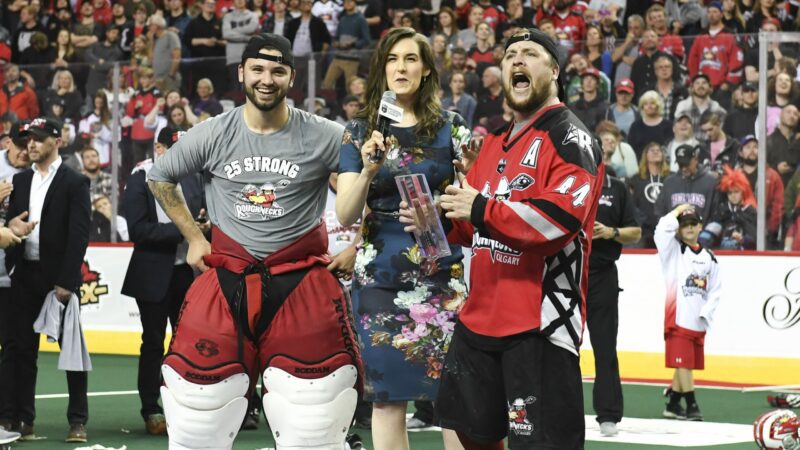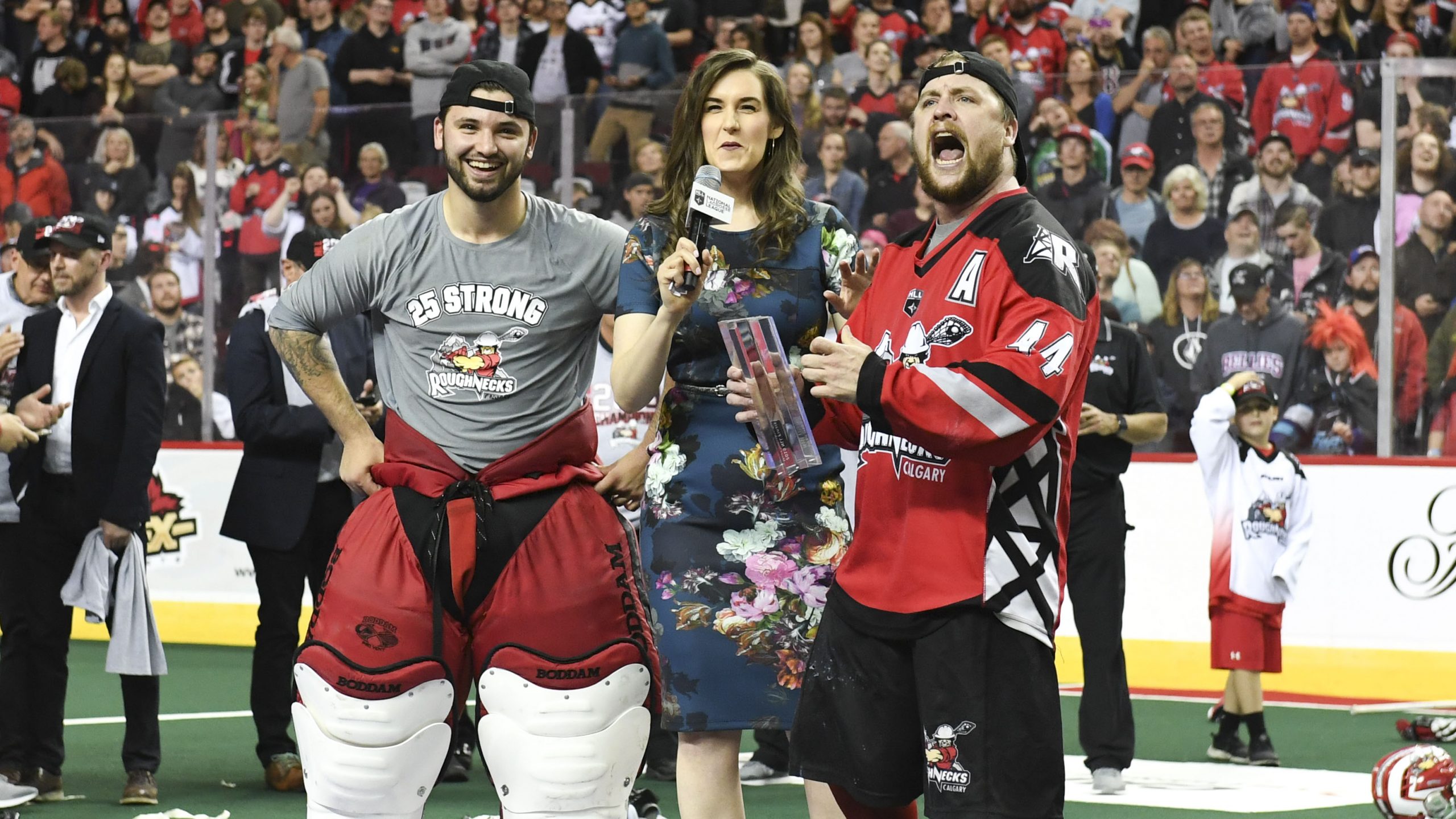 Hobbling into the Ed Whalen Media Lounge post-game, pre-party, Dane Dobbie flinched lightly before propelling himself into a seat on the elevated dais, the cut-glass NLL Championship Finals MVP trophy propped up beside him.
"He comes over to the bench, after he got hurt there, in the third quarter I think it was, and says: 'Mouse, I think I might've broken my ankle','' marvelled Calgary Roughnecks' boss Curt Malawsky later on.
"And I'm like: 'Dobes, you're our leader. Fake it if you have to. We need you, man!'
"We're taping him up. He's gutting it out.
"Dane Dobbie is just gonna keep coming. You're not going to stop him.
"We go the way he goes."
He goes, they go, right to the top of the NLL food chain.
The 14-13 overtime victory and a sweep of the best-of-three finals series of the 14-4 Buffalo Bandits on Saturday night in front of a raucous crowd of 17,000 pushes the Calgary Roughnecks' title trophy haul to three.
In a game chock-full of eye-popping moments, Dobbie's go-ahead strike, with 54.8 seconds left on the clock, by any criteria ranked high. Accepting a lob pass from goalie Christian Del Bianco, the league's leading scorer – four goals, three helpers and a off-the-charts 17 shots Saturday – shrugged off a desperation mugging from Buffalo's Nick Weiss, veering right to left and going airborne before firing back across his body and behind goalie Matt Vinc.
That spectacular solo effort put the 'Necks up 13-12 and apparently on their way to victory only to have Corey Small equalize 27.4 seconds after that to send to sudden-death.
First-year 'Neck Rhys Duch then struck the mortal blow 1:12 into overtime seconds after Calgary Del Bianco saved he and his pals a long plane ride back to Buffalo with a stellar left leg save off former Roughneck Shawn Evans.
"You're so close,'' replied Dobbie, when asked about having his super snipe cancelled out in such dramatic fashion. "The time just keeps getting a bit slower, a bit slower and a bit slower.
"Buffalo is a fantastic lacrosse team. From goaltender out they're good. Kudos to them. I've got some buddies on that team. Shawnie [Evans] played here for a while. They're warriors. We knew we were up against something.
"To have the finals in Buffalo and Calgary – I think the two most demanding lacrosse communities in the NLL – was fantastic. We got 19,000 tonight. The roof almost blew off this place. It's just unbelievable to play in front of. As a kid, it's something you dream of. You want to be in that overtime game, get that chance, that opportunity to win. You used to play it in your backyard. I remember taking those shots in the backyard, trying to get that game winner.
"And tonight we did.
"It was our time. I truly believe it was our time.
"Our guys deserved this. Our young guys came in and played hard this season and they were great.
"This is what we live for."
After a decade of waiting, Dobbie now has his second NLL crown, after being a part of the Roughnecks' last championship edition during his second year in the league.
"Back in 2009, I had my coach playing with me,'' he recalled, glancing over at Malawsky. "What a motivator. And other guys who are up in the rafters right now. They led by example, taught us the ropes.
"I did take it for granted. I thought it would come more often and boy-oh-boy, it doesn't.
"We talked about it, seize the opportunity. Our guys came in this year, knew we had something special within our locker room. Right now I couldn't be happier for the boys."
Credit the Bandits, who were harder to finish than the final 100 pieces of a 3,000-piece jigsaw puzzle, but in terms of resilience, the Roughnecks, fuelled by Dobbie's desire and Del Bianco's timely stinginess, matched them bounce-back for bounce-back.
"Dane Dobbie's a great player,'' said Evans in tribute. "He's been in this league a long time for a reason. When the ball's on his stick he bears down on his chances.
"It's tough to swallow. They were hitting some shots, we weren't but it's over and done with now. We have to live with that, learn from that."
A decade after they last celebrated in such style, Malawsky was asked whether Dobbie, comparing the younger and older versions, was easier to play alongside or is easier to coach.
"I'd take Dane Dobbie in any capacity,'' replied the boss. "He's like a little brother to me.
"He carried the torch. He learned from some of the greats, as we talked about.
"And now he is The Great."