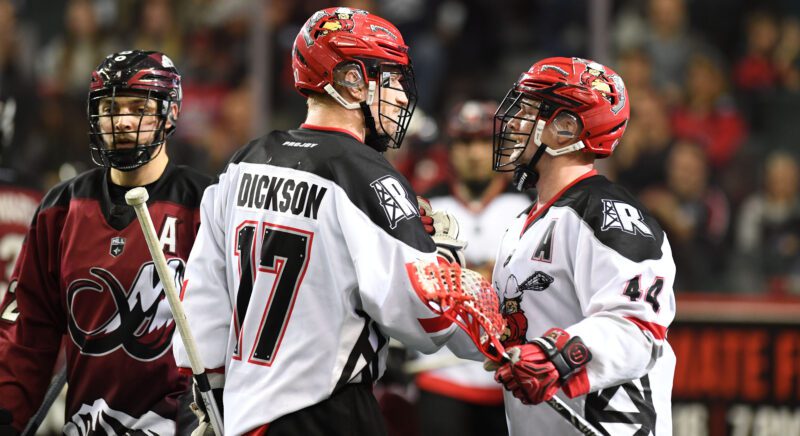 Deja vu
noun
A feeling of having already experienced the present situation
Dane Dobbie is accustomed to the 'been here before' feeling, as Saturday will mark the seventh time he's faced the Mammoth in the West Semi-Final in his 11-season career.
And in a one-and-done format, every game has carried the same do-or-die weight to it.
"It's a different season, it's more intense, one little mistake, one bad penalty, one transition goal could cost you your season," said Dobbie.
"We've got to put in the extra effort, and put in the extra grind out there to make sure that doesn't happen."
And you can no doubt bank on it being another exciting installment in the lengthy Rocky Mountain rivalry between the two clubs.
"Whenever we play Colorado it's a really good game, so we're not expecting anything different," said Dobbie.
"We've played a lot of overtime and one goal games with them, they have great goaltending, great defence, and they're well-rounded. We're just looking to go in there, be consistent, and stick to our gameplan."
Staying the course is a sentiment shared among the team, including fellow forward Curtis Dickson.
He knows the Roughnecks will have to be patient as they take on the Mammoth's strong backend and elite netminder.
"Their defence has been outstanding, they were lights-out this year" said Dickson, who's faced the Mammoth in five post-season tilts. "Last time we were in that building they beat us 8-7 and Dillon Ward stood on his head and was phenomenal, and stole that game."
"That's something we'll have to key in on – making sure we're getting good quality shots off the start. They've been playing well this year, and you don't want to let them get into a groove. Dillon's going to go through stretches where he's seeing the ball well and not letting it go in. We just have to stick with the process."
The Riggers are moving full steam ahead after overwhelming the Vancouver Stealth 26-11 two weeks ago, and stacking up against the first-seeded team in the league, in a close 11-10 loss to the Saskatchewan Rush in their last outing.
On the flip side, the Mammoth ended the Toronto Rock's season 19-15 last weekend.
"I think we've been playing well down the stretch here going into the playoffs, so that's promising," he said. "At the same time they're coming off of a big win last weekend against Toronto, so it's two good teams, it's going to be a battle like it always is."
The Roughnecks are 8-1 in West Semi-Final tilts against Colorado, but they're putting zero stock in that number.
"It's my eighth season now, and at least five times we've played against Colorado in the playoffs, so it's definitely a rivalry," said Dickson. "We've had the edge in the playoffs as far as wins go, but every year is different and we're brand new teams."
Dobbie agreed.
"In this league there's so much turnover, a new year is a new year," he said. "We have a lot of new faces, and lot of guys who haven't played in the playoffs.
"I truly believe when it comes down to games like this – where the talents are so equal – that work ethic, and what you want to put on the floor is going to determine who will win the game."