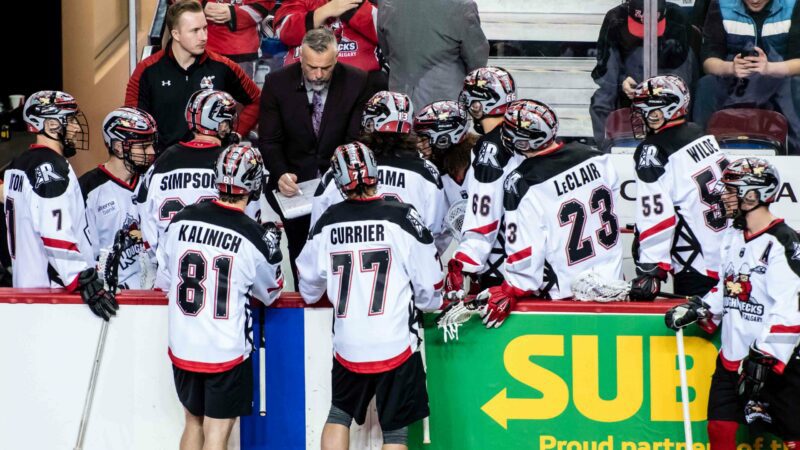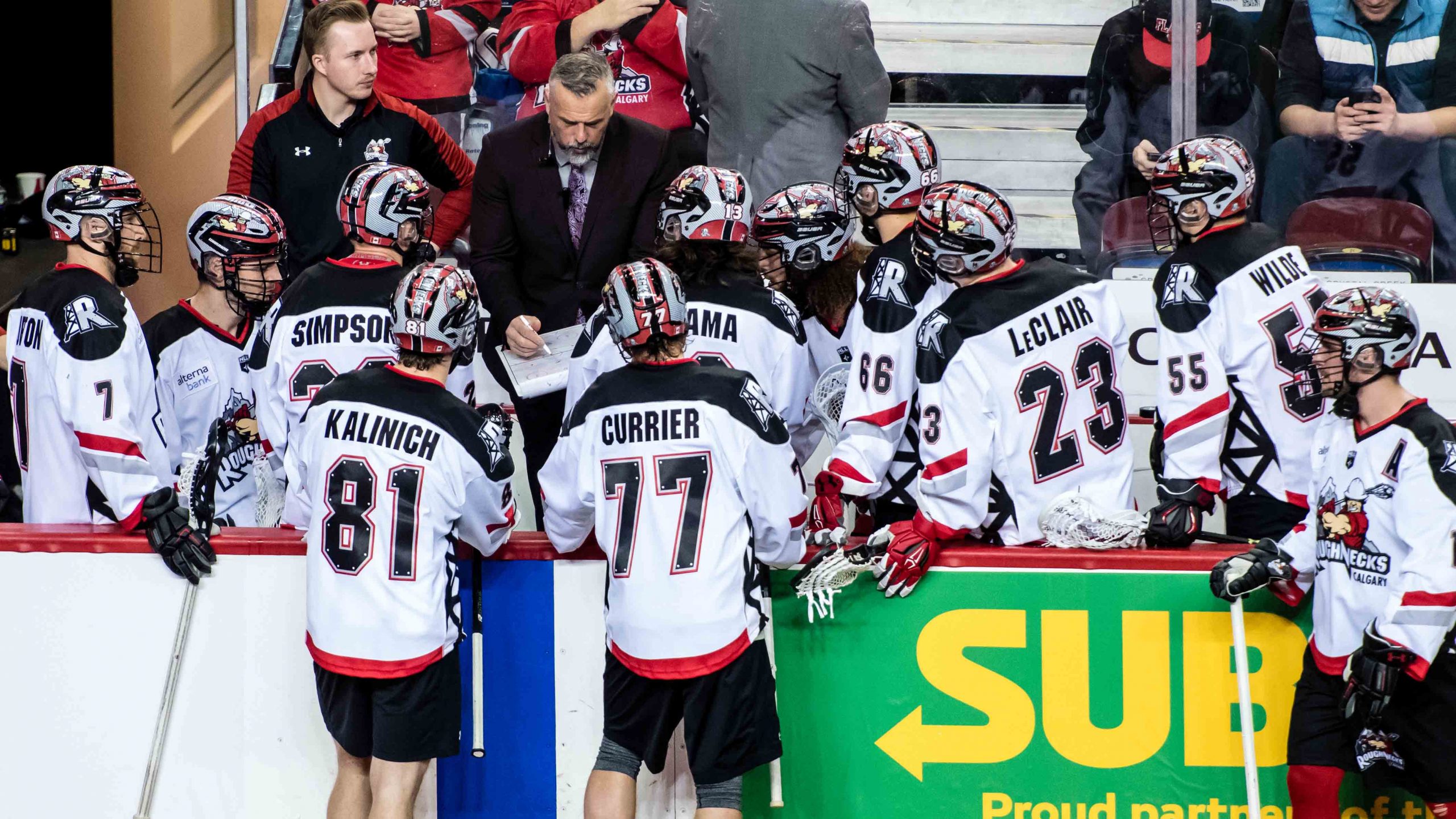 The roster is set.
Time to defend a championship.
Despite turnover throughout the off-season in free agency and the expansion draft, the Roughnecks have 18 returning players from their 2018-19 title run.
We sat down with Roughnecks GM Mike Board take a deeper look at this year's lineup:
OFFENCE
Up front, powerhouse scorers Dane Dobbie and Curtis Dickson are back, joined by fellow returning Riggers Jesse King, Dan Taylor, Tyler Pace, and Ryan Martel.
Rookies Marshal King and Haiden Dickson will round out the attack.
"In the draft we knew we needed right-handed offensive players, we ended up taking two in the first and second rounds and they've come in and they've earned a spot," said Board. "As the season evolves, we'll see how much playing time they get. Rhys Duch is hurt, so that opened up a spot – at least until he's back."
Dickson was selected eighth-overall in the recent draft, while King was selected 22nd-overall. Both come with plenty of pedigree.
"Marshal's got a good IQ and a really good work ethic," Board said. "He's tall, lanky and has good feet. Those are the kind of athletic guys you want up there.
"Haiden, it's the same thing. He's a big guy, great feet, and plays a pretty fearless game. He's not afraid to go to the net and muck it up in the dirty spots – which is impressive for a young kid. He hasn't played senior ball against men before or in this league, so to come out of junior and not change his game and show us what he wants to do at this level is impressive.
"We're looking forward to seeing what they can do."
Another opportunity awaits for Martel. Over two seasons with the Roughnecks, Martel has seen 17 NLL games, including two in the 2019 post-season, and has recorded 23 points.
With a hole to fill on the left side this year, you can expect to see a lot more of the southpaw.
"Ryan came in with time still to play in the junior, and it takes time for those guys to get up to speed and play at this level – it's not an easy jump," said Board.
"Ryan has progressed and with the departure of Riley Loewen he was part of the succession plan, so he'll get his shot."
DEFENCE
There's only one new face on the backend, seventh-overall pick Liam LeClair.
From what Board saw during training camp, he's expecting big things out of the 21-year-old.
"He's a big kid, strong, and athletic," he said. "He's a rookie coming in but he'll progress naturally throughout the season. He fit in well and played really well in the exhibition game against Colorado, he's a smart player. That's the kind of guy you want to blend into your defensive squad."
There are minutes up for grabs, though, with the departure of Dan MacRae in expansion and Mike Carnegie in free agency.
"You can look at LeClair, Anthony Kalinich, Shane Simpson and say 'you know what, show us what you got guys' because there are some doors open," Board said.
"Someone leaves and it opens up an opportunity. And that opportunity is just beginning, Training Camp is one step for all these guys, starting on Friday we're playing for real. How they fare and how they play is going to dictate how things work out for the younger D guys."
Both veterans Greg Harnett and Curtis Manning are also returning to the defensive end, while sophomore Rigger Reece Callies will start the season on the IR with a lower-body injury.
TRANSITION
Nothing new to report here for the Roughnecks, except that the transition squad looks strong once again.
Tyson Bell, Tyler Burton, Chad Cummings, Zach Currier, Eli Salama, Mitch Wilde, and Simpson are all returning to their roles.
"You have to have that threat in transition but we still want to be smart, we don't want to force things," Board said. "We're not a team that likes to get into a track meet. But we've got some speed and guys who can transition the ball. The way the league is evolving you need guys like that, so we're happy to have plenty of talent on that end."
GOALTENDING
The duo of Christian Del Bianco and backup Tyler Richards are returning this year.
Of course, there's nothing but good things to be said about the phenom starter.
"Christian put in his time and earned his spot," Board said. "He continues to be that student of the game and I think he adds to our transition game, he comes up with big saves.
"What else can you say about the guy? He's only going to get better."
PRACTICE ROSTER
The name of the game with the practice roster this season is depth and development.
Forwards Sean Tyrrell, Travis Getz, defender Nick Scott and goaltender Landon Kells will begin the season there.
"There's always some tough decisions," Board said. "Kells, the goalie we drafted this year, showed quite well in camp. Getz is a Calgary kid who impressed the coaches at camp, Tyrrell was with us last year and he's continuing to develop, and Scott is another draft pick and defensive guy, who's big and athletic.
"What we're trying to create on the practice roster is depth and I think we were able to achieve that."
The Riggers will open their season on the road in Vancouver on Nov. 29 as they take on the Warriors at Rogers Arena (8 p.m.). Calgary will be back home for their Championship Banner raising on Dec. 21 at the Scotiabank Saddledome (7:30 PM, tickets)