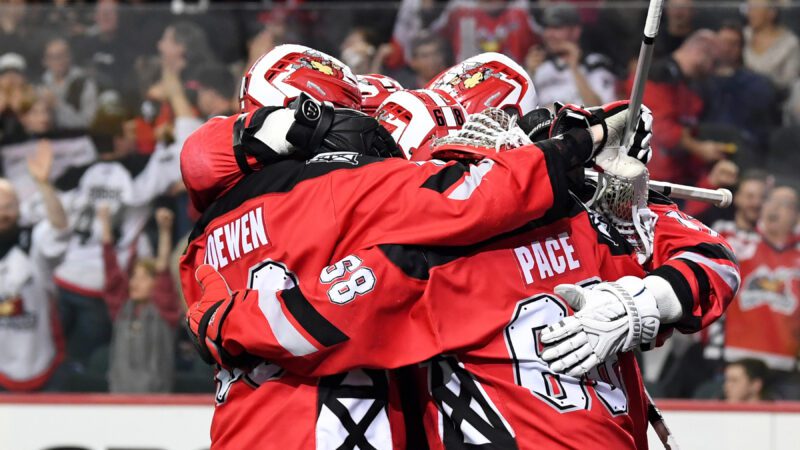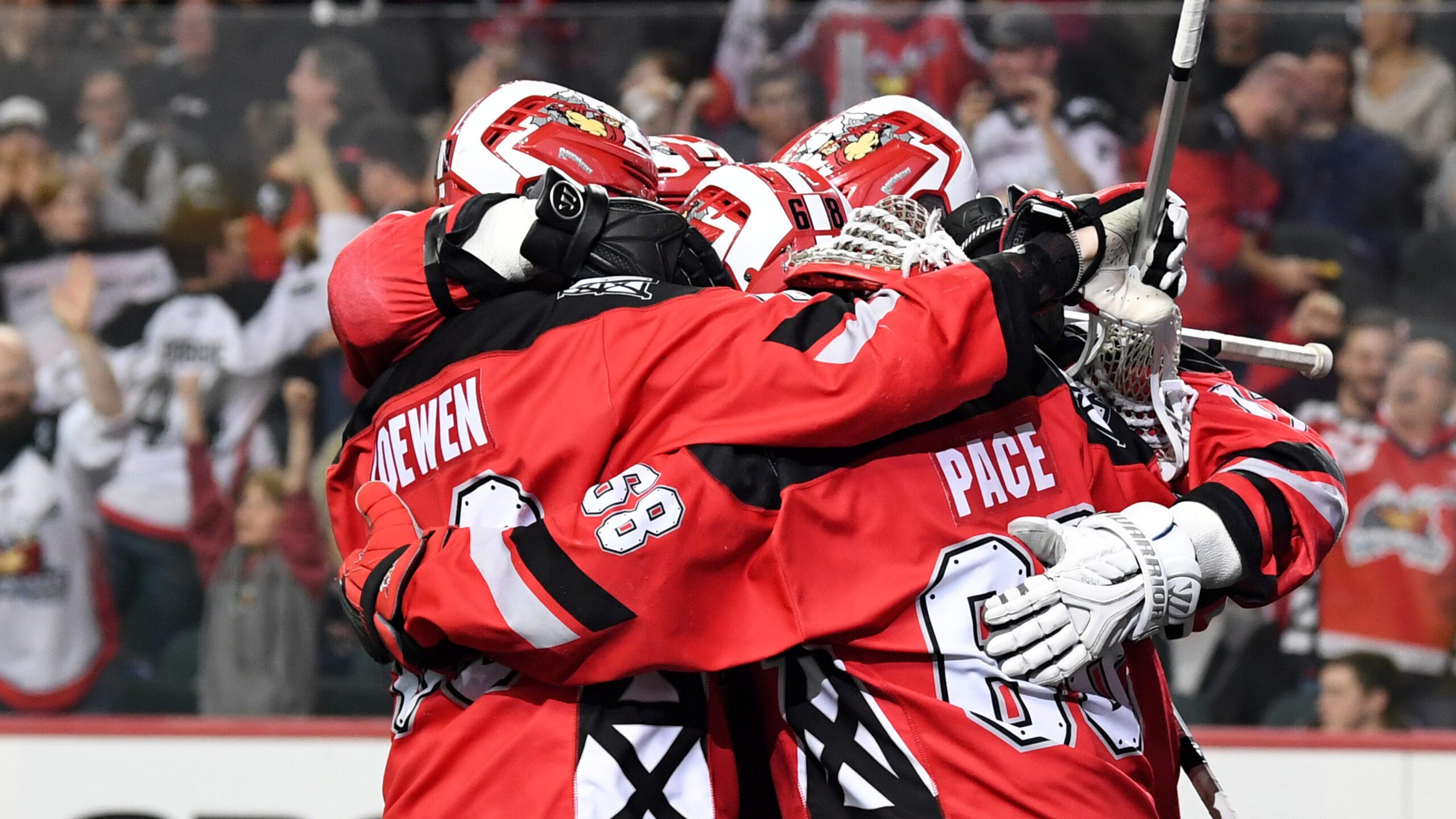 Defence wins championships.
And boy did we see some championship defence on the floor tonight.
Calgary allowed just four goals to the Colorado Mammoth as they punched their ticket to the NLL Finals with an 8-4 West Division Final win at the Scotiabank Saddledome.
"That's a typical playoff game. That's just a grind," said coach Curt Malawsky. "They put ten toes inside the box and they beat the crap out of our guys, and our guys never stopped coming. On the back end our guys were resilient, they battled and competed. They got in shooting lanes; they soaked a bunch of shots."
"That's the kind of game you want to play as a defender. It doesn't get much better than that," added defender Chad Cummings.
After shutting out the Mammoth in the first half, Christian Del Bianco and his defence kept shrugging off wave after wave off Colorado attacks.
The Riggers netminder made 47 saves on 51 shots as they set a new franchise record for fewest goals allowed in a playoff game – tying the regular season record.
"It's a team game and we embrace it, but there's one guy who stands out and that's number 35 in the net, Christian Del Bianco. He's one of the best goalies in the league, that's for sure. We trust him to stop the outside shots and that's what our D prides ourselves on; keeping the shots to the outside so he can see them. He's going to make those shots for us and it's big."
"We could stand here all night and talk about 35 — he was the backbone," echoed Malawsky. "I've seen a lot of good efforts in the NLL, and that was one of the better ones I've seen."
Dane Dobbie led the charge offensively, collecting two goals and four assists in the West Final match-up. Curtis Dickson followed with two goals and two assists, while Rhys Duch (3a), Jesse King (2g, 1a), and Tyler Pace (1g, 1a) were all instrumental in the offence.
After combining with Colorado to have the lowest scoring playoff game since 2009, the Roughnecks know there needs to be some improvements.
"There were things we needed to make adjustments offensively to try and get ourselves to the middle because their goalie and defence were playing well — but ours were playing well too," said Malawsky. "A couple of little adjustments we needed to make but we just stuck to the process and kept battling. No matter what the score is we can't look up, we've just got to keep our feet on the ground and play the shift in front of us."
The game started in unusual fashion as neither team was able to muster up a goal through the first fifteen minutes.
Returning to the line-up, Tyler Pace opened the scoring with diving goal from behind the Mammoth net. Curtis Dickson added the game's second goal with under a minute to play in the second quarter, leading to a 2-0 score at the break.
Despite the flawless first half defensively, they weren't about to lay off of the gas.
"There was a lot of lacrosse left at halftime, so we just kept to our grind and stick to what we do," explained Cummings. "No matter how much time is one the board, we're going to keep doing what we need to do to win and stick to our systems and stick to our grind. We're just a bunch of workers. No matter what the score is, we go out there and compete every shift, every whistle, every second."
There was more offence in the third quarter, with Calgary taking a 6-3 lead going into the final frame. A powerplay marker from Dickson and a great transition finish from Reece Callies was all the Riggers would need to finish off the Mammoth for the ninth-straight time in the post-season.
With the win, Calgary advances to the NLL Finals for the first time 2014. They will need to wait until tomorrow night to find out their opponent as they wait for the winner of the Buffalo Bandits vs. Toronto Rock in the East Final.
"Our D-core loves playing the game and no matter who we're playing we're going to come out and impose our will and our game," Cummings said. "We're going to be watching that game tomorrow night to see who it's going to be. We're looking forward to whoever is coming to play against us, it's going to be a battle. That's playoff lacrosse, that's the finals, it's going to be a war of attrition."
In the meantime, there won't be much of a party for the Riggers.
They understand the path that lies ahead.
"We've got some of the veteran guys who've been down this road for championships," said Malawsky. "They know it's just a ticket to the dance. The guys will enjoy tonight, it's well deserved, but we don't play to get there. We have more work to do."