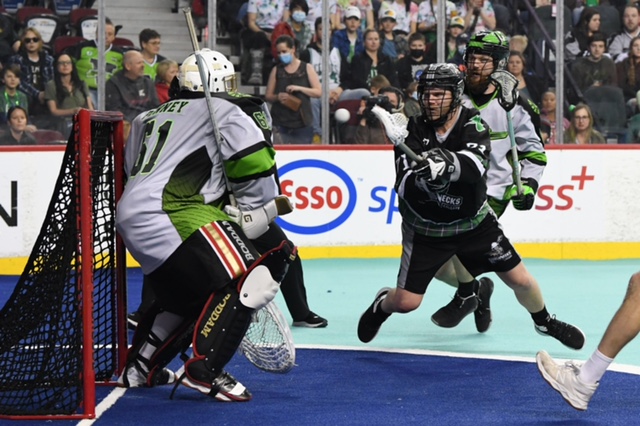 Fans at the Scotiabank Saddledome got their money's worth at the St. Patrick's Day Party on Thursday.
Jesse King and Zach Herreweyers notched hat tricks, while goalie Christian Del Bianco had 48 saves and four assists to lead the Roughnecks to a 14-12 win over the Saskatchewan Rush.
It didn't take long for the home team to get on the board as King scored just 30 seconds into the contest.
After the Rush scored the next two goals, the Riggers answered right back with three of their own as Tyler Pace, Tanner Cook and Herreweyers did the damage to take a 4-2 lead through one quarter of play.
King scored two of Calgary's four goals in the second quarter to complete his hat trick, while Tyler Burton and Herreweyers also scored for the Riggers, who took an 8-7 lead into the halftime break.
The seesaw battle continued in the third quarter as the Rush outscored the 'Necks 4-2 to take an 11-10 lead. Dan Taylor and Zach Currier scored Calgary's goals.
Early in the fourth quarter, Del Bianco stood his ground to turn aside a breakaway attempt by Saskatchewan's Mike Mallory.
That seemed to give the Riggers some life as Kyle Waters, Pace and Herreweyers scored three straight goals to put Calgary up 13-11. For Herreweyers it completed his first career NLL hat trick and the goal stood up as the game winner.
Curtis Dickson added a late goal to go with the five assists he had earlier in the contest.
COACH'S CORNER:
"That's all heart. Guys stuck with it and that was a battle. That's a good lacrosse team over there. We're both fighting for our seasons, so that was a war – back and forth, one goal, one goal, one goal and finally we got the two-goal lead at the end there. Delbs held it down and I thought our guys were real good on the back end and our offence played well too."
"Weyers, he's just a natural goal scorer. He's bounced around a little bit, but he's found a home here. We challenged Zach to get himself in shape. Nine guys out of 10 will shoot that coming across and that won't go in, but for Zach it goes in. He plays a gritty game and he's got eastern hands. If you look back at the first 10 games, he's got some big goals for us, so I like the way he's been playing."
BY THE NUMBERS:
King 3g, 3a
Herreweyers 3g, 1a
Dickson 1g, 5a
Pace 2g, 2a
Waters 1g, 2a
Cook 1g, 1a
Taylor 1g, 1a
Currier 1g, 1a, 16 loose balls, 3-of-4 faceoff wins
Burton 1g, 7 loose balls, 15-of-26 faceoff wins
Del Bianco 48 saves, 4a
SAY WHAT:
"Amazing. It's taken a long time to climb over the two-goal (mark). I've never been able to get the third one, so it's pretty exciting for me personally. It was actually a big goal too in the game. It's exciting. It was a three-on-two. I just kind of put the ball in a good spot and luckily it dropped." – Zach Herreweyers
"It's huge. Obviously, we don't have the luxury of slipping up much more. It's the NLL. Every game's a must win. It doesn't matter if you're 10-2 or you're 3-6, everybody wants to win, so we're just going to take it one game at a time. Historically, we have been a second-half team, so I think in our dressing room we have no doubt that we can't do it again." – Christian Del Bianco
"We always have some pretty good crowds in Calgary. I think we really feed off that. Double header weekend, we'll be feeding off of that. Hopefully we'll get the fans back out here (on Saturday). It's great. There's not really any place in the NLL like it to play in front of." – Del Bianco
NEXT UP:
After a day off the Riggers will get right back at it at the Scotiabank Saddledome on Saturday night (7 p.m.) when they host the expansion Panther City Lacrosse Club.