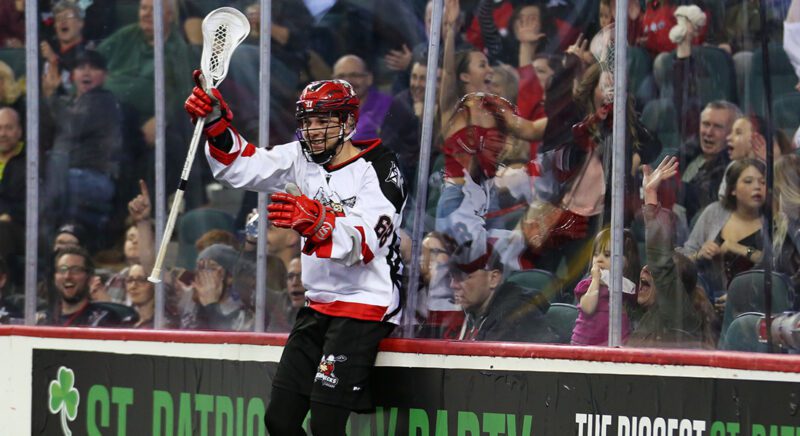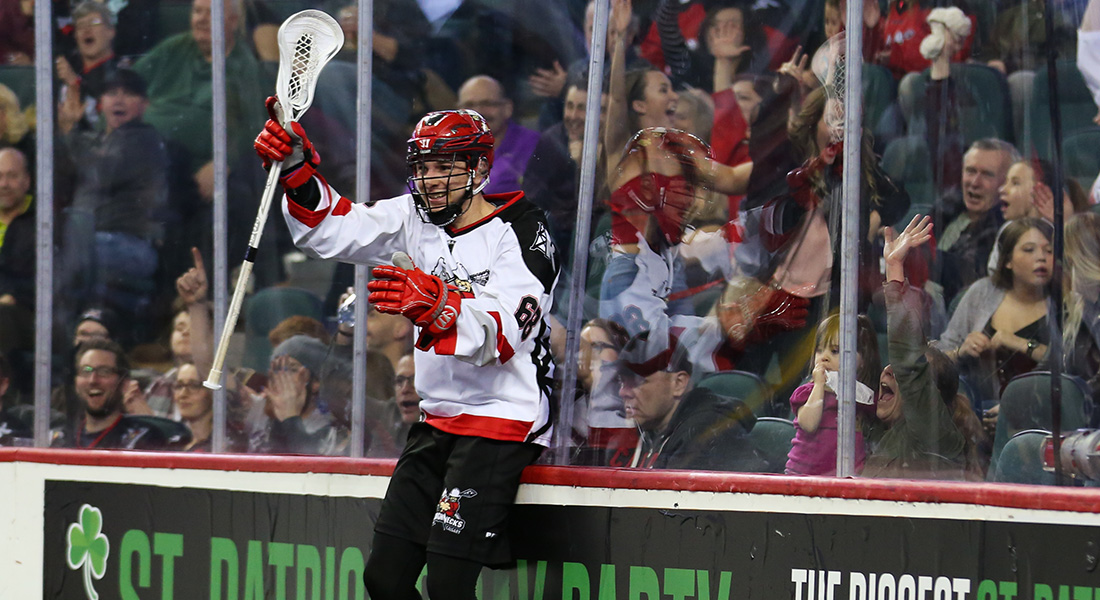 Photo by: Kayli McClelland
Ryan Martel made the most of his opportunity against the Vancouver Stealth.
Before Friday, Martel had only seen action in one game for the Roughnecks when he scored his first NLL goal during an 11-7 setback to the Colorado Mammoth at the Scotiabank Saddledome on Dec. 29.
Thanks to a three-point performance in front of 8,874 fans at the Rough House on Friday, Martel quadrupled his scoring output in his rookie season with the Riggers, who trounced the visiting Stealth 20-12.
Not bad for the 5-foot-10, 190-pound forward, who didn't even know he was going to play until coach Curt Malawsky told him to suit up earlier in the day.
"I wasn't really expecting to get in this weekend, but when Curt let me know I was really excited," said Martel, who the Riggers drafted in the first round (11th overall) of the 2017 NLL Entry Draft. "It was good to get out there. I hadn't been out in a while. Once I got out there, the nerves went away and the flow was nice. It was good to get the win."
Martel's second goal of the season at 11:13 of the second quarter stood up as the game-winning goal, to boot.
Martel wasn't the only rookie to make an impact on Friday. Tyler Pace registered his first NLL hat trick to go with two assists, while Zach Currier scored once and set up another.
"Tyler Pace is another guy that's been coming along every game and getting better every game and his athletic ability," said assistant coach Rob Williams, who was pleased that transition players like Currier and Mitch Wilde also help out on offence. "Everybody had a piece of it, for sure."
After scoring just once in his previous six games, Pace was happy to put up five points on Friday to set a career high for points in one game, while helping the Riggers win their third straight game.
"It's pretty cool," said Pace, who was selected two picks before Martel by the 'Necks in the 2017 Entry Draft. "The past few games have been an unreal experience so we're just hoping to keep it going. Whatever I can (do), whether it's put one in, three in, not put any in at all … as long as we keep winning, I'm happy."
Even defenceman Chad Cummings got in on the action by scoring his first NLL goal in his 27th game at the halfway point of his second season with the 'Necks.
"It was nice to see Chad get one, for sure," Williams said. "That's his first, so that was a big deal."
Wilde was the first to congratulate Cummings on his milestone marker.
"Chad's my roommate, so I was ecstatic," Wilde said. "I was fortunate enough to be on the play. I don't want to take credit, but I told him to shoot. I was happy for him. I couldn't be more excited. Everyone's kind of been on him about scoring a goal. I was just happy to see him getting the monkey off his back."