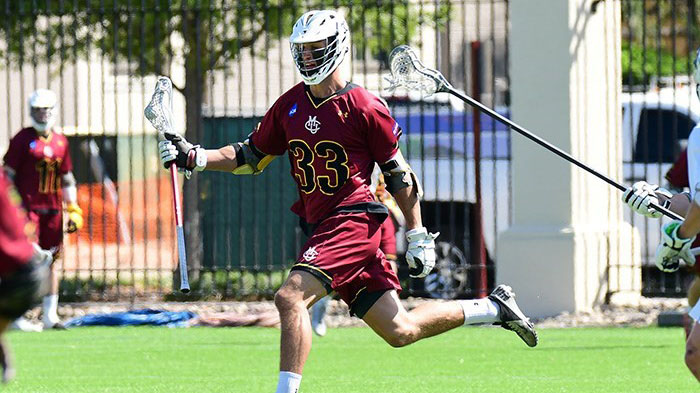 If you don't know who Reece Callies is yet, you will when he steps on the floor.
At 6-foot-7 and 240-lbs., the Roughnecks' 13th-overall pick in the NLL draft is hard to miss.
So it's no wonder why he stood out to the Riggers.
"He was a person in the draft with a skill set no one else had – his size." said head coach Curt Malawsky. "And that's not a gangly or awkward 6-foot-7, he moves really well, he's very athletic, he's got a mean streak in him and he's a very physical player. He'll move guys on the defensive end, and he'll cover gaps."
To top that off, the Colorado Mesa University alum brings the unique ability to adapt to any position on the floor.
"For a guy my size, my best asset is my speed," Callies explained. "I pride myself on being able to transition the ball as good as I am at being able to play in a closed defensive position.
"I played offence in college down in the States, so I love to be able to push the ball up the floor. I think versatility is what people can expect out of me, just being able to throw me in any situation."
That versatility means the 23-year-old was a steal at 13th overall, especially following expansion and off-season transactions.
"He can play a bit of offence if we do need someone to fill the shoes that Digger (Tyler Digby) had up there." Malawsky said. "He's such a multi-faceted guy, we weren't sure we were going to get him and we couldn't risk waiting until later in the second round, we're glad that we got him at 13."
So is Callies.
After playing two years in the WLA with his hometown Langley Thunder, finally hearing his name called during the NLL draft was a dream come true.
"You think of that moment as a kid," Callies said. "You watch the grown guys on TV playing professionally, and you never think in a million years that it would happen for you.
"Just hearing my name being called in the draft was surreal, never-mind thirteenth overall. I was just so blessed to even have my name in the mix – quite frankly I could have gone first or last and I would be just as excited as I am right now."
And even though training camp is still more than a month away, he's already got his eyes on the ultimate prize.
"The Roughnecks are a championship calibre team," he said. "I'm excited to get to training camp, show everyone what I can do, and get a spot on the roster for real."