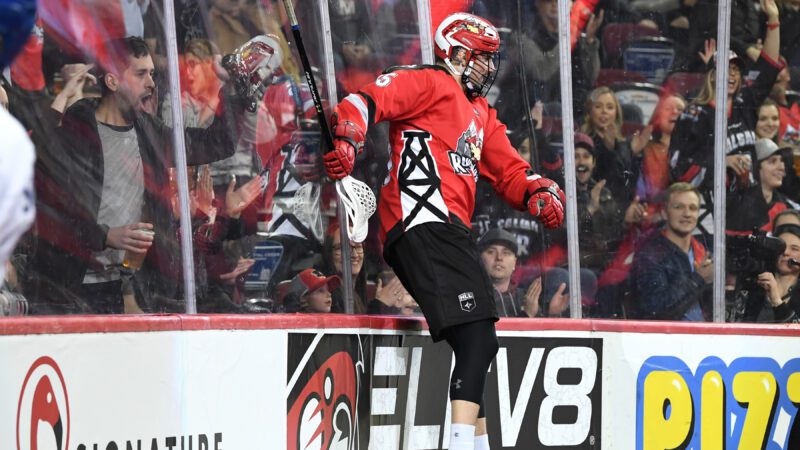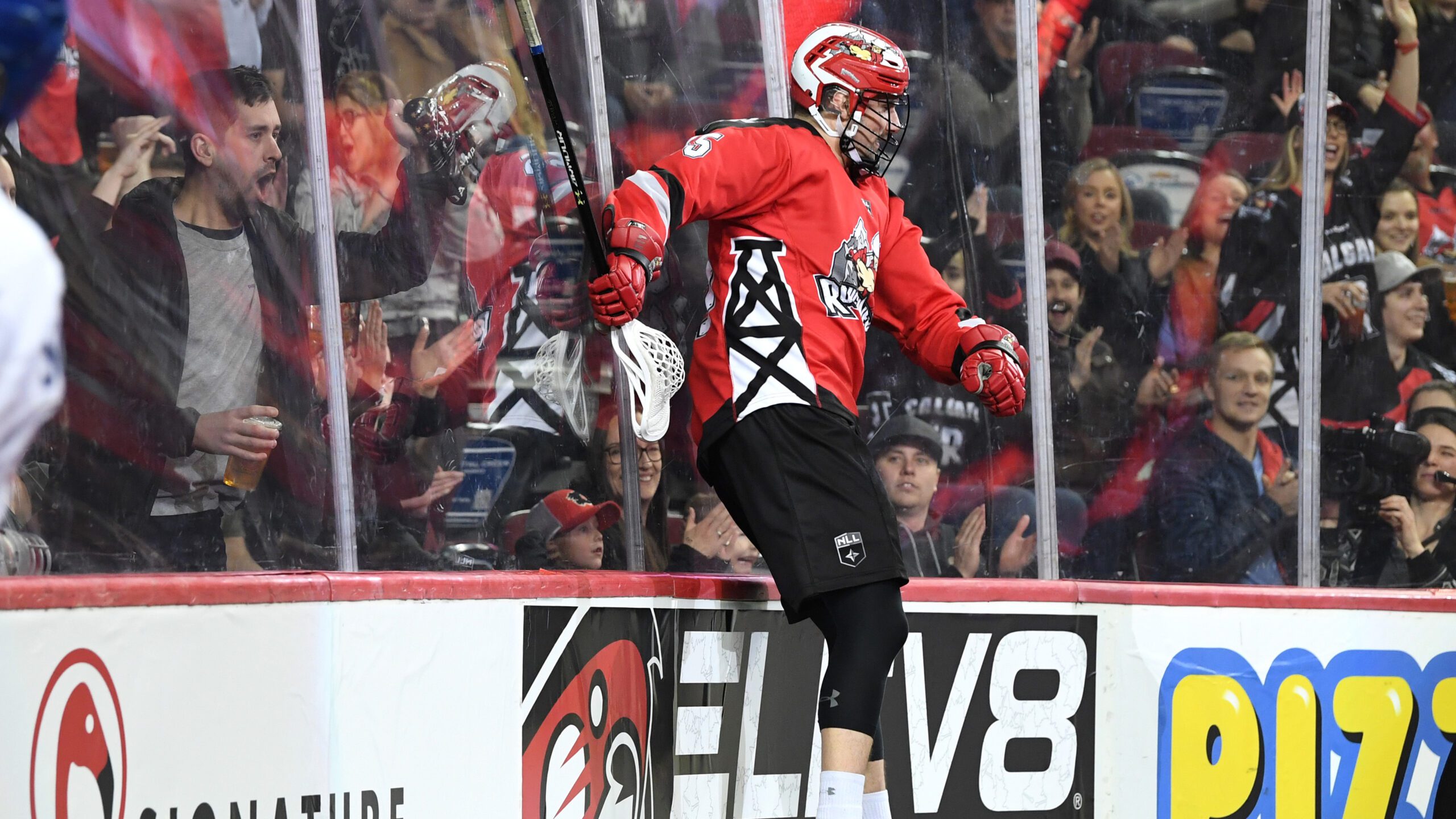 Playing their first game at the Scotiabank Saddledome in more than a month, the Roughnecks put on quite a show for their fans on Saturday.
The Riggers jumped out to leads of 4-1 after the first quarter and 8-3 by halftime on their way to a 15-9 win over the Toronto Rock in front of 10,674 enthusiastic spectators.
"I had a few conversations with guys in here today and it just feels good to be home," said forward Rhys Duch, who was named the game's first star after a four-goal two-assist performance. "You love playing lacrosse no matter where you are, but you do feed off a big crowd like we get here. It's a great building to play in. It brings us together."
Riley Loewen had a hat trick and two helpers as the Roughnecks (6-6) put an end to their two-game losing skid. It was also their second straight victory at home, although the last one was way back on Feb. 2 when the 'Necks downed the Vancouver Warriors 8-5.
"Our plan was to come out hard early and see if we can jump on them and get a lead and work on their rust a little bit coming off their bye week and we were able to do that," said Calgary coach Curt Malawsky.
Tyler Pace chipped in with three goals and one assist, while Dane Dobbie scored once and set up six others.
"There were guys going off for goals everywhere," Dobbie said. "Our transition game was fantastic. Riley Loewen gets a bunch of goals and Tyler Pace and Duchy. It's good when you get all hands in. They deserve it. They've been doing all the little things and it's nice to see those guys get rewarded."
Dan MacRae (1g, 1a), Dan Taylor (1g, 1a), Mitch Wilde (1g, 1a) and Zach Currier also scored, while Curtis Dickson set up eight goals and dropped the gloves for his first-career NLL fight late in the game against Toronto's Phil Caputo.
"Sometimes you've got to do what you've got to do," Dickson said. "That's my first career fight. When my roommate (MacRae) gets high-sticked right in front of me, I don't really have that much choice. It was a good ending to a good game. It was a great 60-minute effort from everybody and we needed that effort out of us tonight. We needed a win in a big way."
Christian Del Bianco stopped 46 of 55 shots he faced in the Calgary net to record his sixth win of the season.
Dan Lintner led the way for the Rock (7-3) with a hat trick, while Brock Sorensen, Johnny Powless, Challen Rogers, Dan Craig, Billy Hostrawser and Latrell Harris also scored.
Goalie Nick Rose finished with 29 saves for Toronto in a losing cause.
MacRae gave the Riggers an early 1-0 lead at 1:49 of the first quarter when he scored a short-handed goal after being sprung on a breakaway thanks to a nice pass from Wilde.
"That was a huge goal for us," Malawsky said. "You can see the emotion on our bench and how well liked he is. It's pretty excited for all of us and a good way to get started."
Powless notched a power-play goal for the Rock 30 seconds later to tie things up before Pace converted a feed from Dobbie during a two-man advantage at 5:16 to put the home side back out in front.
Duch bounced a shot past Rose for yet another power-play goal for the 'Necks at 6:10 before Wilde scored a breakaway goal of his own to give Calgary a 4-1 lead.
Like they did in the first quarter, the Riggers started strongly in the second as Duch fired a long-range shot past Rose at 1:28.
Loewen then converted a nice pass from Dobbie for a quick-stick goal during another man advantage before Lintner replied with a short-handed goal for the Rock.
After Craig scored for Toronto at 8:52, Loewen tallied his second quick-stick goal of the game – this time while the Riggers were down a man – at 10:21.
Taylor rounded out the scoring in the first half with 1:30 to play before the intermission when he took a pass from Dickson and bounced a shot through Rose's legs.
Although the Rock scored two of the first three goals in the third quarter, the Riggers responded with three of the next four markers including a highlight-reel goal when Dobbie's behind-the-back shot absolutely fooled Rose, who didn't even see the ball go by him.
"Rosey's an angle goalie and plays really good angles and I hadn't had his number all night," Dobbie said. "I'm a far-side shooter, so I came up and I saw that's all that was there, so I had to throw it. It's one of those 50-50 balls. It's luck, kind of deal, and I know he's not going to see it or be able to react to it."
The visitors made things a bit closer with three of the first four goals in the final frame. Loewen then set up Duch's fourth goal before completing his hat trick on the power play to round out the scoring.
The Riggers will look to extend their winning streak at home to three games when they host the Colorado Mammoth next Saturday, March 16 (7 p.m.).
"We've got five of the last seven through the 'Dome and we want to take care of our home floor," said Malawsky, while praised Dickson for dropping the gloves late in the game to fire up the fans. "Our fans are passionate and, not only that, they're very knowledgeable. You see a guy jump in and defend his teammate like that and the fans are going nuts. They understand the great plays. We're passionate about them and they're passionate about us, so it's a great fit for us."