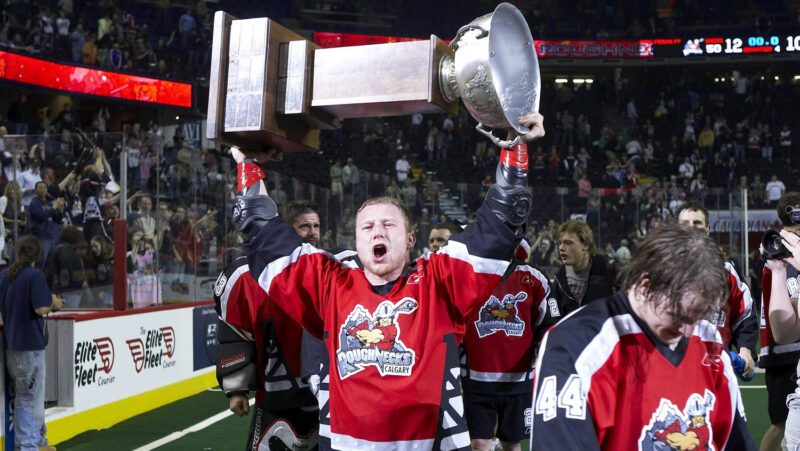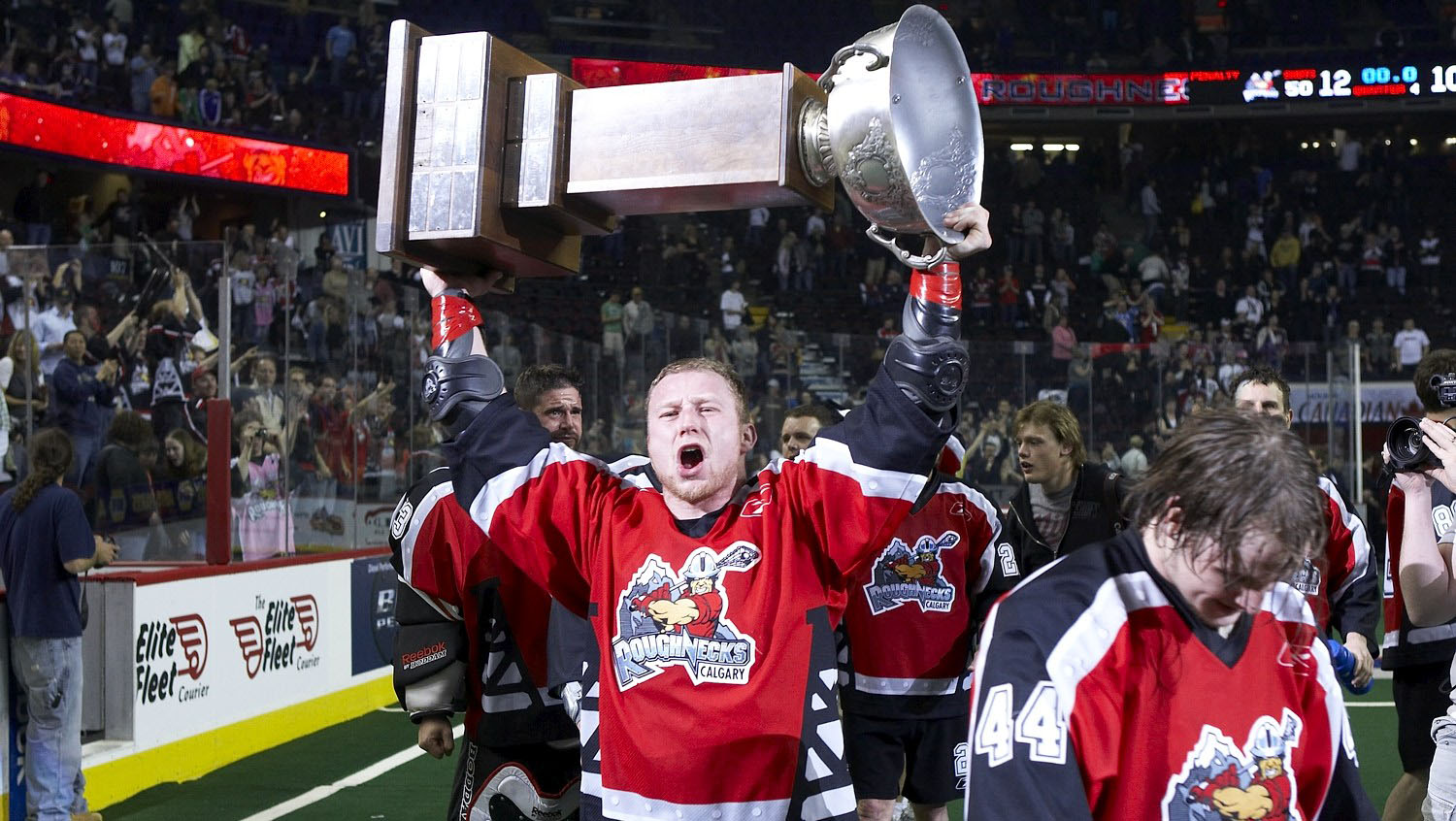 It's Friday May 15, 2009.
The stage is set for the final game of the NLL playoffs at the Scotiabank Saddledome: the Roughnecks versus the New York Titans for the Champions Cup.
The lights are dimmed, the crowd's anticipation palpable and the hum of Metallica's Enter Sandman radiates through the building. The announcer makes his way through a list of what would soon be names engraved on a trophy.
The announcer booms – "Number 71, Scott Ranger!!"
"I'm getting goose bumps just thinking about it right now," said Ranger, sitting in his office in Nanaimo, B.C., in the here and now, reminiscing about an incredible night.
"When they call your name and you run out of the oil derrick, you're just so jacked up and ready to play. You know you have thousands fans behind you and screaming for you. What a great building to play in."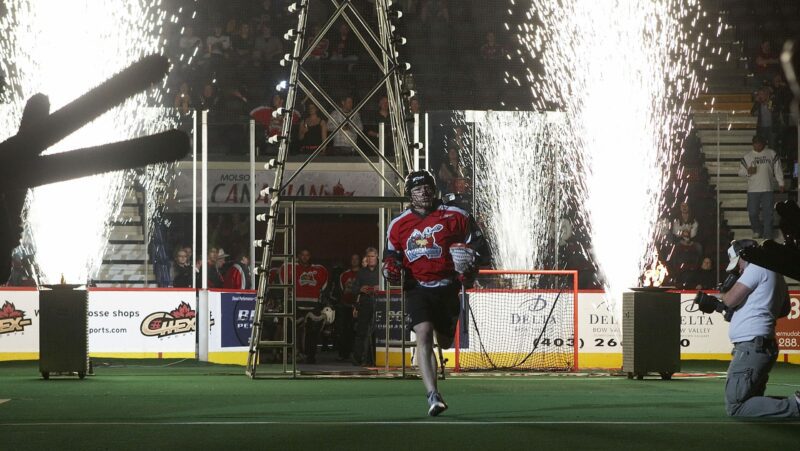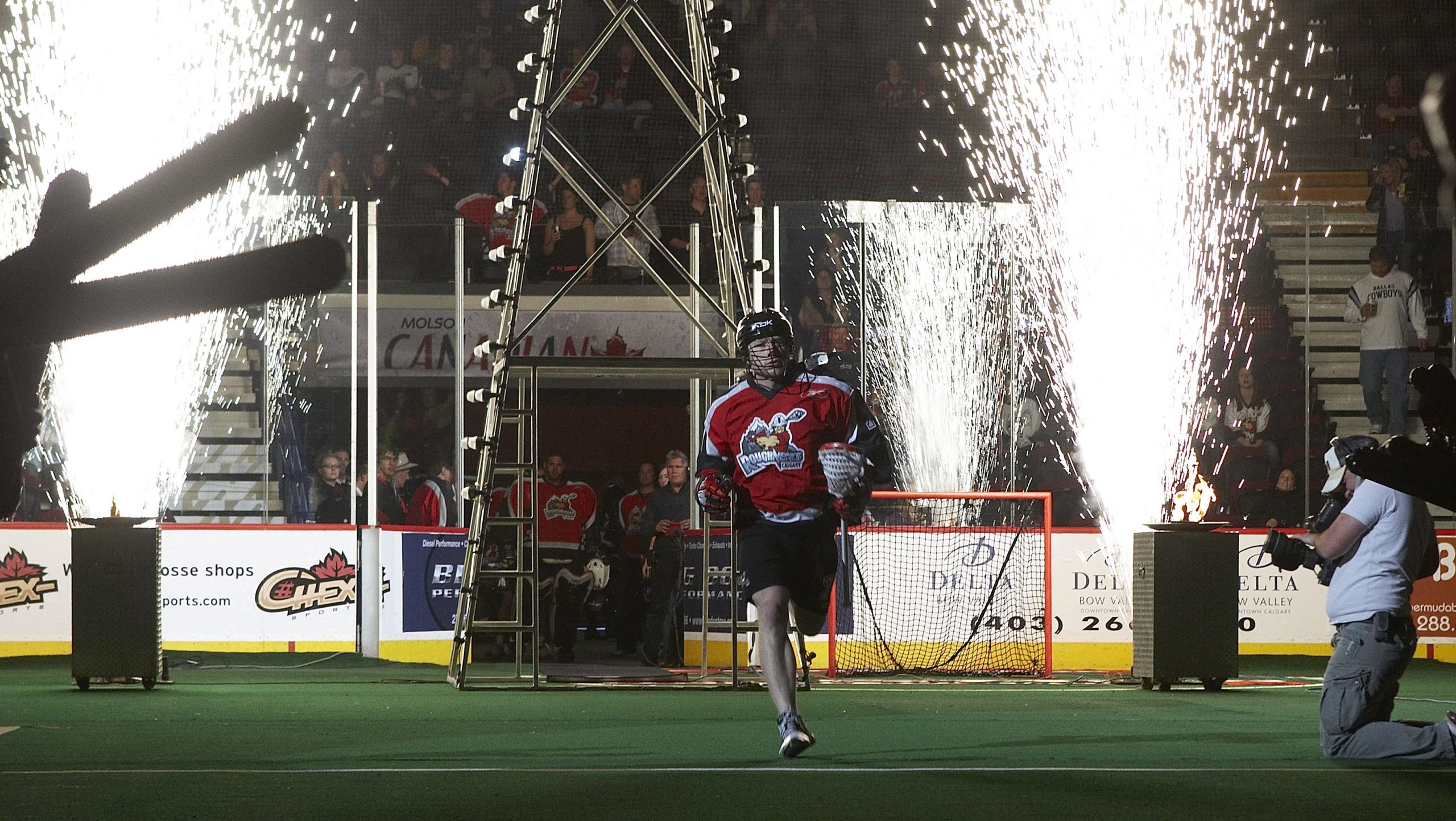 He can recall the Roughnecks' second NLL Championship just like it was yesterday, all while on a quick break between his fifth-grade classes. Ranger, a silk-mitted offensive powerhouse from the Riggers of the past, is now an elementary school teacher.
"The year I retired from the team was my first year teaching full-time," he explained. "This is year seven or eight teaching for me now.
"I started coaching kids when I was fifteen or sixteen years old through the parks and recreation department. I was a hockey and lacrosse player growing up and I just started giving back to kids in sport as much as I could. Once I started seeing those "Ah-Ha!' moments for kids I was like yeah, this is definitely my career path.
"When you teach somebody a skill – it doesn't matter if it's a sports skill or academic skill – and you see them finally kind of get it, it feels great for the student or athlete, and it feels great for the coach and teacher as well."
And if you're wondering: yes, Ranger's students are privy to his success in professional lacrosse.
"I've got my Roughnecks jersey in the corner of my room, so they're well aware of my athletic background," he said. "It's always a conversation piece. I actually do a little project every year, just about training kids to research facts. I mention a Wikipedia page of mine that has some false information on it. So I do a bit of a research challenge with them."
Ranger played with the Roughnecks from 2007-2014, notching 173 regular-season goals and 235 assists over his tenure in Calgary. All of that on top of 54 playoff points, including a goal and a helper in the 2009 Champion's Cup victory – just a few things his students might have dug up during the project.
But what you can't find online is Ranger's most fond memories of his time in Calgary.
"The obvious one is winning the Cup in 2009," he said. "That team was just such a good group of guys, we called ourselves a family and we really were. We took on each other as a family when we were there, flying back-and-forth.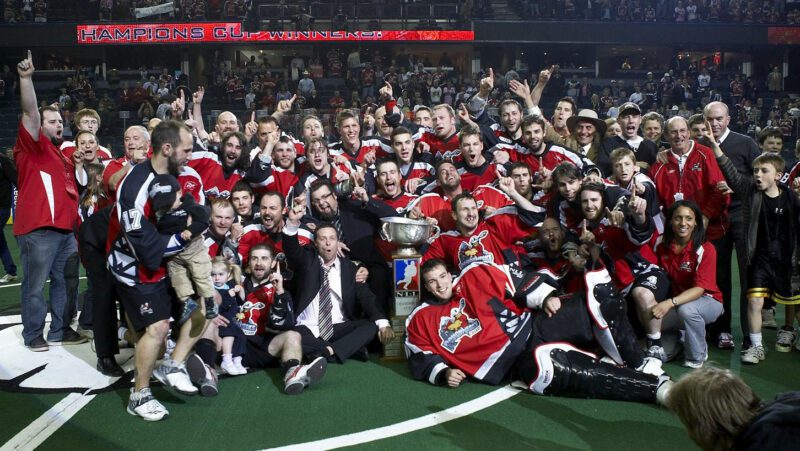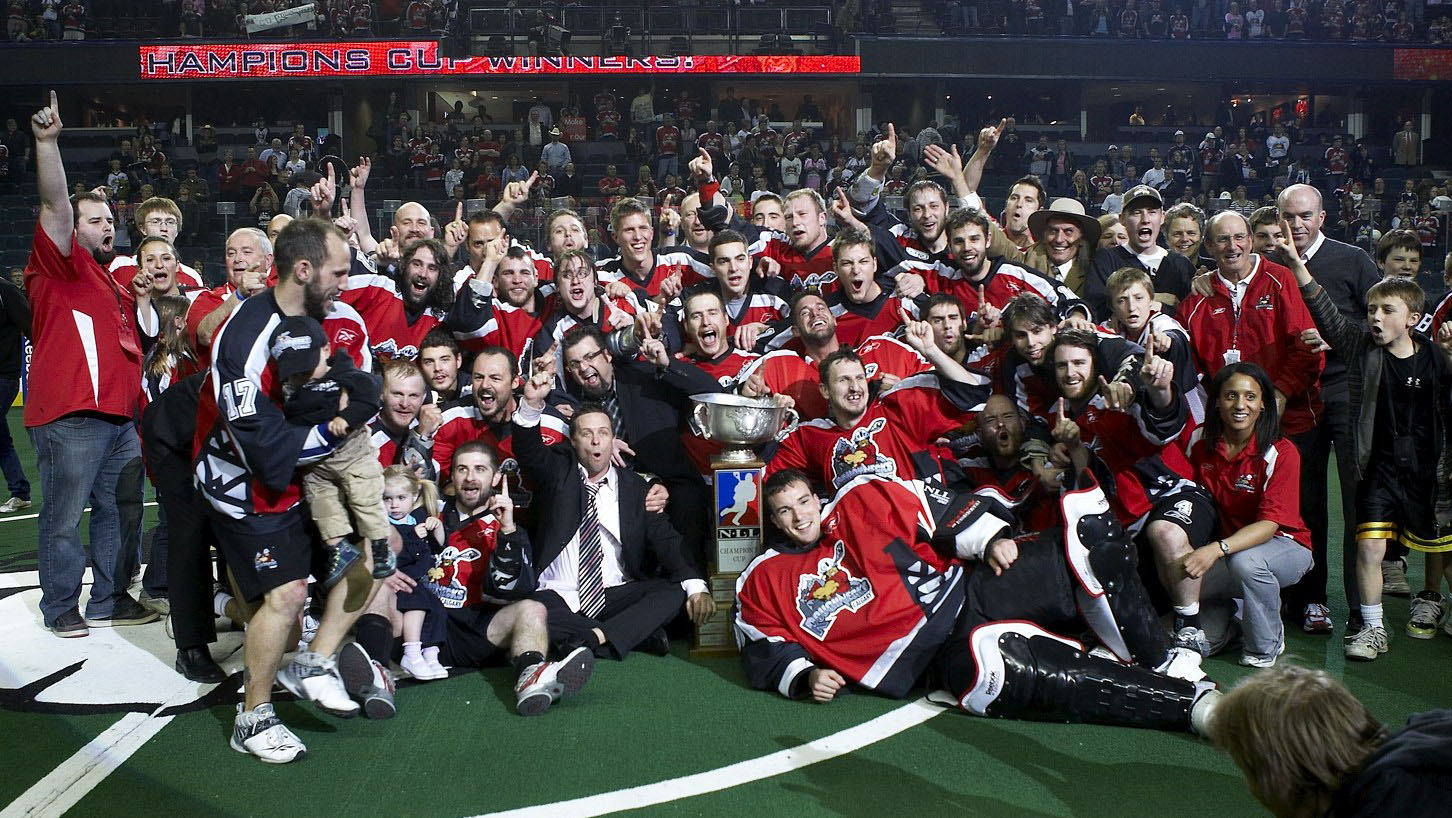 "Definitely the Cup is a favourite, but there are so many funny stories and memories. I really enjoy catching up with guys and reminiscing – I still talk to Daryl Veltman, Peter McFetridge and Mouse (Curt Malawsky). It was such a good group of guys and when you go through an experience like that I don't think you ever lose that feeling."
In some instances, it's like he's right back there again.
"Watching the Roughnecks win the cup in 2019 – that was an amazing feeling," Ranger said. "Watching Rhys Duch score the game-winner, I completely re-lived the '09 cup and the way the building erupted. I wasn't even a part of it but I got the goosebumps watching it. Knowing what those guys are going through together in that locker-room makes you really miss the sport and the guys you played with."
Having those incredible experiences throughout his career has inspired Ranger to continue being involved in lacrosse today. Several years after retirement, Ranger still makes a point to grow the game.
"It's given me so much, I want to give back," he said. "I took a hiatus from the game for a couple of years to reset the mind and body. But my son now is six, this will be his second year playing and I coach his team. I also have a small private lacrosse camp that I put on every spring break. I work with student athletes from the ages of five to junior-A players at 21-years-old. I'm definitely still involved in lacrosse and plan to be for a long time."
It's not just his son who's keen to play lacrosse, either. You could say Ranger's lacrosse prowess runs in the family.
"My daughter is nine and she's a dancer and a swimmer but she can pick up a stick and fire it around no problem," he said. "It's super cool to be able to hang out with your kids and do the thing you loved to do for so long. That's what you dream of; having a family when you grow up and having your kids carry on in your foot-steps."
These days, when he has a break from his busy family schedule and teaching career, Ranger still takes in plenty of NLL games.
Mostly Roughnecks, of course.
"After playing with guys like Curtis Dickson and Dane Dobbie, you just have a great appreciation for what they go through every night," Ranger said. "Being a Calgary guy I always really enjoy watching those games and those guys play. But there's so much amazing talent in the NLL now. Anybody can go off and score five or six goals a night. It's just fantastic to watch."
With all the highly-skilled young talent coming into the game, Ranger is excited about the NLL's future. The league has added four teams since 2017, most recently in Fort Worth, Texas.
The bigger, the better, he says.
"That was our ultimate goal when we were playing and had the union going was trying to get expansion and growth to our game," he said. "The further we can spread it and more markets we can get into the better off the league and the sport is going to be.
"I don't think anybody in lacrosse is in it for themselves, they're in it for the betterment of the game. I think going into Fort Worth, San Diego and different markets is a great thing. I just hope they do a great job like Calgary has and really reach out to their markets, get in touch with the people and continue to grow the fan base. If that happens, lacrosse is closer to being a main stream sport."
For all the young athletes heading into the league, Ranger shares some sage advice.
"Value what you have in the moment because you just don't know when it's going to be over, you could be an injury away," he said. "That's the big thing I'd say to the players now. We were lucky and got to a few championships in my time in Calgary there but you might play your entire career and never win a Cup. Value the opportunity you have and make the most of it."
Ranger always did. Playing at the 'Dome with the Roughnecks for so many years is an experience he'll never take for granted.
"Our fans left me with a lifetime of memories playing there," he said. "The fans are very knowledgeable, they supported us so much. They cheered and helped us do our jobs, they helped us stay accountable to the game and to the people who paid to come and watch.
"What a cool feeling when you go out to sign autographs and there's people wearing your jersey. And they know so much about you, they just know you as a person. They care about you and ask how your family is – you can't beat that."